Understanding Vastu Shastra: Easing the Dilemma of a Home Buyer [Part I]
This is part 1 of the series of 9 articles presented on Vastu Shastra. A home buyer, at times, begins the journey of owning a home with a single point agenda of 'Vastu compliance'. The journey is not an easy one, and is riddled with many roadblocks and confusions. These articles are meant to ease the confusion, or perhaps, bridge the lack of a balanced perspective around Vastu while: i) planning on buying and/or constructing a home, and ii) to assist the home buyer to zero-in on the most sensible choice of an apartment.

For a clearer perspective on Vastu Shastra, it is recommended that all the 9 parts of this series on Vastu Shastra be read.
Home buyers' thoughts around Vastu Shastra: Turbulence & Tranquillity
For many home buyers, Vastu compliance, sometimes tops the priority list while narrowing down on a particular choice of apartment. Sometimes the Vastu factor becomes so critical that other considerations like size, budget, and even the location become totally irrelevant, should the apartment fail on a few Vastu parameters. Usually, it is the fear of misery, bad-luck or discord befalling upon the family which makes the home buyer seek only a Vastu-friendly home.
However, should the reader be in a hurry, it is recommended to at least go through the '4 steps to understanding & demystifying Vastu' and the 'conclusion' in part 9 of the series. This will hopefully impart a well-rounded balanced perspective on Vastu Shastra, its implications and its applicability. Above all else, it help us shape (or choose) our overall demeanour and approach in dealing with the dilemmas posed by Vastu Shastra effectively.
Vastu compliance takes precedence over design factors regardless of the functional benefits and utility an apartment may offer. A Vastu non-compliant property is a strict NO for certain home buyers. We frequently witness that Vastu diktats like opting for an 'East or North facing apartment' being the first choice gets carved into the minds of home buyers. The question is: how do we deal with 'Vastu' as a home buyer? What sort of thought process do we nurture on 'Vastu'? Should being 'Vastu-compliance' be carved in stone in our brains? Or, do we have some flexibility in choosing our dream home?
Photo by Terry Magallanes from Pexels
Well, we do have competing or conflicting arguments on the importance, relevance and applicability of Vastu Shastra in the modern world. The non-believers of Vastu accuse the fear-mongering Vastu pundits of killing the soul of good architectural designs under the garb of 'Vastu Dosha' (a Vastu defect that shall bring ill-effects). The believers of Vastu, on the other hand, want to adopt the culturally approved tenets of Vastu smitten by an unshakeable belief that Vastu offers panacea to all the problems of our lives.
Vastu pundits, consultants or experts propagate fixed (rigid) tenets, directives, or 'alternatives/options' to choose from. The options either made very limited, or are sequenced in 'order of preferences' (a hierarchical construct) from 'most beneficial' option (higher order) to 'least beneficial' option (lower order). The 'higher order' options offer maximum benefits and are considered most-suitable, and the benefits start diminishing as we move down the hierarchy to 'lower order' options that are most-unsuitable.
With such a backdrop and conviction-driven mass-following, a home buyer starts believing that moving into a Vastu-friendly flat begets a pre-ordained blessing. Hence, Vastu-friendliness becomes an overriding decision-criteria in 'acceptance or rejection' of a new apartment. Clearly, a home buyer would want to play safe, and is inclined to buying peace of mind.
As far as builders are concerned, selling Vastu compliant flats is easier due to high acceptance by the home buyer. The extent of utility or functionality they offer takes a back seat with mass (mob) belief in the overriding criteria established thousands of years ago. The builders too are more than pleased to use Vastu to their advantage. Builders simply go with the flowing tide, and propagate the ideology of Vastu to quickly get rid of their stock of unsold apartments, and to ease their cash-flows.
For the builder community, Vastu compliance becomes akin to an 'oligopolistic factor of pricing' that you cannot do without; this means that even a builder who is a non-believer of Vastu also considers it a business-compulsion, else they end up suffering an 'inventory overhang'! 'Inventory overhang' means that a seller is unable to find a buyer, and Vastu serves as their rescue-mechanism and a sales-booster. Builders, in fact, compete amongst themselves to design and offer comparatively more Vastu friendly apartments.
When a home buyer asks a question: "Are your flats built as per Vastu?"…the builder better reply with a big YES, else buyer walks away without batting an eyelid! Home buyers view being Vastu-compliant as a benefit in itself which can take precedence over functional efficiency and utility an apartment is meant to offer!
Home buyers' doubts and confusions around Vastu Shastra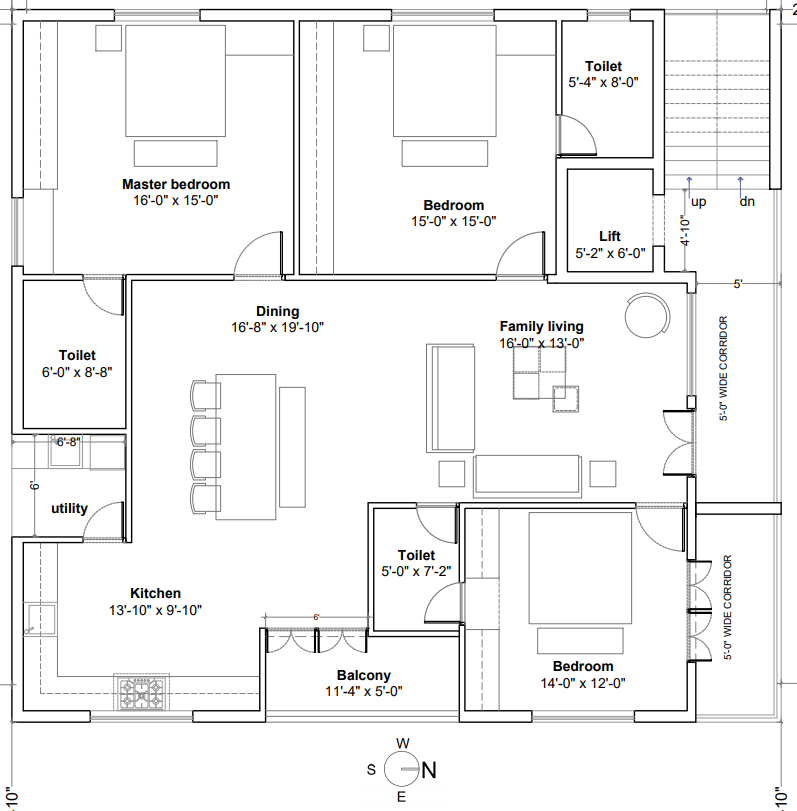 A home buyer wonders about the extent to which one must be adamant Vastu compliance. Even the relatively younger home buyers (the millennials- those born after 1997) don't want to displease their elders, or face their disapproval on grounds of Vastu. But Vastu guidelines does not come easy. It's complicated, especially while trying to find the right guidance on multi-storey apartments.
What makes things more confusing for the home buyer is the multiplicity of versions on Vastu, threatening consequences on Vastu non-conformity, suggestions from various sources, and the long lists of do's & don'ts on Vastu guidelines. With so many confusing, conflicting, un-implementable recommendations on Vastu, we get puzzled about 'which criteria or decision-rules to adopt' while taking the final call.
To further complicate matter, there are prioritization on preferences, for example, 'what facing' an apartment should be, guidelines on location of different spaces like bedroom, bathroom, kitchen, stairs, shape & slope of plot, area left open or utilized, placement of furniture & heavy objects and so on. There are many more permutations and combinations about which side of the living-space should be 'heavier or lighter', which direction should our head be or should we face while performing an activity.
Sometimes, options are given by Vastu pundits in descending order of preference, where the home buyer is allowed to choose from 'most preferred' to 'least preferred' option or alternative while buying a property. Complications arise when, within an apartment, a few Vastu factors are extremely favourable, and certain other factors completely unfavourable (or in extreme contradiction); this is where some home buyers leave the final decision in the hands of Vastu experts to rescue them, and to deliver their verdict on 'go' or 'no-go'. Many a times the ball in left in your court after explaining the 'pros' and 'cons'. A decision in such fluid conditions becomes a rather perplexing and painful ordeal for a home buyer.
'To-believe or not-to-believe': a Home buyers' dilemma on Vastu Shastra
Regardless of the conflicting & confusing guidelines, we still try to go with it and try to find a method and rationale in whatever option we finally put our finger on. And why shouldn't we? Clearly, if there is some long-term goodness in Vastu-friendly flats for us, and if we are spending a huge chunk of our savings in acquiring a home, then it might as well meet the Vastu criteria. After all, our forefathers have lived and believed in Vastu for thousands of years, and it is considered to be a 'scientifically thought-out Shastra' (body of knowledge).
Regarding 'believing or not believing' in the tenets of Vastu, there are some who consider it dogmatic (superstition). There are the 'believers' who swear by Vastu being the most scientific way to leading a happy, healthy life. Either ways, most home buyer in India are eventually influenced into putting a 'tick mark' against Vastu being one of the critical must-haves in the 'checklist of buying a new apartment'. At least, this way, the buyer can avoid the looming fear of bad things happening to our family living in a 'Vastu non-compliant' home. Even for a non-believer, a Vastu compliant home makes the person tension free, even it comes at the cost of not believing.
With all these conflicting thoughts, and different types of home buyers….one wonders what to do, and where one should draw the line. What should a home buyer do to get the most out of the situation? What exactly is Vastu Shastra? What is the logic behind it? What should be my decision-rules for buying an apartment keeping Vastu in mind? Where can I compromise, and where is it that I should not? How do I go about balancing my priorities, budget, and the overwhelming Vastu factor?
So, it is a must that we understand and appreciate the background of what Vastu is, why & how it came into existence, and how it should be viewed by us in a balanced way, and turning Vastu into an enabler for us to take a decision on choosing the right apartment with complete clarity and conviction!
Note- An index with links is given at the bottom of this article to help you navigate and jump directly to the desired topic of this 9-part series.
Vastu Shastra:Part-1 Part-2 Part-3 Part-4 Part-5 Part-6 Part-7 Part-8 Part-9