Tips & ideas to manage home space efficiently: get more out of your apartment, Part II
---
This is part II of how we can maximize space in each and every room of our Indian home.
You should be able to cross-utilize spaces in your apartment to get better 'functionality' out of your home. Every square inch of your apartment floor space must be carefully used. The vertical spaces must give you optimum convenience and a sense of airiness.
ideas to manage Home space efficiently
1. Optimizing bedroom spaces
[Source- https://www.hgtv.com/]
[Source- https://www.architecturaldigest.com/]
Ensure that your bedroom is designed to accommodate both your bed and work-spaces
It is fine to the open to dual-furniture which allows you to optimize spaces when your bed is not in use
Long windows and tall ceiling in your entire home, particularly the bedroom look good
Your wardrobe or closets should be optimally designed to store clothes and things of at least 2 people
Master bedrooms with walk-in closet or a separate dressing area should be used for keeping cupboards or in-built wardrobes
Beds with storage are a great way
Consciously keep the design elements to get 'more floor space'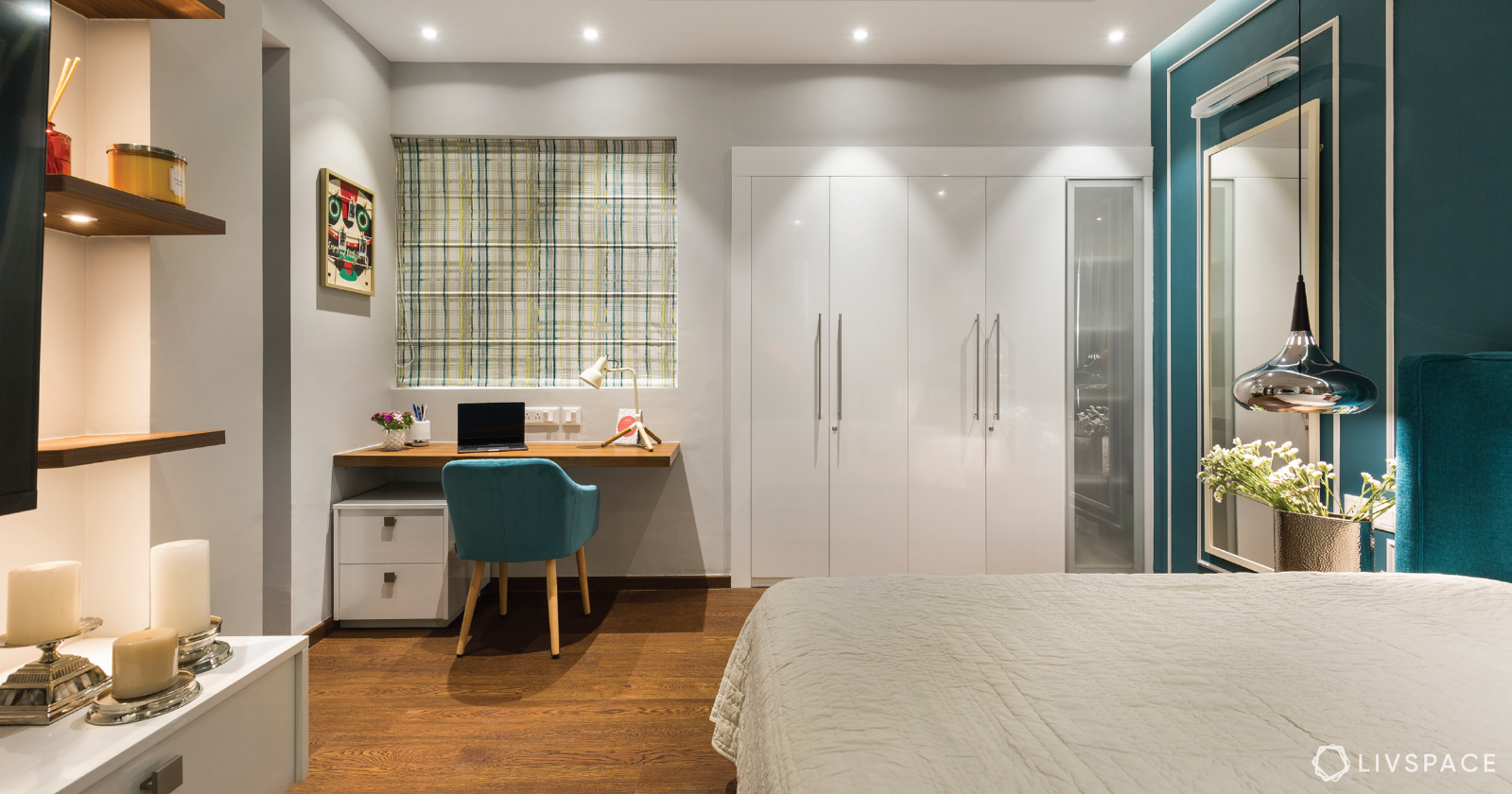 [Source- https://www.livspace.com/]
2. Efficient work from home spaces
[Source- https://www.goodhousekeeping.com/]
[Source- https://www.mydomaine.com/ ]
Home office spaces need to accommodate your books, computers and other items with ease
Not too big, not too small work-from-home work-spaces
A portable work-station helps, especially when you have to shift places within the house
Make a built-in work-station in niches or corners of the house that are left unutilized
Ensure adequate lighting in and around work-spaces
Having a work-station or table near window gives you ample natural light, which is good for mental health as well
Your work-from-home office area must have effective storage. Using vertical storage in walls (shelves) or tall-standing units/cabinets/furniture is a good idea to save on space
Keep minimalistic furniture that help you keep your work desk organized
Use your favourite colour and patterns to make the place inviting and good looking
3. A lovable laundry or utility room
[Source- https://www.elledecor.com/ ]
This needs to be most loved room by making it super efficient in functionality, design and lighting
You should feel like going into this room, be it for washing clothes, ironing them or organizing your kitchen-related items
The storage should be adequate for you to adjust your seasonal items, clothing etc.
Maximizing storage in your utility/laundry room can release lot of space in other rooms
Folding shelves, hangers, vertically-placed ironing-table can help release space, and make it look effective and spacious
This room can also double-up as your pet-room
4. Smart and innovative interiors
[Source- https://designs.spacejoy.com/]
[Source- https://www.mydomaine.com/]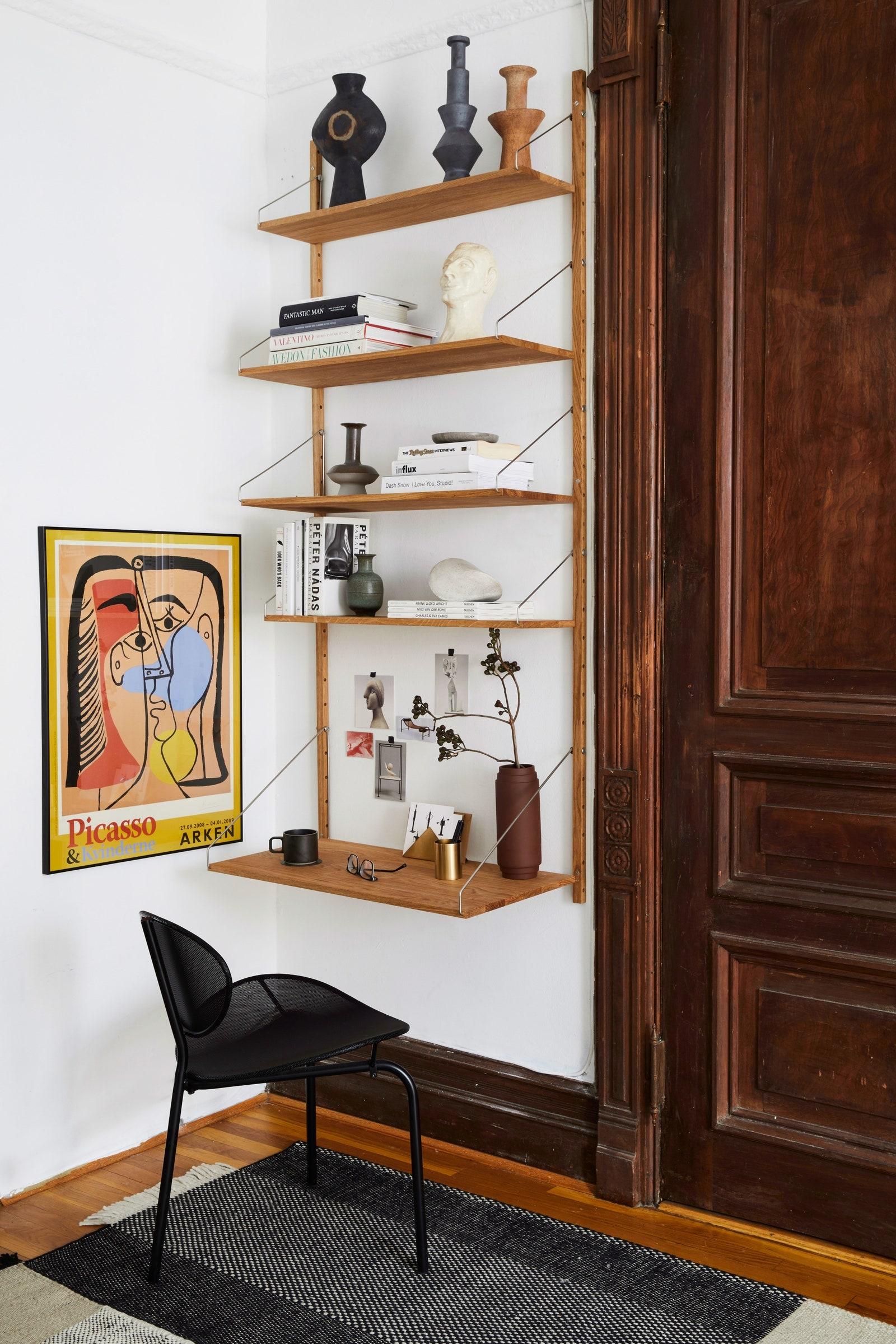 [Source- https://www.architecturaldigest.com/ ]
Think space, think technology and think

space-saving ideas

to make things work for you
The 'need for home space' and 'aesthetics' need to determine how you plan your interiors, not the other way around
Do not over-clutter your rooms by turning them into a storage nightmare
Habit of not over-accumulating things, and buying items in the spur-of-the moment has to be controlled
'Impulse buying' is one of the main reasons why even a spacious home becomes clutter much faster that you can imagine
Go all out to be innovative like hanging bicycles from the ceiling/walls, installing bookshelves in unconventional places, and installing built-in shelves all your rooms
5. Identifying and discarding junk
[Source- https://www.istockphoto.com]
[Source- https://www.houzz.com/]
Don't convert you home into a junkyard. Consciously discard unwanted and useless items in a planned manner periodically twice a year!
Your home must not look like a garage for storing items, whether or not you are using them
You need to put an end to keeping items for some future date which never comes
Get rid of old luggage, smaller clothes, accessories/equipment, seasonal decorations etc. that you know are not needed, or do not have any emotional-attachment to it
"Out of clutter, find simplicity. From discord, find harmony. In the middle of difficulty lies opportunity."

Albert Einstein
---
To know more about "Tips & Ideas To Manage Apartment Rooms Efficiently: Get More Out Of Your Apartment, Part 1". Click here!