Space-saving, stylish, and efficient ' House interior design ideas' for home buyers of 2bhk and 3bhk apartments in India- Part 2
This is part II of the article. Read part I for a better understanding.
In this article, we are discussing how Indians are now more open than ever to having MORE SPACE within LESS SURFACE ARE!
Home buyers in India are looking at ways and means to OPTIMIZE on SPACE.
This article is to help you plan the design elements of your home, and to make your home beautiful as well as FUNCTIONAL!
With the right approach that goes with your personality and priorities, you can have the right look and feel of your apartment, no matter how small it might actually be!
While beauty lies in the eyes of the beholder, you can make the eyes turn and drool over your apartment with conscious planning and smart ideas!
This article tells you about ways to optimize space with designs that reflect your persona and lifestyle!
Let's get exploring …
Space-saving, and efficient 'house interior design ideas'
1. Think of 2-in1 furniture items that doubles-up for storage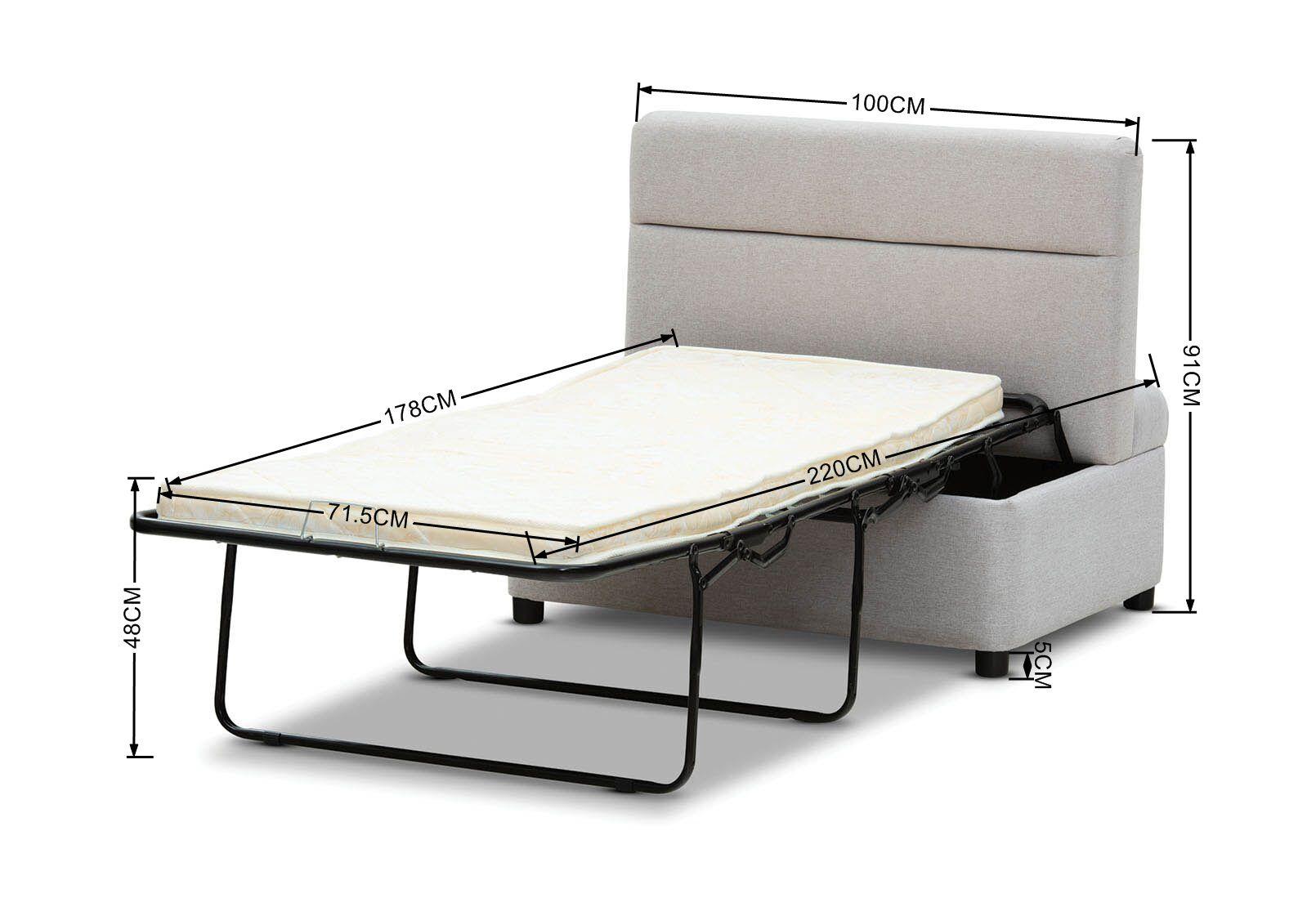 [Source- https://www.amartfurniture.com.au/l ]
2-in-1 furniture could be anything in your living room, kitchen, bedroom, or bathroom that does 2 jobs- 1) play the role it is meant to, and 2) give you something more like storage or any other function
Good furniture also means that you can keep it hidden unless it is needed. You pull it out when required
This is the best way to save money as well as space
Serving a variety of purposes is the key!
Another thing is to buy furniture that you can conveniently put away when it is not being used. That too, without eating into FLOOR-SPACE
When planning furniture or interiors, always think about HOW TO SAVE SQUARE FOOT SPACE on the floor
Double-duty or 2-in-1 furniture can actually be used for more purposes than one!
Example of such Space-saving furniture includes bed with storage, sofa cum bed, seating underneath storage, bed with storage against the wall
Automated furniture options allow innovative use of furniture, and actually don't have to cost more to be put in use
You end up living in style without compromising on space!
2. Few over-sized furniture items create a sense of grandeur and a more spacious feel
[Source- https://koalaliving.com.au/ ]
[Source- https://www.templeandwebster.com.au/ ]
Over-sized items like furniture are good to give a sense of space!
Items like a bed need NOT be down-scaled. Here BIG is better!
You don't have to hesitate to embrace big furniture in a small apartment where living spaces are less
For instance, a big bed tricks the eyes into believing that the room is big. The other items could be on the lesser side with a big bed in a smaller room
Also, you could have the big bed rolling up against the wall if you want to convert your bedroom into a work-room
Another way to trick the mind is to have large rugs which trick the eye into thinking that the bedroom is big
Few items like a big bed also give you a sense of grandiose living
So, you need not be scared while selecting a big king-sized bed. It will actually give you a new-age, stylish and warm feeling in your bedroom
3. Natural and electric lights in abundance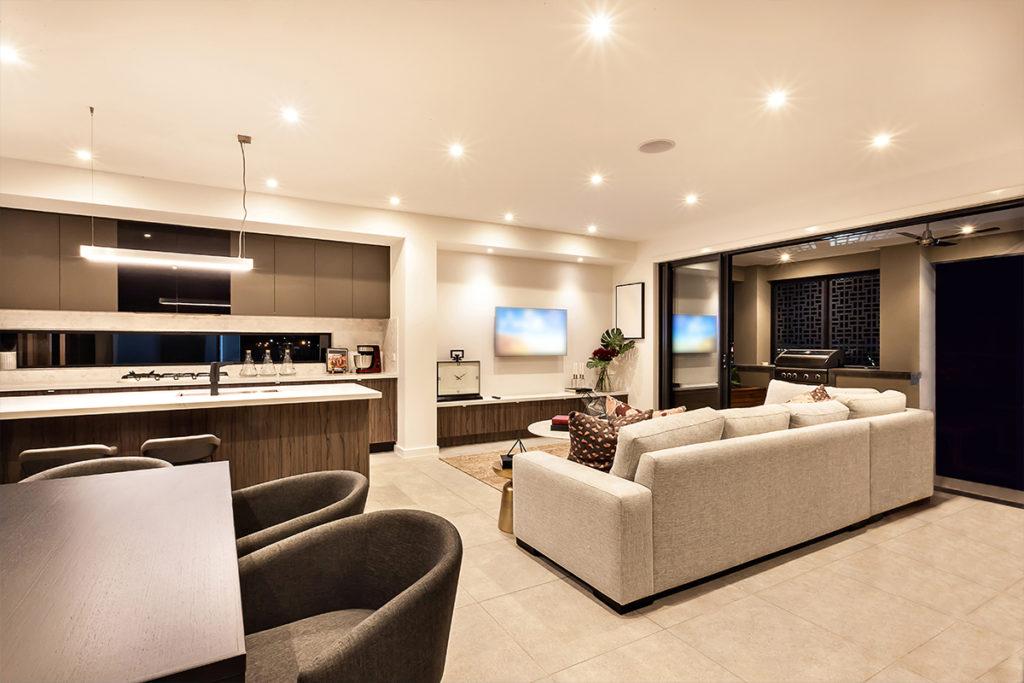 [Source- https://www.magiklights.com/]
Dullness goes away when you have plenty of natural light
Make sure to buy a home with plenty of natural and electric-lit lights
The home needs to have plenty of provisions for adequate lighting
While buying a home, look for dark spots, and make sure you get your builder to cover those areas with adequate lighting provisions
Long windows and doors open up a small space and allow for natural light to soak the space! Even

Vaastu shastra

has emphasized the importance of natural light and good ventilation

unequivocally!
Light creates a feeling of spaciousness, and also makes every nook and corner of a room visible
Light brightens up the mood, and is essential for human wellbeing and cheerfulness!
With the entire space soaked in light, you get a feeling of unparalleled warmth and tranquillity!
Wherever natural light is inadequate, you must put additional light fixtures. Some extra lights like string lights, fairy lights, pendant lighting, or wall sconces are extremely helpful!
4. Allow free movement by keeping the floor space uncluttered and less furniture
[Source- https://in.pinterest.com/ ]
Lesser the obstacles on the floor, the easier it is to navigate and move around
Lesser furniture on the floor, a free-flowing home makes the home seem bigger
With lesser obstacles, living in the home gets easier
Keep the middle of the room free of clutter. The lesser it is crowded in the middle of the room, the more spacious it looks
With a free-flowing clear floor, you can move around freely
One way to make this happen is to push large items like sofas, chairs, or beds against the walls
Additional storage can be created by having a shelf behind the furniture item
5. Using vertical spaces & corners in the rooms
[Source- https://www.pinterest.com.au/ ]
[Source- https://www.thebluespace.com.au/ ]
[Source- https://www.archiproducts.com/]
[Source- https://www.templeandwebster.com.au/ ]
[Source- https://www.dshop.com.au/ ]
[Source- https://www.pinterest.com.au/ ]
Small apartments with lesser square foot spaces tend to get clogged with furniture on the floor
The solution is to GO VERTICAL and use the UNUSED CORNERS of the rooms for storage as well as other functional needs
Furniture on the ground occupies the floor. So, with furniture items on the floor, it becomes unavailable to you. When the floor is no longer visible to the eyes, it is no longer available to you
Space-saving gadgets and furniture come to the rescue to make floor space available to you e.g. TV mounting units, shelves, cabinets, bookcases, wall-mounted desks & tables, and multi-purpose furniture stuck on the walls
Such furniture on the walls frees up space on the ground
By using vertical spaces, you get a beautiful illusion of a high ceiling which gives you a feel of more space
6. Playing with colors and mirrors to create more space
[Source- https://www.shinemirrors.com.au ]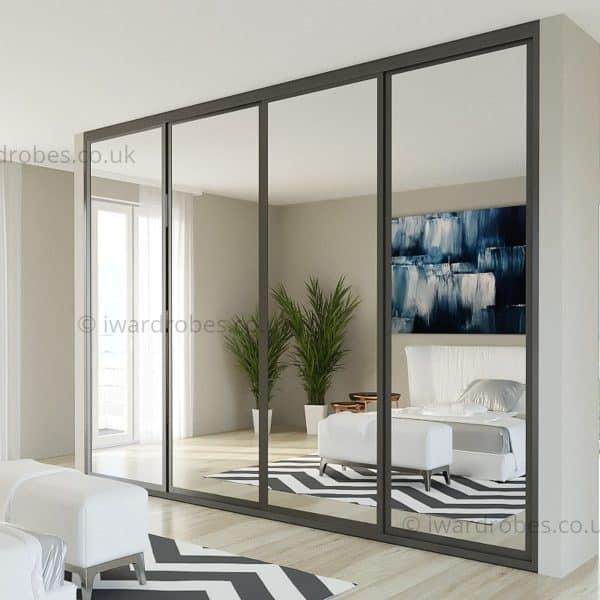 [Source- https://www.iwardrobes.co.uk/ ]
[Source- https://www.aliexpress.com/ ]
Playing with colors and mirrors makes your living space seem more open and lively
Mirrors add a chic look to your home besides enhancing the airy, big feel!
Mirrors also give you a beautiful sense of spaciousness as well as utility
With these ideas and tricks, you can be better prepared to make the most of your compact 2bhk or 3bhk apartment in India!
~~~~~~~~~~~~~~~~~~~~~~~~~~~~~~~~~~~~~~~~~~~~~
To know more about "Space-Saving, Stylish And Efficient 'Interior Design Ideas' For Home Buyers Of 2bhk And 3bhk Apartments In India- Part I". Click here!