Space-saving, stylish and efficient 'interior design ideas' for home buyers of 2bhk and 3bhk apartments in India- Part I
---
In India, the awareness and desire to have MORE SPACE within LESS SURFACE AREA is fast catching up! The home buyers are now aware that it is possible to plan and keep the homes beautiful as well as FUNCTIONAL with proper SPACE-MANAGEMENT!
For this to happen, you just need the right approach to the DESIGN ELEMENT of your home.
Indian home buyers are open to adopting newer ways to optimize space while seeking designs that reflect their personalities!
In this article we are talking about ideas and tips you need to have in your mind while consulting your interior designer, OR while planning your furniture.
While interior designer helps with their expertise, NOT everyone is very open to the idea of having one.
Another reason is that after we have bought our home, we go step-wise to build our interiors. Normally, we begin with the bare minimum needs which include our kitchen, our bedrooms, and our living room.
Interiors comprise furniture, fixtures, and other furnishings of each room.
Let's explore how we could make the most of our home, especially, the smaller 2 or 3bhk apartments in India.
Small 2bhk and 3bhk apartments in India
Post covid, home buyers are going for both 2bhk as well as 3bhk apartments. With the want and desire for space going up, a home buyer wants to optimize the spaces.
The trends till 2022 indicate that home buyers are willing to stretch their budgets and prefer a 3bhk apartment.
Even if the apartment is compact, we can make it LOOK and SEEM bigger with the right approach to design and aesthetics!
A 2 BHK flat could be anything up to 1200 sft, and 3bhk could be in the range of 1200 to 2200 sft. Some home buyers also get a balcony space to add a sense of airiness to the apartment.
Regardless of the size, we need to be smart enough to make sure we don't run out of spaces!
While the options in designing are unlimited, each home is unique in its architectural layout. More so, each family is unique, and the needs are also unique to the family lifestyle, culture, and preferences!
So, as a home buyer, it is prudent to know what works for you!
The type of design and interiors you choose must speak of your preferences, and how you would like to live in your apartment!
efficient interior design ideas for home buyers
1. Select WALLS of your rooms you want to beautify
You can choose any one wall of your room to beautify
The wall can be ONE WALL in the living, master bedroom, children's room, guest room, utility, kitchen, or even bathroom
A WALL can make a statement of WHO YOU ARE, and what makes you happy!
Decorating any one wall in the room is the best way to create a beautiful design, and take eyes off the small room
Anyone who walks into the room simply gets consumed by the wall and does NOT feel the room being small or compact
A beautiful wall is refreshing and makes you feel good about your creation
The wall can be created using many materials like wood, paints (colors), or other items. The wall can look good even with a single mural, multiple decorative items, lighting, wallpapers, and much more. There is no dearth of materials you can use
One need not follow any rules, and can wallpapers made of paper, vinyl, fabric, or even PVC
Another option can be using fabric and creating an upholstered wall that is easier to clean too
In fact, walls can help release a lot of space in the room floor space
2. Use Mirrors and Reflective (Glossy) surfaces to create a feeling of 'openness and spaciousness'
Using a mirror or glossy surfaces creates a sense of space
Mirrors and glossy surfaces also bring-in extra light into a small apartment
Reflective surfaces add to the spaciousness
Reflection of the areas facing the mirror adds more light as well
The effect is beautiful if the mirror faces a source of natural light like a window or a door
With a mirror, the natural light flowing inside the room becomes TWICE as much
Plus, a mirror gives the illusion of a more square foot area in the room
High shining glossy surfaces are also reflective and give a sense of spaciousness
3. Pastel color shades in rooms- spacious and pleasing color-themes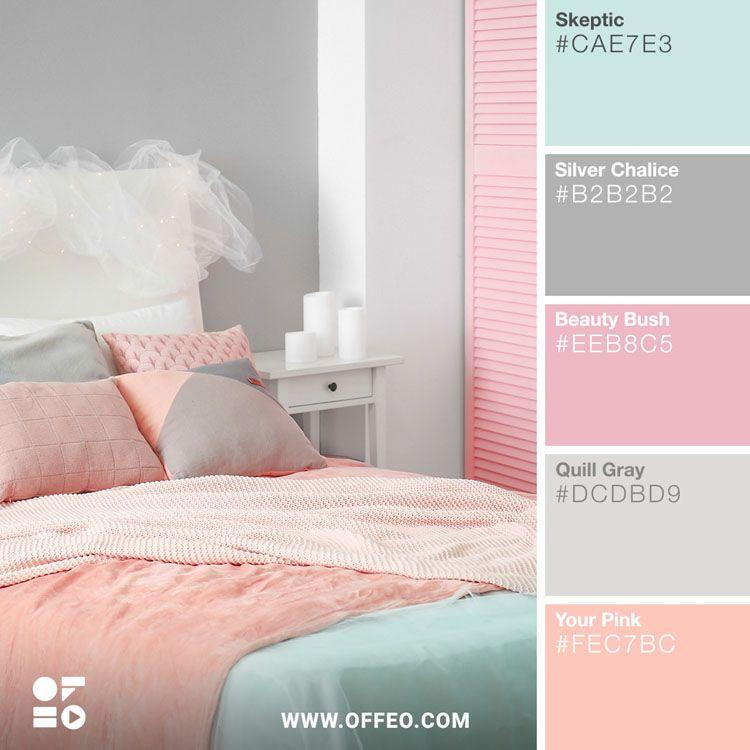 [Source- https://www.pinterest.com.au/ ]
[Source- https://www.pinterest.co.uk/ ]
[Source- https://www.pinterest.com.au/]
Whether you are using wall-papers or paints, choosing pastel shades means you are choosing an ever-pleasing theme for your rooms
Be it living, bedroom, kitchen, or bathroom, you can't go wrong with

pastel shades

to create a feel of SPACIOUSNESS
Light, soothing colors are known to give an impression of spaciousness, especially for a compact room
With light pastel shades, the natural or electric light reflects on each wall with ease. This creates an illusion of more space. Spaces start looking bigger than they actually are!
Pastel shade color themes work their magic like mirrors in making the rooms look pretty and big!
Besides, Pastel shades help you calm your senses
Post-pandemic, more and more home buyers want to be surrounded by PASTEL SHADES to embrace a calming effect
Pastel shades turn your home into a tranquil nest for your family!
Even if you don't have the advice of an expert

interior designer

, you cannot go wrong choosing pastel shades to get an airy and pleasing interior
---
To know more about "Is It Sensible To Hire Interior Designers In India For 2BHK Or 3BHK Flats?".Click here!