Is It Worth Buying an Apartment Or Property In Hyderabad?
There are two parts to this question: first, buying an apartment or property , and second, buying it in Hyderabad. The overarching question to ponder is: 'whether or not Hyderabad is a good destination to own a home or for investing in real estate'.

To get a balanced perspective, we need to explore all the relevant facets that make any city a good choice for investment. Here, a home buyer must draw a parallel with the questions that a corporate house may ask while evaluating Hyderabad as a prospective investment-destination:
Is the city worthy of investments with a relatively risk-free environment? Does the city offer all the right ingredients to help the business flourish in the long run?

More specifically, does the city

(State & Country included)

offer a sustainable, conducive

'general environment'

which will yield desired financial & strategic returns for a business?
'General environment' comprises of factors that are 'external' to the firm viz. political, economic, socio-cultural, technological, environmental and legal. With this framework, let us dwell further to gauge how Hyderabad fares on having a good 'general environment'.
Real estate in Hyderabad: dependent on a positive & robust 'general environment'
With the above frame of reference, it is evident that the question of investing in real-estate in Hyderabad cannot be asked in isolation. What a home buyer should look for also must be similar to what any firm may seek, and evaluate the 'general environment' of Hyderabad as a city. The ultimate goal of any business house would be to park themselves in a place (city) where business can thrive in the long run!
A home buyer should also tread on a similar path of due-diligence and risk-assessment, and explore whether or not buying an apartment in Hyderabad is a good destination from a real estate perspective.
In this article, we shall look at the relevant factors that make-up this 'general environment' in Hyderabad. Should we find the ingredients 'in order', then Hyderabad as a real estate destination would also get the brownie points. Economic reward for a home buyer or investor comes with capital appreciation of the property, and rental returns over a period of time. A good return on real estate can be secured only if the city consistently maintains its status as a preferred location to live, work and do business. Plus, the real-estate related demand and supply factors also play a role alongside.
Let's answer a simple question: Is Hyderabad a happening city basis social, economic, infra and other parameters? We shall begin with exploring some facts to assess if Hyderabad is on a stable and sustained growth path as a city. Here we need to look at the economic, political, socio-cultural and technological reasons of the 'general environment'.
Buying an apartment or property in Hyderabad – Economic factors at play
The pointers mentioned below are an indicator of what Hyderabad means for an investing business house, and how the city has been faring thus far:
an enviable rank of no. 1 on

ease of doing business

, which brings in investments, leading to more employment opportunities

a

high average literacy rate

of 83% as on 2011, resulting in high quality of

talent availability

for business houses across industries/sectors

a

high number of households

, providing for all round growth in all other sectors

a

high Gross State Domestic Product (GSDP) Growth of over 10% as per 2016-17 statistics

a population of over 82 lacs

a significantly respectable

per capita income of over INR 1.58 lacs

as per 2016-17 statistics

a population growth of 87% in the decade of 2001-2011

a committed civic administration led by the

Greater Hyderabad Municipal Corporation

a population density of over 18000 people per square kilometers
Socio-Economic factors propelling growth in Hyderabad
The pointers related to the overall Socio-Economic momentum of Hyderabad are equally important for a business house while assessing the suitability of the city:
A good 'Engine Room population' (people in 20-40 years old bracket who are employable)

High economic output of the city alone

Retails sales being high; Hyderabad is the 4th largest market in retails spends as per Knight Frank, 2016

Excellent connectivity by Air, with an Airport conforming to International standards (Rajeev Gandhi International Airport)

Hyderabad hosting Head-offices or Country-offices of large global giants, start-ups and domestic firms

Ongoing Inflow of Foreign Direct Investments into the city, and set-up of new industries in the State
Administrative (Political) commitment to making Hyderabad a truly-desirable, most-livable city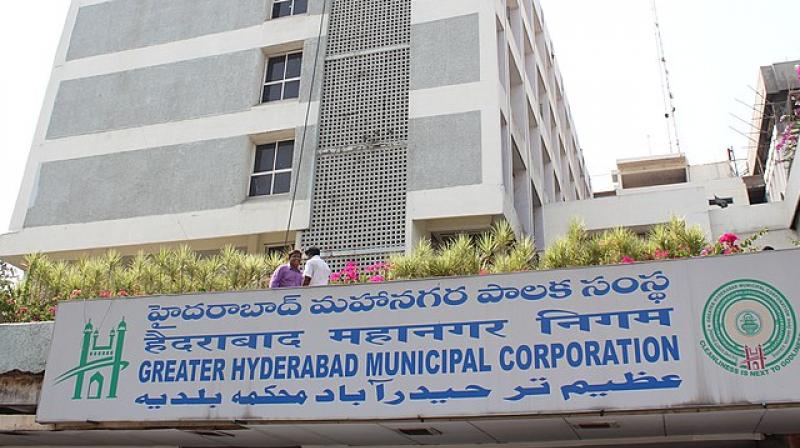 [Source:www.deccanchronicle.com]
The civic bodies in the State Government have been making relentless efforts in Hyderabad to bring Economic prosperity into the city by trying to gain the confidence of global business firms and the resident public.
Let us briefly get to know these civic bodies, and the role they are playing in the development and growth of Hyderabad as a smart-city:
GHMC, the civic body is responsible for building and upkeep of roads, providing for health & sanitation, overall urban development; GHMC has been committed to enhancing the livability of the city with an efficient city planning and execution of the population needs
HMDA (Hyderabad Metropolitan Development Authority) which works relentlessly to develop the infrastructure of Hyderabad with a jurisdiction of over 7000 kms spread across seven districts; This further boosts the real estate scenario in Hyderabad
HMDA further works towards developing roads, infrastructure facilities in SEZs (Special Economic Zones), construction of flyovers, development of residential pockets along ORR (Outer Ring Road), IRR (Inner Ring Road), initiatives to decongest traffic, and an overall effort to re-position Hyderabad into a well-planned and well-maintained city
On easing the traffic conditions in Hyderabad, aggressive plans are underway continually to improve the functionality of Hyderabad by way of Multi-level flyovers, underpasses and grade-separators to ease traffic-flow [

Note

: Grade-separators is part of high-way engineering; it's about putting-up roads at different heights (axes) in a junction to ensure that the traffic flow is not disrupted]

GHMC has classified the city into

5 zones

for planning and development:

Central zone (34%)-

comprising Khairatabad, Somajiguda, Mehdipatnam, and home to many private sector and commercial offices along with Sanathnagar and Erragadda Industral Estates

North zone (17%)-

comprising areas like Sainikpuri, the Secunderabad cantonment, Ammuguda, Marredpally, Jeedimetla Industrial Zone and Quthbullapur; This area is a preferred residential area of the future

South zone (28%)-

comprising the already thickly populated area with markets in and around Shamshabad Airport, Budvel, Attapur; This area has sizeable chuck of land bank for IT hubs and Industrial developments

West zone (10%)-

comprising the existing IT hub in and around HITEC city, Gachiibowli, Madhapur, Manikonda and adjoining micro-markets; Being a major employment hub, the areas in and around including Kukatpally are witnessing exponential real estate activities

East zone (11%)-

comprising Uppal, Tarnaka, L.B. Nagar, Pocharam which is again a preferred residential hub; Companies like Infosys located in Pocharam are fuelling growth in the residential sector

Hyderabad scores big on

'ease of doing business'

with the T-iPass that has helped the Corporates get

all approvals in a single window

; This further increases the scope for residential sector with the employment sector on a growth path trajectory

With policies like

'uninterrupted power supply to IT & ITeS SEZs', Electronic Systems Design & Manufacturing (ESDM) policy, ICT policy, thrust to Aerospace valley & parks

, and various

initiatives to incentivize entrepreneurial pursuits (T-idea, T-pride, T-hub)

, employment hubs are already getting a huge boost

West zone of Hyderabad

(HITEC city, Madhapur, Gachibowli area)

is already

an extremely affordable hub of major IT and ITeS office spaces, with high quality plug and play offices
Government initiatives in Hyderabad impact real estate
With the on-going thrust on Metro rail connectivity, underpasses and flyovers, T-iPass, development of the 5 zones of GHMC, and development-centered policies of the State Government, the real estate sector in Hyderabad will continue to receive a positive upswing in the decades to come.
The State Government in Telangana, regardless of the political party in power, has been making concerted efforts to focus on:
inducing a start-up culture by fostering an entrepreneurial eco-system

inviting technology-led industries to set-up operations in the State, especially, in Hyderabad

focus on an ongoing, improving economic reforms to excite business growth

continued investment in infrastructure growth

pursuit of a low-carbon imprint future

unlocking new locations for business and social efforts

GHMC drive to adopt a hub-and-spoke model to enhance social infrastructure in all 5 zones of Hyderabad

commitment to increased connectivity through metro-line, high-speed railways, improved capacity handling by International Hyderabad Airport

focus on eco-friendly micro-mobility through electric-vehicles (including bikes). 
Hyderabad- the fast emerging, high growth technology hub
Hyderabad has been giving stiff competition to Bengaluru as the newly emerged Information Technology hub with exports of IT products crossing over USD 15 Billion in 2019. More than 6 lakh employees are working in the IT and IT-enabled-Services with about 1500 companies in Hyderabad (2020). The main areas where companies are concentrated are Gachibowli, Madhapur, Kondapur, and Uppal.
The Government commitment to improving overall infrastructure, and the availability of qualified technology talent has resulted in the HITEC city expanding in Western zone of Hyderabad. HITEC City, a 150+ acres of area has fallen short to accommodate the stupendous growth, and adjoining areas of Gachibowli, Financial District (Nanakramguda), Kondapur, Tellapur, Miyapur and Kukatpally are also fast expanding to provide office and residential spaces.
With tremendous focus on IT in West and East Hyderabad zone, the planning and improvisations is also far easier to meet the needs of the industries. With affordable pricing of office spaces in IT corridors (almost 15-20% lesser than Bengaluru), affordable living, and an excellent infrastructure, Hyderabad is a safe bet for investment by large global firms in Technology driven industries.
With all these facilities and corporate incentives, Hyderabad takes pride in hosting leading companies like Microsoft, TCS, Wipro, Delloitte, Amazon, Oracle, Google, IBM, Motorola, Cognizant, Dell, Texas Instruments, Hewlett-Packard, Franklin Templeton, Capegimini, Genpact, KPMG and Infosys among others.
The city is known for beautifully landscaped spaces and IT parks such as Vanenburg IT park, L&T Infocity, TCS Synergy park, Mindspace, DLF IT SEZ, Cyberabad SEZ etc. that are made to suit the needs of several global technology firms. Hyderabad has the rare distinction of housing the highest number of 'Special Economic Zones' amongst the cities in India.
The State government also has left no stones unturned to incentivize setting-up of technology firms in Telangana, particularly in Hyderabad. Besides providing and allocating land, the approvals are given to corporates through a single window system. The companies setting-up office are given reimbursements for starting operations in Hyderabad, duties & taxes are either exempted or subsidized.
Hyderabad had been designated as the Information Technology Investment Region (ITIR), and is being continually promoted jointly by the State and Central government. This ITIR project had been envisaged to replicate the Shenzhen Special Economic Zone of China. This led to the creation of Special Economic Zones, free trade zones, industrial parks, export-oriented-units in and around Gachibowli, Madhapur, Uppal, Raviryal Mammidipalli, Maheswaram, Pocharam and Adibatla. All this was done to secure employment to more than 15 lakh people. Hyderabad has also emerged as the pharmaceutical capital of India with establishment of 'Genome Valley'.
Hyderabad: pegged as one of the 'Most Dynamic City' in the world!!
There has been a stupendous thrust on the Infrastructure growth of Hyderabad, especially in and around the employment hubs of the city. Various initiatives taken by the Government authorities to provide financial and nonfinancial incentives to the private sector have also worked in favour of the city becoming a preferred destination to set-up businesses. Hyderabad has been declared to be the Most Dynamic City as per the 'City Momentum Index 2020' published by Jones Lang LaSalle (JLL).
JLL compared over 120 cities all over the world before conferring this title of 'Most Dynamic City' upon Hyderabad. The assessment of this exercise was based upon success drivers (relevant to businesses) like 'talent attraction, 'innovative economy', 'challenges faced to accommodate long term growth', and 'efforts taken to keep up the positive momentum for future growth'.
[Source:www.prnewswire.com]
Hyderabad real estate landscape: a snap-shot
According to property consultant Knight Frank, Hyderabad is the only city in the top 20 globally (out of 150 global cities evaluated) to have recorded an appreciation of 9% in residential properties compared to previous year in 2019.
Buying an apartment or property in Hyderabad: is an attractive residential city with better quality of life on four metrics viz.:
cost of living (affordable)

Item 1
security & safety (overall law & order)
traffic woes (ease of commute) 
pollution (clean & green)
From a builders' perspective, on 'supply and demand' front also Hyderabad outshines compared to all other metropolitan cities. Infact, in this comparison, Hyderabad has beaten Pune and Bangalore, the competing cities, on two critical parameters, namely, 'unsold inventory of residential units' and 'capital value appreciation'. Another factor where Hyderabad has scored well is the residential property 'capital value' by recording a growth of over 25% between the year 2012 and 2018.
Key residential areas in Hyderabad
With rapid urbanization fuelled by an increasing population, Hyderabad's social and physical infrastructure has peaked in Central Hyderabad. Plus, many plush localities like Banjara Hills, Jubilee Hills, Ameerpet, Somajiguda and adjoining areas have reached a saturation point. The IT-hub located in the Western Hyderabad is experiencing a massive growth with over 70% new residential offerings being launched here. The areas closer to the IT-Hub like Tellapur, Kondapur, Kokapet, Nallagandla, Miyapur, Kukatpally, Sanath Nagar, Narsingi and Nizampet are experiencing massive growth owing to their proximity to the IT-hub.
Similarly, the Northern zone of Hyderabad is also witnessing tremendous growth because of being a natural and preferred habitat for a comfortable, tranquil living. Adjoining the North zone of Hyderabad, the Secunderabad cantonment in the second largest cantonment board in India with a massive area of approximately 40 square kilometers in its purview. With connectivity improvements and initiatives like ORR (Outer Ring Road), areas like North zone of Hyderabad are pegged to be preferred residential destinations, especially, for those seeking tranquil environments and bigger homes. On the cost front as well North zone of Hyderabad works out more economical compared to the West zone; For instance, a 3bhk apartment admeasuring 1400-1500 sft in North zone of Hyderabad can be bought at lesser price (30%-40% cheaper) as compared to the West zone of Hyderabad; This means that an INR 1.2 Crore apartment near Gachibowli or Tellapur would cost about INR 65-75 lakhs in the North zone of Hyderabad (in and around Trimulghery, Sainikpuri, Yapral, Kowkur, Maredpally, Bowenpally, Hakimpet, Bolarum, Ammuguda).
Residential projects launched in Hyderabad: a perspective on the 'spread'
[Source:themediaant.com]
Majority of residential projects (over 70%) in Hyderabad have been launched in West zone of Hyderabad, owing to the IT-ITeS sector in and around HITEC-city, Madhapur and Gachibowli. The main reason obviously is the desire to be close to the place of work, and avoid the traffic woes. After West Zone, the most popular area is the North Zone (in and around Sainikpuri, ECIL, AS Rao Nagar, Yapral and Cantonment area) due to land availability and the place being a naturally preferred habitat. Besides, this area currently has the most affordable offerings and a green cover with lots of trees and fresh air. The presence of Army cantonment gives a lot of greenery in North Zone which acts like the lung of this area making it a largely pollution-free habitat. The Central zone is already over populated and saturated with no land parcels available, and the East zone (near Uppal, Tarnaka, Pocharam) is also picking pace on the residential property front.
The advent of RERA and mandatory approval by civic bodies like GHMC has further made property market a safer bet even for the reluctant and apprehensive home buyers of Hyderabad.
Conclusion
All these external factors are working in tandem resulting in buying an apartment in Hyderabad. With enhanced employment opportunities and an improving social infrastructure, Hyderabad is on the trajectory of being a promising city that will offer a superior living experience in the years to come.
Hyderabad is very well poised to be a thriving business, education, healthcare, shopping, and entertainment hub of the future well beyond 2020. The capital of Telangana State is certainly moving in the right direction, positioning Hyderabad to be a vibrant destination in buying an apartment.
To know more about "5 tips to finding the right standalone building apartment in Hyderabad!". Click Here!