Utility room ideas for 2 & 3 BHK home buyers in big cities like Hyderabad!
Homebuyers in big cities like Hyderabad are now increasingly aspiring for more spacious 2&3 BHK homes. While balancing of budget always puts a strain on the home buyers buying decisions, certain spaces in a home are far too important to be ignored. For instance, a well-designed, fully-functional 'utility room' can no longer be compromised upon!
The UTILITY ROOM is an important place where all the household work gets done! With COVID-19, new realities have dawned-upon home buyers, and the UTILITY room is turning out to be a more important space than it was ever was. Homebuyers in Hyderabad and bigger cities need to be prepared for the eventualities of being self-reliant in a way that we reduce unnecessary contact with the outside world.
A 'utility room' or a 'laundry room' helps us do just that. In Indian homes, our utility room needs to take care of our clothing needs as well as kitchen-related expectations. Hence, 'utility room' becomes an all-important place that needs serious thought, planning, balancing, and aesthetics!
In this article, we discuss ideas to help you make most of the utility room space in your 2&3 BHK apartment in Hyderabad or elsewhere-
Utility room ideas
Let's begin exploring…
1. Use a combination of open shelves and cabinets depending on kitchen, laundry, and household needs
[Source- https://hips.hearstapps.com/]
This means using a combination of open shelves and closed cabinets in your utility room
Indian households need to hold many things pertaining to the kitchen, the seasonal clothing, essentials like LPG gas cylinders, 20 Litres (or bigger) mineral water bottles, shoes, ironing stand, idly–dosa batter maker, and various culture-specific utensils, equipment, and electrical gadgets
Plus, the need to store and stock items you would NOT like to buy too frequently considering social distancing norms post COVID-19
This pattern of 'closed' and 'open' spaces balance the requirements of items that need to be open and airy as well as those that can be Alternating between exposed and closed cabinetry
This way you can incorporate all the essentials of the laundry-related stuff, seasonal clothing, crockery, house-cleaning materials, kitchen-food storage, and other non-regular items
Open shelves give you a spacious feel besides being visually appealing
2. Create a balance between storage, utility, and aesthetics with an efficient layout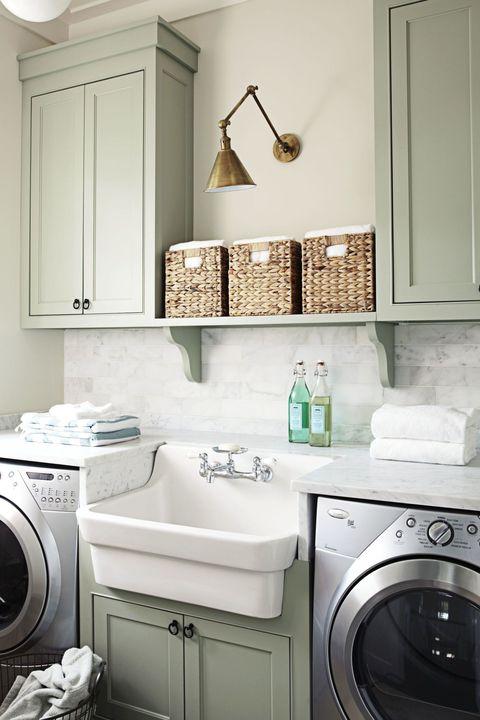 [Source- https://hips.hearstapps.com/]
With limited spaces, the front loading and dryers could be tucked underneath the counter. This allows homeowners to utilize the space above
The water inlet and outlet to be provided for the washing machine
The dryers need a separate outlet for humid air to escape outside the utility room
A sink in between allows for an aesthetically well-balanced design, and also for washing smaller or delicate clothes manually
The sink along with the counter-top also doubles up as an extension of the kitchen and can be used to wash used utensils sparingly
With graceful overhead cabinets and a well-lit up provision for lighting, the utility room could look very appealing
3. Make the utility room a fun place that you would want to spend your time in
[Source- https://hips.hearstapps.com/]
Interior designers or homebuyers thinking of designing their utility room need to transform their spaces into a lively space
Laundry and kitchen-related chores must become a delight to work upon
The utility room must be washing clothes, ironing your clothes, arranging food items, stocking grains/rice/pulses, and kitchen-related items
The spaces should be inviting, gorgeously done up with the right pop-up of colors, textures, equipment, lighting, tiling, water accessories, ventilation
Use color combinations that could range from soothing cool blues or green to an energy-filled red or shades of orange
A beautiful wall-paper can add a zesty ambiance to your utility room
4. Combine style with the convenience that engages every member of the house
[Source- https://hips.hearstapps.com/]
You could even keep charming trolleys to stock up your items, which also gives you the ease to pull them out for use
This is an important feature in Indian kitchens where you normally keep significantly big stockpiles of rice, pulses, and wheat weighing over 20 kilograms
Such trolleys could also be used for segregating the laundry of each family member
5. Materials to be used in the utility room should be chosen wisely enabling cleaning and maintenance
[Source- https://hips.hearstapps.com/]
Ceramic tiles do well in a heavy-duty area like a utility room where heavy materials are moved around incessantly
Being a work-horse area, the materials used to put together the utility room starting from cabinets, washing area, work-tops, tiles, wall-paper, machinery for laundry, ironing, storage closets and open shelves should 'make life easy'
These should also exude style and personality
Colors used could be contrasting or similar to give an appealing look
6. Using wallpaper and lighting to bring cheer to small spaces
[Source- https://hips.hearstapps.com/]
A wallpaper does wonders for tiny rooms. Especially, ones with flowers which bring your tiny utility rooms closer to nature
Even if the spaces are so tiny with the need to stack up the washing machine and dryer in limited space, a wall-paper adds life
With beautiful lighting like spot-lights or pendant lights, even darker spots in the utility room can be well lit up to bring cheer
Creating 'vertical space' utilization and using wall-paper makes the cramped-up feeling to ease off a lot with the spark that wallpaper adds
7. Using the ever-elegant shades of white in cabinets and accessories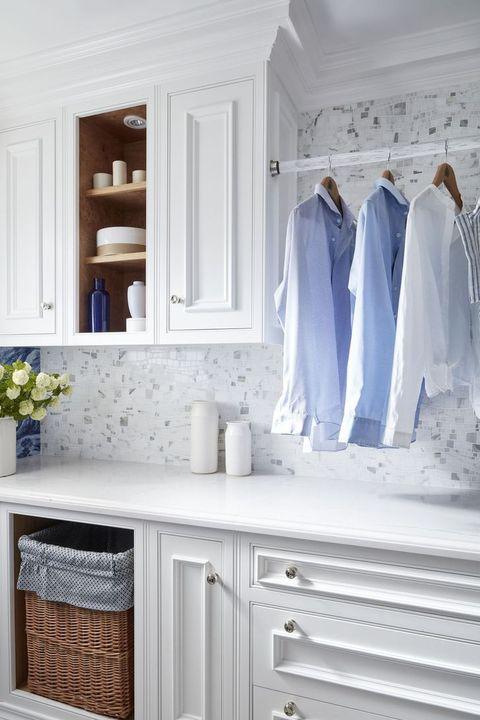 [Source- https://hips.hearstapps.com/]
When the spaces are less, and installing a drying stack is not an option, one can use 'drying rods' in available spaces to make up for it
Damp garments can be dried on rods coated in white. The materials could be paints of different types. White color is any day a good choice, especially when you want to give cramped-up spaces feel bigger than they actually are
A white drying rod too can look very pretty.
An open basket tucked under open spaces can also be provisioned. These are easy to grab, and pull out and allow for adequate ventilation as well. This helps avoid the formation of fungus as well
Open spaces and cabinets in a white spell a charm that's incomparable
8. Optimize by using all the walls available in your utility room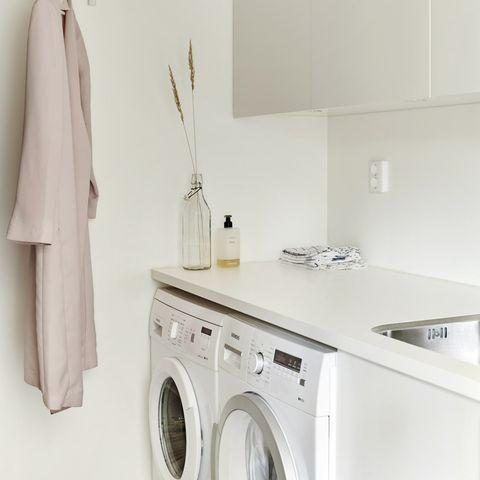 [Source- https://hips.hearstapps.com/]
Just like in the warehouse all the walls can be optimized for utility
The cabinets could be positioned that are in the range
You could also have racks kept on top of these cabinets, and use a little step-stools (step ladders) to reach out to them
This helps make use of all the possible
You could also optimize by using the walls to attach the drying rack to it. There are racks that can be pulled out and squeezed back depending on when you need them. This works very well in small utility areas where laundry is a regular feature
9. Painting the ceiling to add a little excitement
[Source- https://hips.hearstapps.com/]
Most laundry rooms are small, which leaves limited space for exciting design moments.
You could get creative by painting your ceiling with a different pastel shade like blue, grey, or even mustard-yellow
You could also use mini-curtains in cheque or plain cloth prints to hide your appliances, utensils, or storage areas behind them
10. Adding extended shelves if the budgets don't permit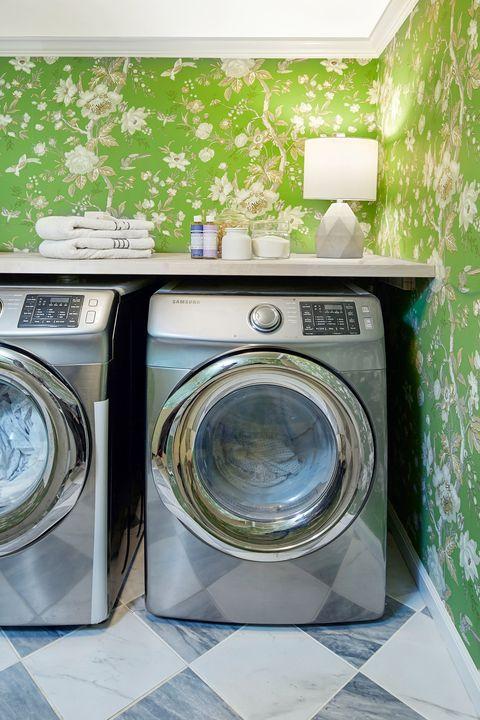 [Source- https://hips.hearstapps.com/]
If you cannot afford to put countertops above your washing machine or other work areas, use can use plain shelves to create the work-space
The shelves work just fine, and with more open ventilation, things cannot go wrong, especially in Indian kitchens, which require more ventilation
The open areas and shelves placed on the walls also serve the purpose very well
11. Hanging a drying rack from the ceiling
[Source- https://hips.hearstapps.com/]
In Indian utility 2 & 3 bhk apartments, like in Hyderabad, you may be forced to keep surface space free for multiple other things. So, a rack hanging from the ceiling works well, and these can be used on occasions
In India, this makes all the more sense since you can always roll up the hanging rack when not required
You need the hanging shelf usually happens only in monsoon seasons when you can use natural sunlight on your balcony to dry your clothes
To add to this, beautiful-looking cabinets can do well to take away the eyes from unpleasant-looking machinery (washing or drying or even ironing tables, etc.)
12. Installing a sound system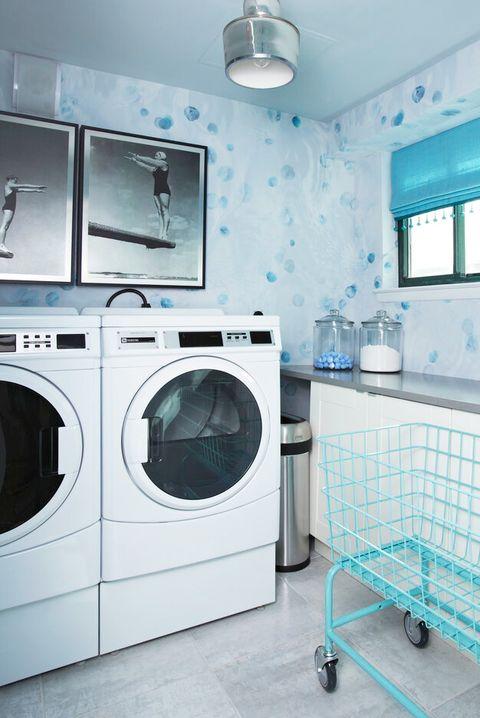 [Source- https://hips.hearstapps.com/]
It is not uncommon to have family members wanting to have your lower down your music, and worse still, to completely turn it off
You share your home and rooms with the rest of the family, but the utility is not a place where everyone visits all at once
Your utility area is yours till you work, and music can be a huge motivation to spend the extra time in the utility room, and avoid all the restrictions imposed by family members
Music is the panacea to too many things, and having speakers with a decent sound system for your kind of music can work wonders for your good senses. These also make the chores in the utility room unconventionally inspiring
Conclusion
Small ideas in your utility area can go a long way to make the space work well for you. In cities like Hyderabad where you have home buyers scouting for 2&3 BHK apartments, the spaces are limited.
With pandemics having impacted our lives, home buyers are now looking for a home with a 'good utility room' to support their day-to-day life. This can't be possible without some smart planning, superb functionality, and a sense of aesthetics- all rolled into one- to create a functionally optimal utility room!
Utility rooms and laundry rooms in India are now emerging as the most sought-after areas to make life easier and well-organized. Read more!