Utility Room Vs Laundry Room- a clear perspective for the Indian home buyers
Utility rooms and laundry rooms in India are now emerging as the most sought-after areas to make life easier and well-organized. This space is necessarily meant for the family to live together, and to make life better organized and well-managed.
Interior designers and home buyers in India are now turning to making their utility and laundry room beautiful, and a place that's a pleasure to work in. While a home owner's heart will always drool over other spaces in the home, like the kitchen, living room, bedroom, or even bathrooms, the laundry and utility areas are now getting a lot of well-deserved attention.
A 'utility room' is basically meant for accomplishing many purposes/tasks in one room. On the other hand, a 'laundry room' is meant exclusively for the care of your clothing needs.
We shall dwell on these two in far greater detail in this article.
The increasing importance of 'utility' and 'laundry' room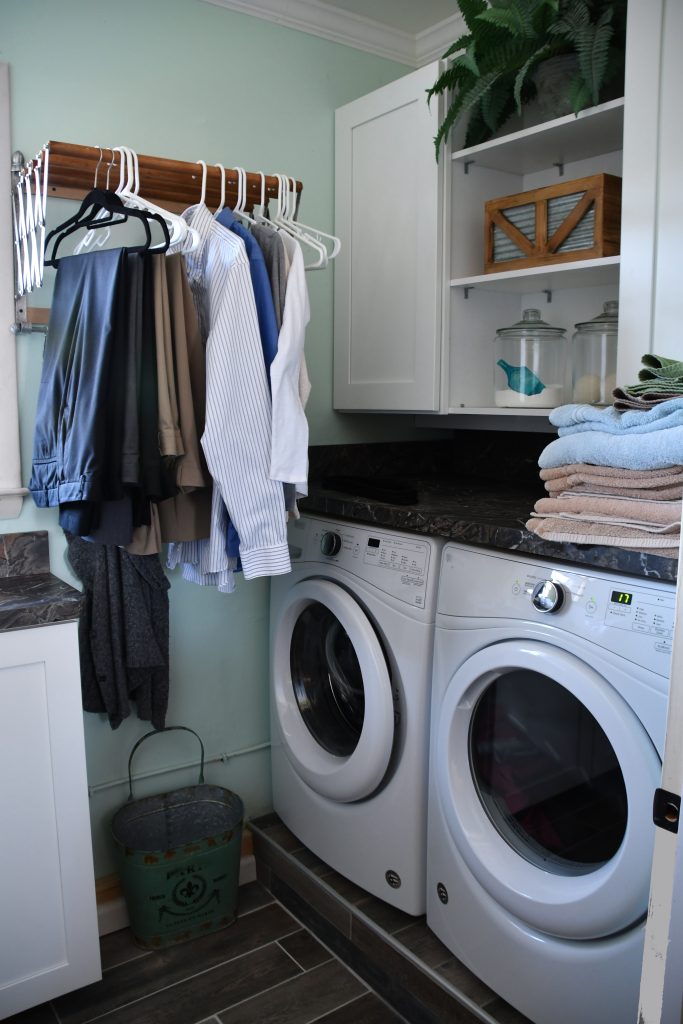 The desire to have great utility and laundry has further gained importance post the pandemic, as one needs to be prepared to stay indoors and still have all that's required in difficult times.
The once oft-ignored utility and laundry rooms, which were considered dull and uninviting, are beginning to gain a lot of attention over the last two decades globally. The functionality and aesthetic appeal matter. These rooms are often connected to the kitchen. It is increasingly gaining importance as a place where Indian family members are having to spend their time. With double-income couples, and even children expected to do their own chores, this space gives the right atmosphere to undertake the laborious task.
Home-related chores are no longer the exclusive domain of the housewife. All family members need to shoulder their respective responsibilities be it regarding their wardrobe, or the kitchen. A Utility area is meant to take care of multiple needs like storage, washing, ironing, keeping house-keeping items, and meeting a plethora of other home needs.
This is why utility and laundry rooms are usually placed adjacent to the kitchen's neighborhood. With more than usual time being spent there, they surely deserve the same level of planning, thought, and design as the other rooms which shine bright on the center stage of importance.
Life can be pretty miserable unless the clever design of the utility and laundry room is missed or undermined.
Let's first understand what a utility room is, and how it differs from laundry. Also, let's figure out if the design is different for both!
What's a Utility room?
The name says it all– a utility room is known for its usefulness, its function, and its practicality in giving you a good living experience- both in good and bad times. It makes you self-reliant, especially in the post-COVID era. Since times immemorial, these rooms have been connected to the kitchen because they are an evolution of the washing and cleaning area of a home in the good old days.
Be it Europe or India, the homes beyond 70 years had a specific area which was often located closer yet a little distinct from the kitchen, and this area was used for cleaning utensils, and also for washing clothes. In Indian villages, people would wash and dry their utensils as well as clothes out in the open.
Later, with the more modern, post-Indian-independence era, urban living became the order of the day. Lots of people migrated from villages to the cities, which in turn became cramped up. Space became scarce in the cities, and homes became smaller. With the advent of apartments, these were earlier ignored over a few decades, but over the last two decades, the importance of 'utility room' has resurfaced.
Hence, a utility room that we witness today is actually an all-in-one room. These rooms are used to park/keep anything that you either don't want or would simply NOT fit well in your kitchen.
These secondary spaces are useful, hence the term 'utility'. These are actually enablers to making your kitchen more efficient. Your kitchen functions better with items kept there, be it appliances, storing of dry or wet-food items, washing machine or dryer
Utility rooms in India are used to store kitchen appliances, gas cylinders, and kitchen equipment which are pulled out only when they are to be used (idli/dosa batter maker, large utensils used sparingly, etc.)
The utility room helps you de-clutter your kitchen. You don't want your kitchen cabinets to be storing items, and becoming a dumping yard of items that are not used on a regular basis. Cabinet space is valuable, and NOT everything fits in. Also, we don't use any equipment on a daily basis. The less cluttered your kitchen cabinets are, the more enjoyable the experience of working in the kitchen.
Small or large, a utility room helps you eliminate tasks and items that eat-up valuable kitchen space. Thus, this enabling room comes to the rescue of the kitchen as a friendly neighbor.
Besides the kitchen material, washing, drying, and ironing are also a need that must be met by the utility room. While it's common in some Indian households, especially apartments to house the washing machine in the bathroom or kitchen, this renders the bathroom or kitchen space rather ineffective or under-utilized. This is why increasingly, architects are making utility rooms in the kitchen.
Moving the washing machine and tumble dryers (clothes dryer) to the utility room, away from the kitchen or bathroom help. This way, you optimize the spaces in your kitchen or bathroom.
Utility room- multiple uses, benefits, and advantages
While an all-in-one utility room that caters to 'kitchen', 'laundry', and other multi-purpose needs, people differ in their needs and expectations. So does their view of the 'Utility' room. Some of the uses and advantages it gives are
In some homes, 'utility' could mean using it as a big-sized pantry that is filled with cabinets and open shelves to tuck-away items that you don't use every day. This includes items like cutlery, serving dishes and serving platters, fine-dining crockery, glassware, and all types of beverage bottles. This releases a tremendous amount of space in the kitchen cabinets.
All of the excess belongings can conveniently be parked in the utility room. A utility room with its cabinets is also used for hiding undesirable clutter like footwear, winter scarves, hats, raincoats, umbrellas, and so on. Finding and using the day-to-day use items becomes so much easier!
Another way to use utility is for clothing especially, in winters, or rainy seasons in India. One can keep winter clothing, coats, woolen clothes, etc. A beautiful washing sink is increasingly being placed in the utility room for cleaning clothes or anything that needs to be separated from the kitchen sink. The utility room with a sink comes extremely handy when hosting meals for a large number of guests.
Yet another purpose served by the utility room is to separate the kitchen sink and bathroom, particularly storing the cleaning and pest-related equipment/additives that you want to keep out of reach of children.
Utility room- the 'workhorse' that needs to be well-designed
Essentially, the utility room truly serves as a workhorse, taking on the burden of all the laborious tasks. With a dedicated space, you can easily work hard without being disturbed. The tough chores and household can be done in privacy and hidden away from the prying eyes of the other members of the home. This lets you even enjoy your work in peace and to the fullest!
A utility room, therefore, has a hardworking character, which has resulted in the architects and interior designers finding it very fulfilling to make it optimal. Designing a utility room is today an area of specialty requiring special attention to detail.
As a home buyer, you need to make a list of your requirements, the weather conditions you face, the number of people who live in the house, and each one's requirements, and then think of putting together a plan of your utility room. Unless all the requirements are met, the utility room will not be able to make everyone happy.
The designing element must ensure that it is fully equipped with the equipment, cabinets, and space utilization in such a way that all the tasks get fulfilled. The utility room needs an area or a room that's a pleasure to pass your time in!
Hence, the design layouts, choice of cabinets, wardrobes, closets, color schemes, materials, fixtures, finishing, etc. need to be considered well to make a functional yet aesthetic utility room. The utility room is second to none and needs to receive the same or a higher level of detailing than ever before.
When you are designing your utility room, you could even make it ready for a dedicated role. But this is possible only if you have enough space in your home to fit-in things that are not used on a daily basis. So, if you have a huge apartment, perhaps, anything above 3500 square feet, then you could consider using your utility room for one purpose, for instance, only about cleaning. In that case, you could put your utensil washing sink or dishwasher in the utility room with the help of an extra sink. You could organize all of your cleaning agents, lotions, accessories, and mopping equipment in the 'one-use' utility room.
If your utility room has to do the job of a multi-tasker, then, you have to clearly demarcate zones within the utility room in a way that it's well-organized, well-ordered, and easy to operate. Skillful design of utility is even more necessary with a multi-task concept. This can work well, especially, when you are creating one room with mini-sections in it- comprising a pantry, kitchen storage, beverage storage, grocery storage, laundry room, clothing room, and even footwear room with a special section for storing shoes, and coats. You could also have a tiny sitting chair or a bench for drawing out your footwear and wearing them comfortably. This multi-task concept does break the rules of Vastu in an Indian context but is high on utility.
A well-designed utility room lightens up your kitchen and other wardrobes/cabinets because all the heavy weight-lifting is done in the utility room.
Imagine having a massive party at home, and if you have a one-use utility room meant exclusively for cleaning, then you clear up everything and keep it in the utility room to be dealt with later.
Photo by PlanetCare on Unsplash
What's a Laundry room?
The term 'laundry room' strictly speaking a favorite of Americans, vis-à-vis the British version of' utility room'. In India, the homeowners, architects, and builders actually prefer calling it 'utility', since it is an all-encompassing term, and may mean different things to different people. It is completely up to the occupants what they want to make of the room.
Photo by No Revisions on Unsplash
Clearly, unlike utility rooms which can be turned into multiple spaces to cater to multiple chores, a laundry room is focused on its single function.
The laundry room is where you do your washing and drying of clothes. The room is usually filled with a washing machine, a tumble dryer, washing liquids/detergents, laundry baskets, an ironing board, multiple hooks, and the iron. Some home builders make the laundry area closer to the bathroom for water-related inlet and outlets, and also for ironing and storing the clothes for all seasons.
Hence, many builders even in India provide a separate laundry room that is slightly away from the kitchen. The laundry is clearly NOT an extension of anything to do with the kitchen or cooking, hence the clear demarcation is preferred by some architects and home buyers.
However, this hasn't always been true historically. In the olden days, before the washing machine and dryers came into being, the laundry was closer to the water inlet outlet, in and around the kitchen or bathroom. In the 1970s and 80s, the appliances became technologically superior and quieter. This led to the new homes being designed with separate rooms called 'laundry room' meant specifically for this electrical equipment.
A laundry room is built around how practical and convenient is. Also, it is about detaching the clothes from the aroma and hassles that come with a kitchen and is located in a room that is away from the kitchen. Away from the kitchen, a laundry room makes more sense and clearly has a more peaceful ambiance. With the right décor, a laundry room can evoke a sense of serenity and impact the well-being of the family members in the home.
With a separate space of laundry room, you cease to invade the kitchen spaces and are able to do daily laundry tasks with much less hassle. This is why a separate demarcated small area for a washing machine, dryer, iron board, a storage cabinet with airy shelves for storing detergents, etc. Plus, a sink for delicate hand washing has a charm of its own.
Photo by Emmanuel Ikwuegbu on Unsplash
End of the day, it comes down to the number of spaces available to you. With 2 and 3 bhk spaces sold usually in India, the concept of an exclusive laundry room is a bit far-fetched, unless we look at homes above 4000 square feet in the luxury segment, where you may find both a 'utility room' adjacent to the kitchen, and a separate 'laundry room' near the bathroom.
In a nutshell, if you do have a separate room that you can spare, having a laundry room is a lovely thing to have. Plus, just like its cousin, the 'utility room', it ends up freeing up lots of space in the bedroom closets/wardrobes, utility room, or even the kitchen cabinets.
Many people use the terms laundry room and utility room interchangeably. What you call it depends on the role you want your room to play, if the utility is a defined role centered on clothes, you call it a laundry room.
If space is not a problem in your house, then a 'large laundry room' can be good over and above a 'utility room' adjacent to the kitchen. If space is a constraint, then home buyers can choose to have a multi-tasker utility room. After all, living a quality life is the larger goal that needs to be done with a balanced view.
Conclusion
The bottom line is, that both a 'utility room' and an exclusive 'laundry room' are good to have. It all depends on the amount of space you can afford to buy as your dream home.
With limited budgets for the average home buyer, designing a 'multi-purpose' utility room makes sense. It's all about making your home easy to live in day by day, both are about storage, usefulness, and daily chores.
A utility room can very well be used as a laundry room. Similarly, a laundry room can also be made in addition to a utility room. Regardless of which one you choose, they simply need to make your life easier and pleasurable!
---
To know more about "A Fully-Functional 'Utility Room' Makes Your Home Truly Complete: A Post-Pandemic Perspective For Home Buyers!". Click here!