A fully-functional 'Utility room' makes your home truly complete: a post-pandemic perspective for home buyers!
The pandemic made the home buyers realize two things- 1. We need more space in our homes for a better living experience, 2. Spaces both inside our homes and apartment-complex needs to be efficiently designed to make for a self-sufficient, efficient and 'safe' living.
A situation like a lockdown puts sudden restrictions on access to the outside world, and you need to be prepared to take care of your washing, cleaning, ironing needs, and storage needs yourself, should an eventuality arises. Being adequately prepared, and being self-reliant is a necessity now!
Even in normal and happy times, for a family to live comfortably, and efficient 'UTILITY ROOM' is a must!!
Besides, in the post-COVID era, work-from-home realities require a home buyer to be prepared for, and without a fully functional 'utility room', life would be extremely difficult!
In this article we shall discuss the important aspect of the 'utility room', and what should go into making your utility room effective, efficient and functional. Utility room and usage thereof is something a home buyer needs to consciously think about both before and after purchasing the dream home. In fact, a dream home is possible only with a well-planned, and well-thought-out utility room!
Let's begin…
Our home and the factor of 'spaciousness': homebuyer thoughts post-pandemic
With forced confinement due to pandemics, those who were earlier not interested in owning a home of their own have also begun to realize the importance of it. A lot of people who earlier thought of owning smaller or studio apartments closer to their place of work are also re-thinking and becoming inclined toward bigger homes even if these are away from their place of work. Besides the number of bedrooms, ONE utility room to cater to the entire family is a must-have!!
In fact, the dream home now needs to be a more 'real' home in terms of meeting the demands of space utilisation, and having a special focus on UTILITY, especially during trying or crippling circumstances like a lockdown.
Even otherwise, we need to have a home that enables us to lead a comfortable life by allowing us to deal with our day-to-day needs of laundry, ironing, storage and weather-specific seasonal needs that come occasionally.
Importance of 'Utility' area in our apartment or independent home
Although general utilities like water, electricity, gas connection, Wi-Fi connection etc. are part of the utilities of the apartment, the residents need a utility area or a separate utility room for washing machine, dryer, manual-drying of clothes, storing house-keeping related things like home/kitchen cleaning materials, broom, mop, gas-cylinder, as well as other storage items.
Unlike independent bungalows, the space available is limited in an apartment. With many floors, and a limited square foot area available, the balcony, study, puja or kitchen is NOT the space people want to use to keep washing/cleaning equipment and many more bulky storage items.
A utility room is normally stationed right adjacent to the kitchen in apartments or independent homes.
Meaning and Uses of a 'Utility room'
A utility room is to be used for every square inch of the space to provide optimum UTILITY. By utility we mean a room within a house where we store gadgets or equipment that we DO NOT use in our day-to-day activities. The term 'Utility' per se refers to items designed for their usefulness or practical usage. Hence, most items kept in the utility room have functional attributes required for a comfortable living experience. Also, these items need to be worked upon. So, it becomes an area where the resident actually expends hard labour. Unless you work hard, you cannot wash your clothes, dry them up, and iron them. It requires physical labour.
So, a utility room is also like a gymnasium where you need to work out to get the desired results!
Therefore utility room offers several uses, however, it essentially serves as an area for laundry purposes. This room is well-equipped with all the laundry equipment, additives and accessories such as a washing machine, front-loading tumble dryer, boards and electric iron. 
The utility room is also meant for use as used for cupboard/wardrobe/closet and storage. The 'Utility room' is actually meant to be for the closet, since a closet (hidden wardrobe) is meant to keep personal belongings that are kept away.
The literal meaning of a closet is a small 'private' room or cabinet for storing clothing, food or kitchen utensils. Hence, even the 'utility room' needs to give the homeowner a sense of 'carefully guarded privacy' inside the 'utility room'.
In places where winters are harsh or tend to have to change weather like rains, the utility room would contain or store 'seasonal clothing' like winter clothing, rain protection over-coats, umbrellas, etc. that do not find daily use. 
The Utility space storage spaces would contain other appliances as well, which would generally be located next to the kitchen considering the daily usage factor.
Adequate ventilation, furnaces, water connection, drainage, and water heater need to be well-incorporated in this room.
We even find more shelves and garbage storing ducts in the utility since it is cordoned off from the rest of the home. This ensures that the rest of the home does NOT get too congested. Hence, the utility room takes all the burden of the home and makes a convenient.
Ten Tips for designing a 'fully functional' utility room
Not all homes have provision for a utility room. If you are lucky to have your builder providing you with one, invest some good thought to make it work for you! The utility room is the place where the hardest of work happens. Being the hardest-working space which requires physical labour, you need to plan your utility room with lots of love and affection.
A good utility room needs to be efficient, well-planned, provide you with adequate storage and yet have beautiful decorative touch. After all, you will be spending a lot of your time in the utility room, and this room needs to make you feel happy spending time!
You need to ask yourself: What should your dream utility room look like?
1. Utility room needs to combine 'style' with 'function'
Choose materials that are practical as well as aesthetic
You need to have shelves and countertops made of wood, marble or granite depending on your taste. For a rustic look wood definitely looks good, and also lightens up the spaces. You also need to have a sink not only for washing excessive utensils but for other functions related to washing clothes. It's important to make sure that the sink is deep enough for washing and scrubbing your clothes, cleaning your shoes or even cleaning your rain clothes.
The space should be enough for you to stand and work in comfort since you will end up spending a lot of work hours in the utility room and sweating it out
Considering that you get a lot of dirt to clean up in the utility area, it is good to have ceramic tiles in the room that allows for easy cleaning and quick drying of both the floor and the spaces around the walls. The tiled floor is much easier to clean. Plus, the designs in the tiles give an uplifting feel to the spaces. The space need NOT look only functional and should be inviting to you
Adequate lighting is an important element in the utility room, especially when you do NOT have adequate provision for windows or good ventilation
2. Hang a high-ceiling hanging clothes rack or pipes for hangers
During the monsoons, you may not be able to dry your clothes on the balcony, so, hanging a hanging clothes rack on the ceiling may be a good idea
The use of a pull-down rack makes sure that when you don't need the hanging rack, it can be pulled up with the strings
This way, your utility room is ready to come to your rescue during harsh weather, or if you do NOT use the tumble-dryer as a regular equipment
In India, we still depend on natural sunlight to dry the clothes and do not provide adequately for the rainy season
Even a hanger below one of the racks can be of use for both drying your clothes or hanging them immediately after you are done ironing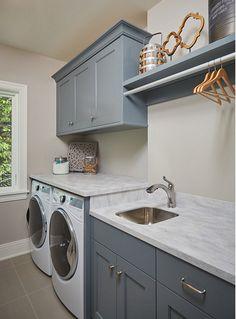 3. Go colourful
Normally, people prefer light colours, but you could also experiment with other colours like grey, blue etc.
One could try an array of colour ranges to create an energetic ambience in the utility room. A good makeover could comprise pastel bright or complete dark shades. One could even go Bohemian, and pick colours that one loves. After all, when working hard in the utility room, you want to be surrounded by colours that you love. You don't need to follow rules dictated by anyone. You could choose elegant navy blue that gives a modern look or red colour that signifies energy
The hardware or fitting could be paired with steel or rustic brass taps and accessories for hangings and even handles for different cabinets, wardrobes or closets in your utility area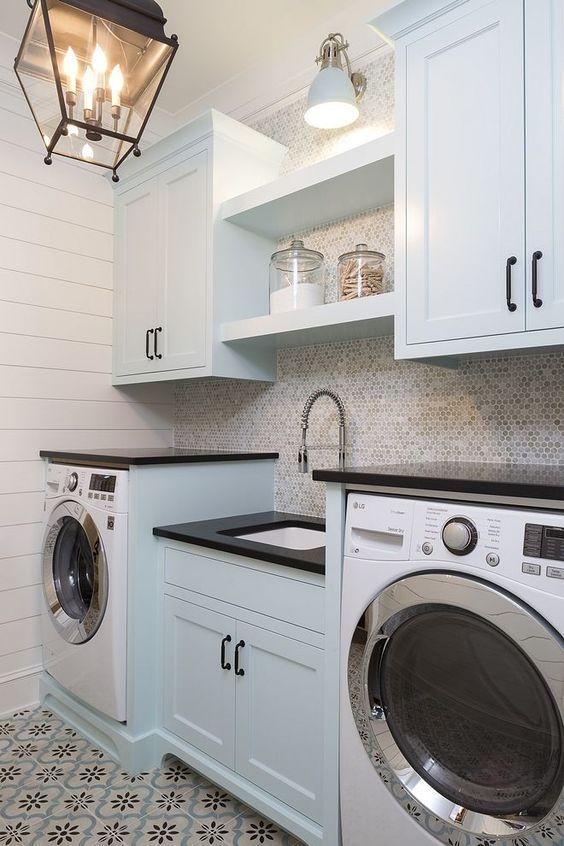 [Source: https://i.pinimg.com/]
4. Experiment with your utility room, and make it signify your taste
A utility room is NOT a place where you would usually sit and relax. It's a place of hard work that puts order to your life be it washing clothes, drying them, ironing the clothes or storing your seasonal clothes, accessories etc.
This is a place that only your family members would be going into, so, you could spruce up the utility room with colours and accessories that you like
It could range from a fresh feel to pastels, and even experimentation with bright tiles to break the monotony of the utility room
Wooden floors also give a tough, natural forest-like feel to your utility room, and signify hard work amidst nature. This way, you could feel one with nature. However, this is just one option. You could do whatever you feel like doing!
So, you could create a natural environment as well with the choice of colours or materials in your utility room
[Source: https://i.pinimg.com/]
5. Have a combination of open and concealed spaces
You could choose to have concealed cabinet storage for appliances, items or gadgets that you don't want anyone to see. For instance, you wouldn't want to keep cleaning products, pest-control sprays or such household items in the open even in the utility-room
On the other hand, you could use open shelves in your utility room to display the prettier items that you value viz. ceramics, vases, curios or knitted-baskets
You could do well to keep many items in open cabinets, in your utility room, especially the items that you would want handy, and are to be used more often than not. The more usually items could be in easy reach in with 'open' or 'closet' cabinets or closets
6. Make sure to demarcate or partition the utility from the kitchen
Normally the utility space is part of your kitchen or an extension of it. If so, you could use elegant panelling just to define the 'zone' where the kitchen ends and 'utility' begins
You could do so with 3 or 4 feet tall partitions to make it seem easy, yet classy. It gives it a classical village look that's very European in taste

7. Fully optimize the racks
Should you not have too much space available, you could even go for a wall-mounted drying frame or stand. This saves space, especially, when drying racks suspended to the ceiling is NOT a possibility
The whole idea is to optimize the available spaces to dry up the wet clothes quickly and efficiently
8. Plan your storage
You need to know the items that you will be moving in with
Your belongings that make life comfortable for all family members need a respectable space. This space has to be made available in the utility room
So, practical storage in the utility room matters! Mostly, the space in the utility area is available to home buyers as a 'bare-shell'
You need to make your checklist of items well in advance before you get the interiors done
Meticulous planning allowing just the right amount of space for the washing machine, dryer, rice bags of over 20 KGs, grains of pulses, pickles, condiments, Indian dish preparing equipment like an Idli or Dosa batter maker, and other bulky items etc. needs to be made to measurement
Bulkier items like the vacuum cleaner, wet-mopping cleaners, or 'standing-steam-iron devices need taller spaces
Your iron board needs horizontal spaces. In Indian households, you could even use standalone racks with cabinets in the bottom for ironing, especially heavy/length clothes like a Saree, double bed sheets etc.
You need a certain number of closets for cleaning materials
You will need to determine the shelves to hold your items. For instance, a large cabinet shelf is required for storing an electric iron
Plus, you need to have an adequate power supply to take care of multiple tasks being performed in the utility room including the provision of adequate lighting
[Source: https://loveincorporated.blob.core.windows.net/]
[Source: http://brooklyn-apartment.biz/]
9. Hooks on the walls or even cabinets come in handy
Hooks are really useful, especially, if you don't have much space in the cabinets or shelves
A peg rail with multiple hooks can do wonders when space runs out. Even other-wise, there are many items that you would like handy hanging on the hooks, which are easily visible, easy to grab, and need ventilation
You could also have many hanging, vertical accessories to hang the shoes to the upper parts of the wall
There are multiple options for storage like hanging shoe bags, aprons and towels
These also allow you to get the wet items all aired up (for drying) on hangers or hooks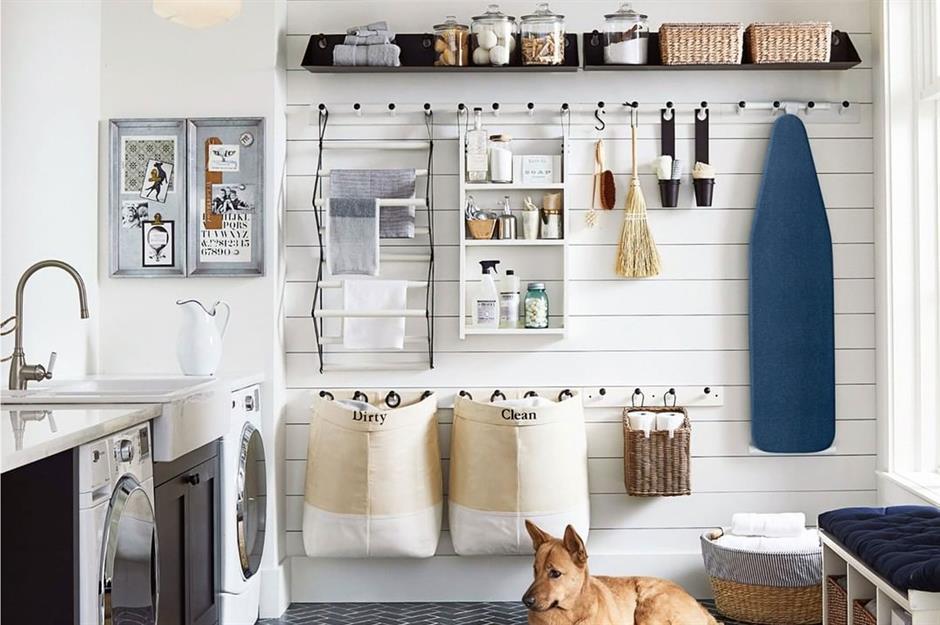 10. Plan your cabinets well, and provision for water connection, electricity and air-vents
You could have cabinets with well-ventilated grills. The whole idea is to make sure they serve the utility, and that the design of your wardrobes/closets/cabinets stays fresh. This also allows you to store clothing you would like to keep fresh like linen and towels. With open cabinets and good airflow, the chances of fungus formation are also minimized
This is important considering that the washing machine and the dryer are also co-located in the utility area
The utility has a washing machine and dryer, besides being a storage area needs to be free of microbes. This requires good water and air vents. The water connection and the used-dirty water out of the washing machine need to be disposed-off efficiently
This allows the stored materials to remain free of bacterial infestation
A sound and efficient water inlet and outlet mechanism for 'washing', and provision for dehumidifying arrangements for 'dryer' are a must-have. Although Indian households still do not depend much on dryers, the trends are fast changing with urban home buyers increasingly buying or living in apartments
[Source: https://www.dutypoint.com/]
Conclusion
Clearly, the utility room is often NOT given the kind of attention and thought it deserves. Post-pandemic, this area assumes even greater importance. You need your own laundry, and be independent in washing, drying and ironing your own clothes. There is no better and safer way to make sure your clothes do not change hands too frequently than to take charge of your own garments, storage items, and the varying seasonal needs of your family!
So, an extremely efficient utility room will need a good amount of planning and attention in the times to come!
---
To know more about "Utility Room Ideas For 2 & 3 BHK Home Buyers In Big Cities Like Hyderabad!".Click here!