UPVC windows and doors for your dream home in India!
---
Builders in India are increasingly offering good quality UPVC windows door in apartments and homes of all types.
As a home buyer, it is good to have a clear understanding of these UPVC doors and windows. UPVC stands for UnPlasticized Polyvinyl Chloride. It is basically plastic powder that is moulded into a certain shape in very high temperatures, and once it cools down, it can be assembled in various forms like a double glazed window or door.
UPVC windows and doors have gained popularity as they are beautiful and sturdy, and offer excellent functionality coupled with easy-usability.
[Source- https://prominance.com/ ]
Installation of UPVC matters!
[Source- https://www.pexels.com/]
Poor installation of UPVC doors and windows cause a lot of issues
The installation team must be properly trained and be skilled with the technical expertise required for window and door installations
Proper installation allows for easy sliding or opening/closing of UPVC doors and windows
UPVC frames should be properly filled with silicon from inside and outside for smooth operation
Reasons why UPVC windows and doors are being increasingly preferred in Indian homes
1. Easy to maintenance, weather-proof
[ Source- https://www.gettyimages.in/ ]
Low on maintenance, saves on time and money
Weatherproof and very sturdy
Easy to wipe clean
Can be oiled frequently to keep the locking mechanism functioning smoothly
A hassle-free choice
2. Secure and hazard-resistant
[Source- https://www.pexels.com/ ]
High on security as compared to wooden windows
They are secured with galvanized steel, therefore difficult and tough to be broken into
Not easy to force-enter your home
Sea-water, chemical and pollution resistant
Fire or flame retardant
3. Environmentally friendly insulation
[Source- https://www.pexels.com/ ]
High level of insulation to keep rooms warm in winters
Soundproof- keeps noise levels low. Hence, is great for keeping stress levels low
Keeps out cold, and warms up the rooms with lesser electricity reducing energy bills
More environmentally friendly as compared to wooden and aluminium
4. Durable and strong
[Source- https://www.gettyimages.in/]
UPVC windows are stronger, durable long-lasting and resilient
They do not lose their shape like the wooden windows
5. Low priced, low-maintenance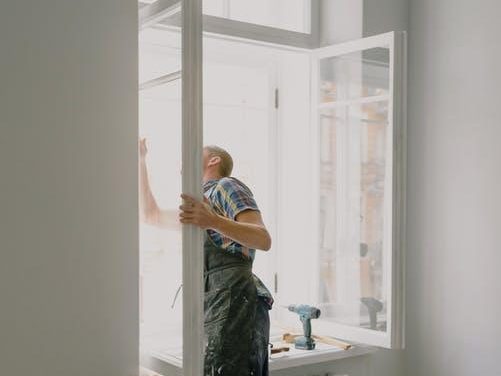 [Source- https://www.pexels.com/ ]
Cheaper/economical than wooden and aluminium windows
UPVC doors and windows never rots
They don't gives problems of flakes, rusting, fading, peeling, or corrosion
They can be washed with light soap
Only light checking for seals is required occasionally for maintenance
They are virtually maintenance-free, convenient and time-saving on installation
6. Fire resistant
Flame retardant throughout their product lifecycle
Accidental fire is kept at bay since it is self-extinguishing
Overall, UPVC windows and doors are a great choice for new homes, since they bring peace of mind, and enhance aesthetics of your dream home!
"You should feel beautiful and you should feel safe. What you surround yourself with should bring you peace of mind and peace of spirit."

-Stacy London
---
To know more about "General 'Fire' Safety Tips: Before And After You've Bought Your Dream Home."click here!