10 Space Saving Furniture For Your Apartments In The Post COVID era!
In the post-COVID era, space is, perhaps, the most precious thing about your apartment. Your dream home needs to be equipped with lesser and efficient household items. This allows you free physical-movement and sense of spaciousness.
The key is to be vigilant and conscious of 'space saving furniture'. The intent of this article is to instil the sense of enquiry and deliberate choice to look-out for furniture that's high on saving space!
Regardless of the size of your apartment is, you need to be miserly of every square inch of available space in your dream home!
Space Saving Furniture Ideas
The solution is to look out for functional, multi-purpose, space-saving furniture items and ideas that can make a difference!
1. Space-saving hangers in your entry-way or utility room
Photo frame that doubles-up as a hanger for your coats
You can put it back to becoming a photo frame later
[Source- Rebrilliant Clothes Hanging System]
2. Benches with shoe-storage
Like this, you get many seating arrangements that double-up as a shoe rack
You can sit comfortably, wear your footwear and tie your laces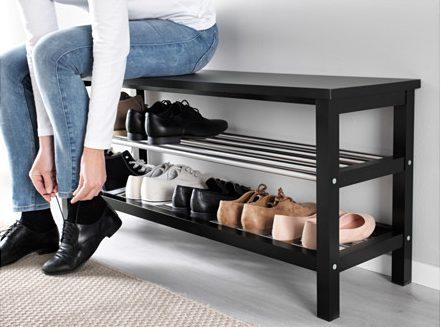 [Source- IKEA TJUSIG Bench with Shoe Storage]
3. Box furniture for your kitten or dog to keep the litter inside
The one given here is only for illustrative purposes, however, you have many such pet-home, and litter-enclosure options that can fit easily into your utility room
[source- Merry Products Hidden Cat Litter Box Enclosure ]
This is also a multifunctional furniture that can be used in your utility room to iron clothes, or keep other items
4. Sofa cum storage seating options
[Source- Sofa Mania Arthur Classic Linen Storage Sofa]
These kind of couches are best when space on floor has to be saved to store added storage items like books, shoes, snacks etc.
Besides sofas, you get many under-the-bed storage options too
5. Space Saving Furniture – Kitchen and Dining Room
[Source- Boomer & George Pet Feeder Station]
This pet-feeder is a great cabinet cum feeding-station for the dogs
It can double-up to store dog food or other storage items of the household, dog toys and accessories
6. Simple ottoman style dining single-seaters
[Source- Simple Living 5-Piece Baxter Dining Set with Storage Ottomans]
An ottoman is a low upholstered seat that does not have a back or arms. It also serves also as a box, with the seat hinged to it in the form of a lid as shown in the picture
This is a neat dining set with storage capability that allows for more movement as well
You can store additional items like beddings, linen, and even a variety of foods and beverages inside the lid-cushion of your ottoman seating areas
This design is also space saving since it snugly fits under the dining table
7. Storage racks that's sneaks into small unutilized spaces in your washroom, kitchen or utility room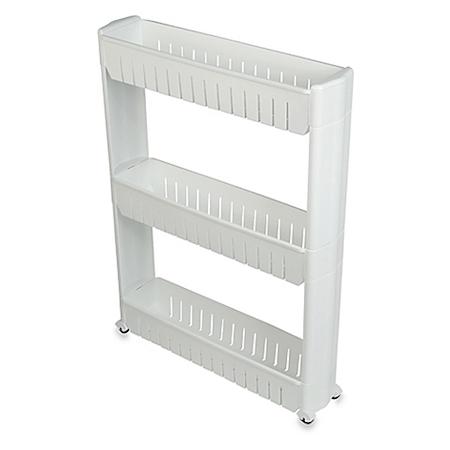 [Source- Bed, Bath & Beyond 3-Tier Slide Out Storage Tower]
You can just slide this rack into various unutilized spaces in your kitchen, bathroom, utility or anywhere else
Similar such vertical storage racks with wheels at the base help you create additional spaces, and give you the flexibility of movement owing to the wheels underneath
Using such smart solutions, you end up getting bonus storage areas to hold variety of items like bottles, sachets, spices, toiletries, dry eatable and condiments and more. It saves over-burdening your cabinets and storage areas, especially, when you need to keep frequently used items handy
8.  Space Saving Furniture- Storage racks underneath a wash-basin
[Source- 88 Main Expandable Under-Sink Storage Rack ]
This is an ideal example of how you can use the cabinet underneath your bathroom, utility or kitchen sink to help you store many items
All your toiletries can fit-in with ease, and you can save yourself from the troubles of having a disorganized access to much-needed toilet-items
You can keep an eye for storage racks like this one, made of steel
Adjustable/removable shelves make life so much easier, and save on space
9. Storage cabinets around your water closet (WC) in your restroom
[Source- Simple Living Over-the-Toilet Space Saver ]
These are clever shelving units that puts your toiletries within easy reach of your WC like extra toilet rolls, soaps, creams etc.
10. Murphy bed-cum-sofa furniture
[Source- Room and Loft Queen Andrew Sofa-Murphy Bed]
Murphy beds are simple fold-down beds that turn into a sofa
Ideal for guest-room, and even for children bedroom where the existing space can be used for multiple purposes
Cleaning and movement around these rooms becomes much easier
You can look for similar two-in-one furniture items like storage cum study, or foldable study table
11. Beds with storage capability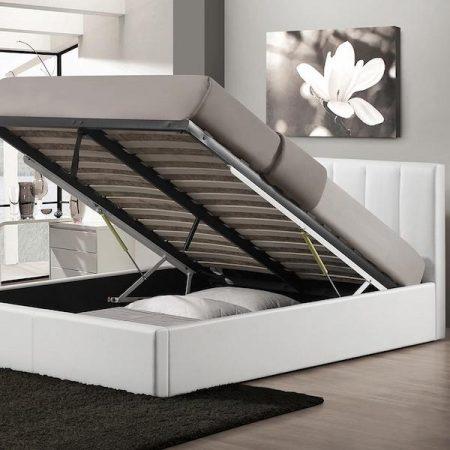 [Source- Baxton Studio Engelbertha White Queen Upholstered Bed with Storage ]
You can simply lift-the-bed and store your items, with the telescopic hinges that allow lift the bed along with mattresses with relative ease
All your out-of-season clothes, extra bedding, pillows, comforters, quilts and thick-blankets or winter-wear items can be stashed away with ease
12. Space saving home-office furniture
[Source- Project 62 Loring Secretary Desk ]
This is flexible option which can be turned into a work-station for you to study or work
Many options are available where a work-station table or tope can be simply pulled-out of the wall or furniture, and even folded-back to make place for more space
The whole idea is to know that you don't have to buy furniture that eats into scarce floor space
Plus, these work/study table options come with in-built electricity outlets, USB outlets
They even provide you with storage space for your work and study related needs
13. Space saving book shelves
[Source- Dorm Co. Classic Dorm Desk Bookshelf ]
You have furniture options like this one where students can put storage shelves on the desk to add more space for post-its, pens, paper, books etc
This way you end up saving more floor space in your apartment
14. Space saving balcony or picnic tables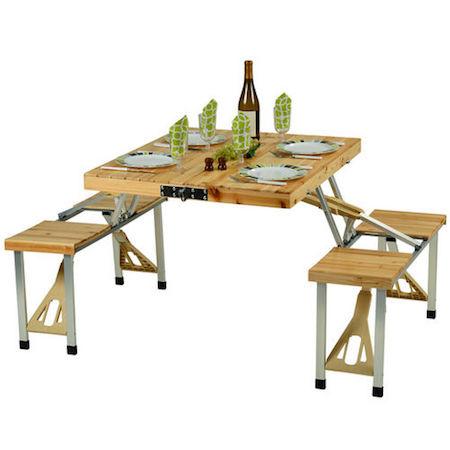 [Source- Loon Peak Throop Portable Picnic Table]
You can have space saving options like this one for your deck or balcony
Such foldable pieces of furniture can be dismantled and brought inside the home when not in use
Many furniture items come in an easy to fold and store formats
15. Super-saver tables/shelves for small balconies
[Source- Gymax Hanging Railing Folding Deck Table]
An extra small table like this can be pulled out of the wall with ease for a cup of coffee in you small balcony
Else, you can fold it and also do other activities like yoga
You have many options on buying accessories and furniture where zero floor space is occupied
Your furniture should be such that you can stretch it out at will, and does not leave with the worries of invading into floor space
All these space saving furniture ideas are driven by one common factor- to think about space-saving, and find furniture, accessories and fixtures that serve your needs!
Quality of life when you save on floor-space, and keep your apartment de-cluttered!!
"The quality of life is more important than life itself."

– Alexis Carrel
~~~~~~~~~~~~~~~~~~~~~~~~~~~~~~~~~~~~~~~~~~~~~
To know more about "5 Reasons Why Efficient 'Space Planning' At Your Home Matters!" click here