Open kitchen experiments for new age home buyers!
---
An open kitchen speaks volumes about the persona of the people who own that space. An open kitchen concept is a new age, informal, and high on social connect. An open kitchen conceived and crafted with clarity of mind and conviction can do wonders to your living space. It gives expression to who you are, and how you want to live!
With the right tips, you can experiment and experience a sense of unmatched freedom and liveliness in your open kitchen.
A balance between utility and aesthetics makes an open kitchen a place to match your home with your aspirational moods.
With lesser walls, more open space, and an easier flow of traffic, an open kitchen can seem refreshingly attractive! You could experiment by wanting to be subtle or go-BOLD to lend a distinctive voice to your living spaces!!
In this article we will give a few tips you can consciously choose to add the flavor you want to your open kitchen. These are merely suggestive and indicative of the flexibilities and possibilities you must explore while designing your open kitchen.
Tips or experiments covered in this article are…
Let's delve further…
span
1. Open kitchen to have dining space nearby
Helps serve hot meals quicker. You can storm in and out of your cooking area while dishing our hot meals
Add to your efficiency even while cooking. You can increase or decrease the pace of cooking as you can see the movement serving bowls and the plates
Multitasking while sitting on the dining or the kitchen island becomes easier
Allows you to connect with family and guests while being in the kitchen area or while sitting on the dining table
Be it breakfast, lunch or dinner, it makes your kitchen and dining area a very personal space
[source: https://bit.ly/3f4jEcn] ke
2. Keeping/hiding the utensils and clutter in storage area
A good storage area under the cabinets or the kitchen island allows you to hide the unwanted clutter
The kitchen gets cluttered while cooking, and after the meals are over, and you have to take care of the left-overs and the used utensils
A properly done storage area allows you to hide the 'in-transit' utensils. You can keep them out of plain sight if the storage is good
Space can be maximized by having storage units from floor to ceiling
Good storage make sure that there are no gaps for the dust to accumulate
A neat and tidy kitchen, with adequate storage facilities, adds a glow and elegance to your kitchen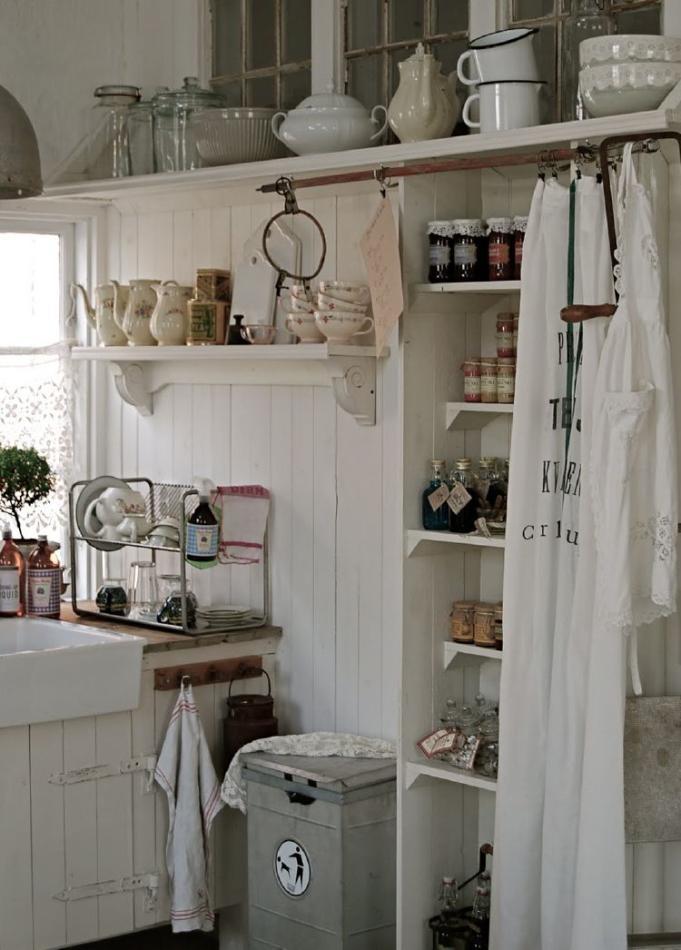 [Source:https://bit.ly/3vJ6He1] bar
3. A bar or an island table at a height to hide anything messy
A smart way to keep the counter table blocked from the view of those sitting in the dining or living area is to make an island table or a bar with good height
An island table or a bar with long stools or chairs hides the unwanted clutter very effectively from those sitting in the living area
When the island table is taller than your work area (

cooking zone

)

, it gives it adequate cover to obstruct the view
Besides, a good bar or an island table continues adding to the glory of your open kitchen
A good bar or island table also gives you an ideal space to sit for a couple of drinks or casual snacks with family and friends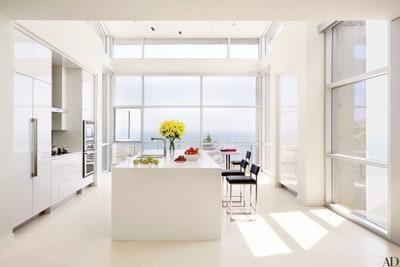 [Source: https://bit.ly/3cYt5ar]
[Source: https://bit.ly/3cekYrv] smoke
4. Using partitions to reduce or manage smoke and strong aromas for Open kitchen
Glass partitions are a great way to reduce the smoke of the dishes
Further it gives you the dual advantage of being able to see across the kitchen area, and also participate socially with those in the living area
The sense of spaciousness is retained with glass partitions which are transparent/translucent, and NOT as thick as conventional walls
[Source: https://bit.ly/2PkwDM3]bend
5. Make the kitchen 'blend-in well' with the dining and living OR Even 'bend the rules'- a matter of choice
The sense of spaciousness is maintained only if the hues and colors of your living and dining complement your open kitchen
The option to blend in with the right soothing pastel hues makes the open kitchen and the adjoining areas that much more welcoming and inviting
While blending in, one can even chose to GO BOLD, and break the monotony. The fact is that you can chose to follow the rules of blending or bend the rules
The kind of space and feel you want to give your spaces is totally up to you!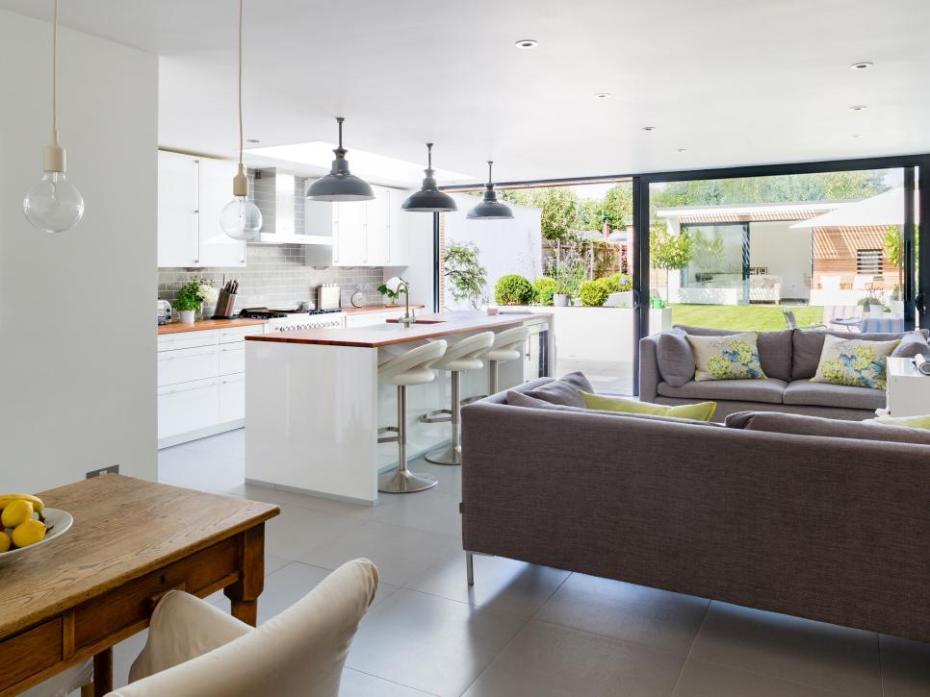 [Source: https://bit.ly/315V56D]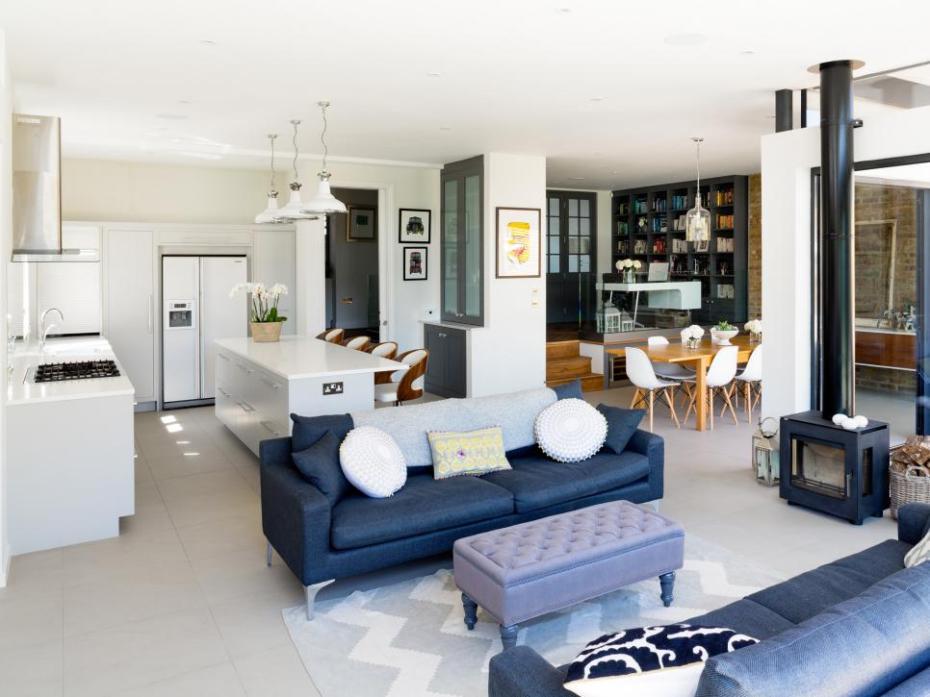 [Source: https://bit.ly/3c64npA] rul
6. Break the rules when required, like extending kitchen spaces outwards
This can be done if the kitchen is too small. With open spaces, there are NO BOUNDARIES
You can choose to extend any part of the kitchen outwards or even absorb a portion of dining//living if the kitchen space happens to be too huge
The possibilities to merge, expand, contract and spill over are tremendous
You could even add movable table tops or table islands which you could switch (or move) back and forth as per your social needs/occasions
Such possibilities are limited with a walled kitchen with a pre-determined allotted space
Such freewheeling trespass into outer and inner spaces makes your kitchen and living spaces so full of life, and very contemporary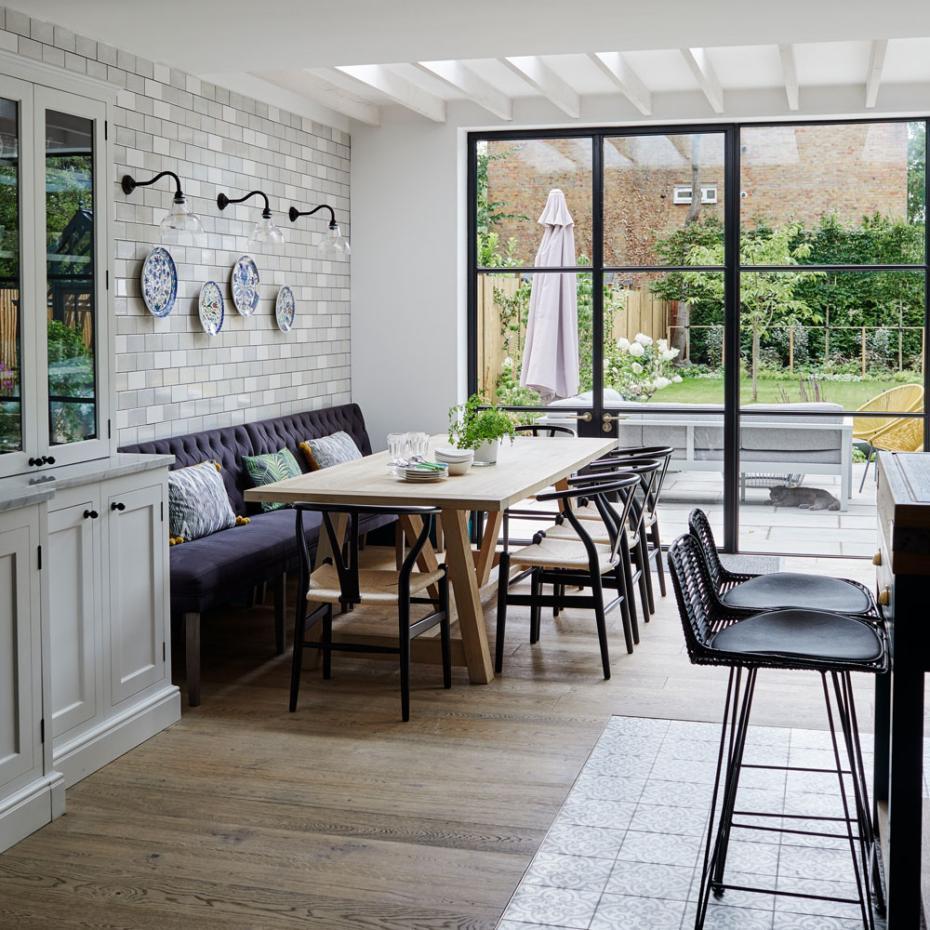 [Source: https://bit.ly/3c7e8DQ]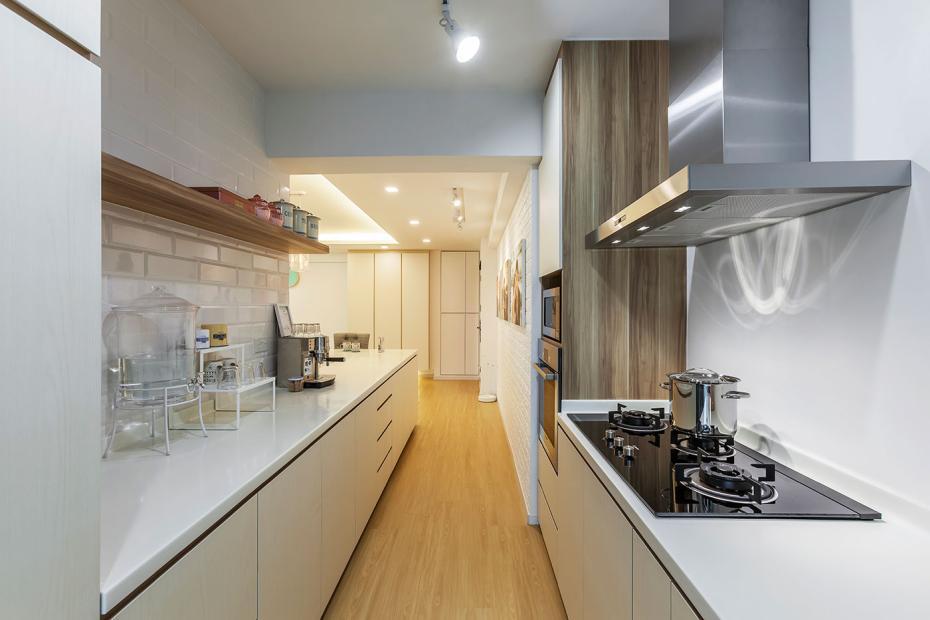 [source: https://bit.ly/2PhxayB]
7. Use natural lights with open kitchen
A kitchen is a zone that requires consistent hard work. Natural light optimized in this area works wonders in giving positive energy
To further accentuate the natural light, pastel hues or even shades of whites add a sheen to your open kitchen
Light coloured cabinets, work tops, storage areas, tiles, mirrors etc. further enhance natural light
This also gives a very soothing inviting look to your open kitchen
[Source: https://bit.ly/2OVCOqc]pla
8. Plan the lighting well for utility and aesthetics
Besides natural light, the electrical lighting compliments the open kitchen to make it seem full of energy
You could use pendant lights over the island area to give a touch of class and for the light to fall directly on the tabletop
Subtle hidden lights in the dark corners of the kitchen can add life to your open kitchen
When you are relaxing and spending family or private moments, the artistically well-lit up open kitchen can add a touch of magic to the overall mood of your living spaces
Lighting balanced with the dining and living room can give a truly magical look that goes with your preferences and personality
Spotlights to highlight your cabinets, and countertops can create a visual pleasing treat for all
Under-cabinet lights, illuminated dark corners, and pendants actually create a visual spa for the eyes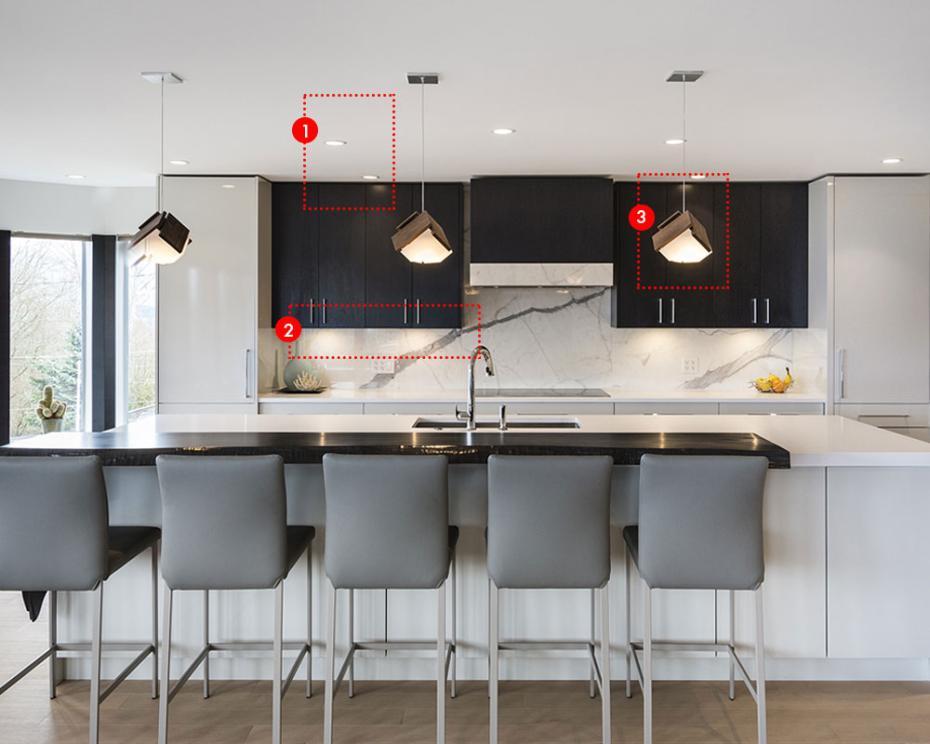 [Source: https://bit.ly/3cYtTMv]
[Source: https://bit.ly/2OVD34A]is
9. Make both a visual and a functional statement with smooth pathways
To enhance utility, the pathways in and around the open kitchen need to be high on utility
A good open kitchen is high on being super functional- enhancing your efficiency and effectiveness in everything you do
A good pathway allows you to move freely and quickly between all the spaces in and around you
The flow should be clutter free without you dashing into other people around you
Access to cooking area, the refrigerator and cabinets should be non-intrusive
Work triangle between the cooking area, the washing area and the refrigerator should be easy to approach and move around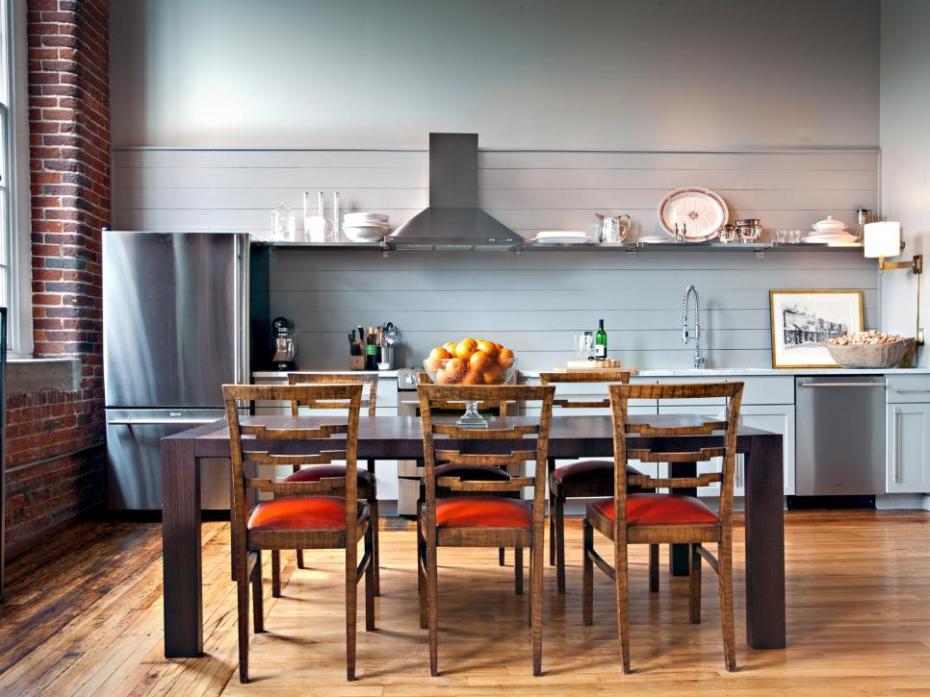 [Source: https://bit.ly/3lDblp4]airy
10. Use indoor plants & herbs to add a fresh, airy feel
Green plants are a no-brainer to add a dash of fresh breath
Plants are known to clean the air, and what better place than the kitchen where you generate smoke and aromas while cooking
You could even have plenty of herbs like basil, lemon-grass, wheatgrass and many more herbs that you can even use in cooking
Those who do not like artificial partitions can use plants also to create a desirable partition between the open kitchen and the rest of the living/dining area
[Source: https://bit.ly/2NLOhrW]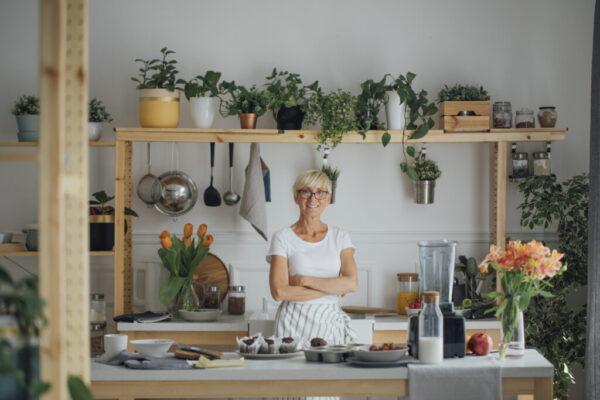 [Source: https://bit.ly/3135TlY]
Conclusion
An open kitchen is for those who want to live an experiment and give expression to their social, multi-tasking, discerning self! It stands for change, transformation, and a sense of elevated living!!
With the right frame of mind and clarity, one can enjoy the endless possibilities an open kitchen offers. You could truly enhance your personal space using these tips, and experiment with the elements that resonate with your persona.
---
To know more about "Reasons Why Open Kitchen Is Increasingly Being Preferred By Home Buyers!". Click here…