Reasons why Open Kitchen is increasingly being preferred by home buyers!
---
An open kitchen signifies a modern home inspired by new-age living. A home that welcomes an informal lifestyle, more space, and increased social connections. The traffic flow between the 'living to dining to kitchen' area becomes boundary-less with an open kitchen.
An open kitchen offers greater utility to some and is not palatable to many. End of the day, it's a matter of choice! The next-gen Indian home buyers, however, are increasingly open to the idea of an open kitchen. They feel free and want something different that relates to their lifestyle and new-age persona. The open kitchen caters to that segment of buyers.
With small apartments and smaller spaces, open kitchen designs integrate well with the rest of the home. Lesser walls, more open space, and showcasing the beauty of the cooking area are being welcomed by many new-age home buyers.
In this article, we will discuss the reasons why many people simply love the idea of an open kitchen, the benefits they offer, and the constraints they pose. Plus, we shall also talk about some tips to optimize the joy of having an open kitchen.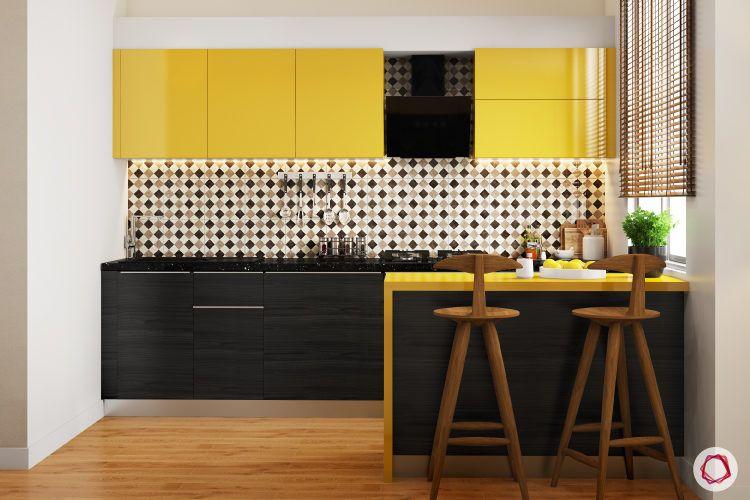 [Image: https://www.livspace.com/]
What's an open kitchen?
An open kitchen has a scattered layout that optimizes on 'space utilization' and gives a 'contemporary' look to apartments. The spaces, well arranged, look stunning and are a complete departure from the traditional food-making areas.
An open kitchen signifies a sense of sophistication, a sense of aesthetic-looking spaces, and a sense of freedom for the new-age buyers.
Let's explore what an open kitchen offers…as a wholesome package.
1. More family time
You get to spend more time with family because of access
An open kitchen instantly connects you with the rest of the home
It's quick, smart, and engaging
Smaller families with younger kids can watch over their children while cooking
Monitoring and cooking items become easier by sitting in the dining or living room
Increases efficiency of movement. Hot food can be served quickly to the dining table
You can cater to many requests by guests and family much faster
The demarcation is removed and makes it flexible for anyone to reach out quick
You don't have to disassociate yourself while in the kitchen or in the living area. Constant social connections remain with the family members
Entertainment, hosting friends and family becomes fun and informal
You can continue talking to your guests and family while in the kitchen or living
An open kitchen is particularly great while having parties or social events at home. You don't have to miss out on social connections or get excluded while in the kitchen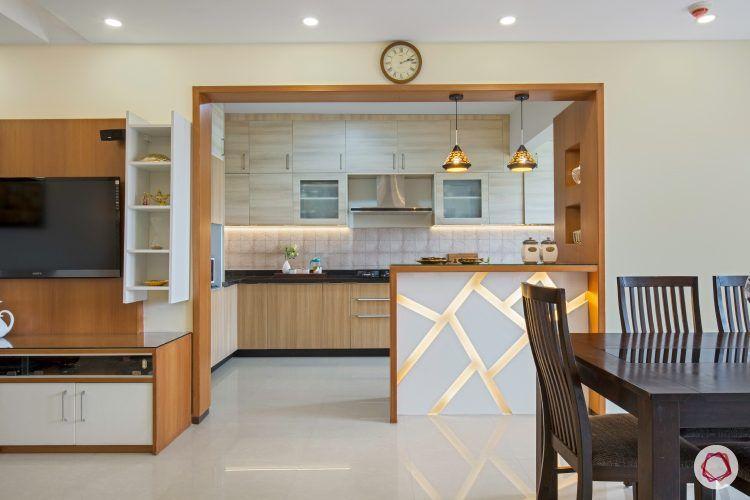 [Image: https://www.livspace.com/]
2. More space, more sunlight
The advantage of merging kitchen, dining, and living has a positive spillover effect on all three areas. It creates synergies of more space
Fewer walls mean more space is released. This gives a feeling of more spaciousness even though the apartment may actually not be as big as it seems
With lesser walls, an immense amount of natural light flows inside the kitchen uninterruptedly
3. Ability to integrate functional and smart interiors
Great design possibilities, artwork, textures, and colors can be brought together
The kitchen can have a mini dining table or a breakfast counter
You could create a tiny island (flat table) to keep cooked or other items to facilitate faster movement of cooked foods etc. Plus, this stitches together the kitchen, dining, and living areas beautifully
4. Add superb design elements to home
Flexibility is a major advantage. Depending on the occasion, the space can be converted to suit the occasion
Contrasting colors in the kitchen can liven up the entire space
You could go bold, add bright colors, and add a zing to your kitchen area. You can do this while ensuring that the color theme compliments your living and dining space
An open kitchen allows you to be well-ventilated and well-lit up
You can play a lot with the lighting to create focus areas in your kitchen, dining, and living. This creates a mesmerizing effect throughout the day, particularly in the evenings
5. Helps to multitask
[Source:Max Vakhtbovych: ]
This is a major advantage. These days, it is not just the women who cook. Anybody in the family could be cooking, and does not have to stand guard in the kitchen to watch over food items. With an open kitchen, one could be working on a laptop facing the kitchen area, or vice versa
Working fathers and mothers could keep a watch on their children while in the kitchen or vice versa
For those who 'work from home', an open kitchen adds to their flexibility and possibilities to both work and cook simultaneously
One can also be with the family, watch television in between, chat on the phone or socialize with them while being engaged in the kitchen as well
6. Possible to beautify the spaces
When your kitchen is visible to your guests entering, there is an added incentive to make the space more beautiful
One can choose beautiful kitchen accessories, fitting, gadgets, refrigerators, tiles, cooking ranges etc. to add more life to your open kitchen. The more beautiful it is, the greater is the joy of entering the space, besides receiving compliments. After all, a thing of beauty is a joy forever
7. Motivates to keep clean and clear the clutter
Although it is difficult to hide the utensils and the clutter immediately after the meal is over, it also gives you an incentive to keep the place tidy
8. Noise & Aromas of living, kitchen, and living merging
[Source:Photo by Max Vakhtbovych]
This is one distinct disadvantage that comes along with the advantages. Obviously, it's noisier, with no walls. But every disadvantage comes with a plethora of advantages too
The major factor is that cooking is an intermittently continuous affair throughout the day, the vapors of all kinds of dishes and delicacies spread all around. At the same time, for a lot of family members, it's a pleasure seeing the food being cooked, baked, or simmering. The joy of waiting also is thrilling for many
The aroma of food spreading is also unavoidable. Those talking can get disturbed due to Indian cooking devices, the opening and closing of cabinets, the whistle of a pressure cooker, the strong treatment of Indian spices, especially tasks to spruce up the flavors of spices enhanced by the release of their essential oils, etc. So, it's a mixed bag, and an individual chooses to like it or not
Alternatively, the aroma of food could also be not-so-pleasing for some family members. The only respite here is that even with a closed kitchen, the aroma does not get contained inside the kitchen alone. The aromas in no way get minimized even in a closed wall kitchen because it flows out of the kitchen doors as well
The positive side of this is that it gets the family together, and freshly cooked food is quick to have the family members salivating much sooner
9. Tips to overcome disadvantages and 'add a spark'
For those who seek privacy along with the advantages of an open kitchen—you could create a breakfast counter (island) which you could move around. This can be done where the walls would usually come-up.
The demarcation created by the breakfast counter (island) serves dual purpose of adding a compelling charm to your kitchen and also giving you a sense of private space while inside the kitchen area
You could move around the island or the breakfast top freely, and also have your share of privacy while facing the cooking/washing/preparation are
For the Indian spices spreading in the house, one major factor is to install a high grade, powerful and good quality CHIMNEY, and an exhaust fan inside the kitchen to take care of aromas
For those who don't like the clutter to be seen, there are solutions like cleaning or getting the kitchen tidied up on one's own, with the help of family members or domestic help. Either way, a forced habit to keep the kitchen tidy makes it inviting for your own self
10. Are open kitchens suitable for Indian homes?
[Source: Photo by Max Vakhtbovych]
This depends on the requirements and preferences of the individual families. For those who seek more space, and want more social connections, it makes all the sense.
For those seeking private space, and complete seclusion in their cooking area, it may not make sense.
The fact is that more and more dual-income earning couples are increasingly opting for open kitchen concept homes to optimize their flexibility.
Being in the kitchen, and being secluded is not what they like. Cooking behind closed doors, and closed walls is NOT a priority for them. Also, they have no problem investing and making their open kitchen space look gorgeous. Their cooking and lifestyle also are not very traditional hence, the amount of time spent on cooking is also not as much.
These new-age buyers are willing to experiment, explore and expand their horizons by adding glam and social connections to their homes. An open kitchen gives them expression and freedom to do so.
Conclusion
There are Indian families who like their kitchen to be a very private space. Plus, there are those who want a departure from the usual, and actually prefer an open kitchen.
Those who have adopted a changed lifestyle, want more space, and seek more functional flexibilities are increasingly opting for open kitchen homes.
Besides functional and practical advantages, the idea of an open kitchen relates to their persona, their attitudes, and their self-image.
As far as future trends are concerned, an open kitchen will remain a matter of personal choice, preferences, and lifestyle priorities. The inclinations towards an open kitchen are definitely on the rise.
In the times to come, the open kitchen spaces will see more demand, more creativity, and more innovation.
---
To know more about "Questions to ask as you set up a kitchen garden in your apartment balcony!".Click here!