Open kitchen design for new-age home buyers!
An open kitchen signifies a modern home inspired by new-age living. Besides an informal lifestyle, more space, and increased social connections, it allows for better traffic flow in the house.
Open kitchen design
You experience a sense of freedom and expression with an open kitchen.
Many people want their open kitchen to tell the story of a refreshing lifestyle and their new-age persona.
From a utility perspective as well, an open kitchen integrates well with the rest of the home. With lesser walls and more open space, you can showcase your kitchen in a refreshingly attractive way.
In this article, we will embark on a journey to discussing ideas and designs of an open kitchen.
Open kitchen ideas covered in this article are…
Let's begin …
Why should we think so much about open kitchen design ideas?
The simple reason is- 'it is open' and 'it is visible ' to anyone who enters your home besides yourself.
Then comes your preference– how attractive, inviting or different do you want it to look? ….and to what extent?
That's where the design elements of an open kitchen come into play. One has to simply choose the design and flavor one wants to experience. It can be a very personal thing, or one can be audacious about showcasing as well.
There is no harm in feeling good about your spaces, flaunting them, or even making your visitors green with envy!
We see the western movies all the time where the kitchen and dining room seem merged. The open kitchen flows seamlessly into the living (drawing) room and vice versa.
The look and feel are extremely mesmerizing, especially when the open kitchen is well organized.
So, it's good if we give serious thought to our open kitchen design, let it tell our story, and reflect our persona.
You could have the colors, the accessories, and the design elements speak a lot about what you are. The designs could range from very simple to very artistic.
The flavor your open kitchen carries spills over to the rest of your house. In the following sections, ideas for an open kitchen are being shared with the intent to stir up your thoughts.
The objective is not to push you towards any one design, but to show you the immense possibilities that exist out there when it comes to having a beautiful open kitchen.
The ideas given below are just indicative in nature, and are meant to help you decide what your design elements should be!
wooden
1. Using wooden cabinets
This is about being one with nature. You open the doors to your home, and you see, touch, and experience wood all around you in your open kitchen
Wood is Earthen. It invites and adsorbs you like nothing else
Plus, wood comes in so many colors and grains. You can choose which tree works for you, and which color would appeal to your sense the most
Cabinets are where you store all your kitchen utensils, cooking materials, raw materials, cutlery, cookware, etc. They are most visible, and a natural wood seems magical for few
.
glass
[source: http://bit.ly/3tWPCM3]
2. Use of glass partition
Glass partitions in an open kitchen give you a touch of class, creating a bit of privacy, and yet keep you connected
Used properly, glass partitions can create a beautiful effect that balances privacy with glamour at the same time
Glass partitions can also add a glam element to your kitchen besides helping you get areas cordoned off from being moved freely by visitors or family members
Glass partitions give you access to light and block the free flow of air ventilation. At times this could be used beautifully to balance the two and give you exactly what you want
You can use glass partitions in your open kitchen depending on your aspirations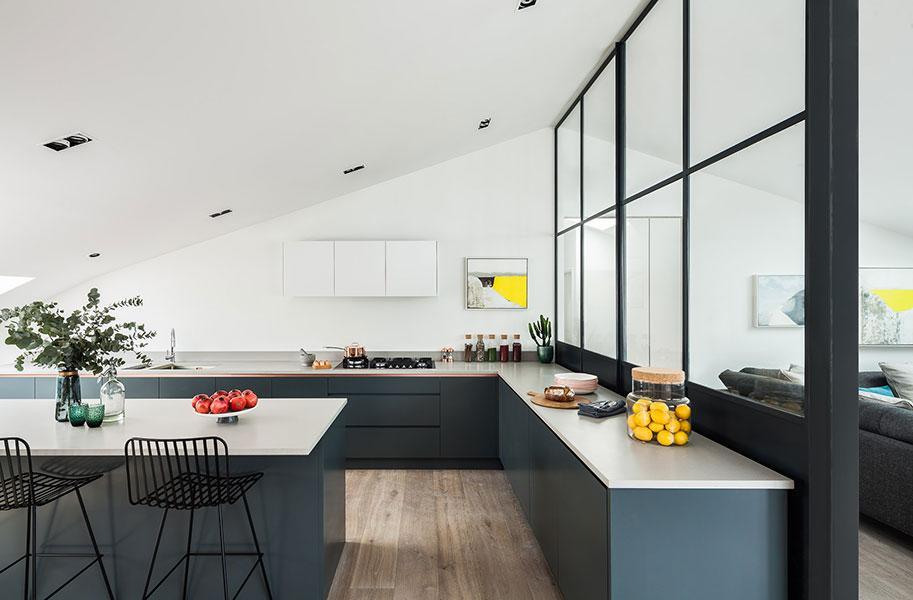 [Source – http://bit.ly/3vP3B8o]
color
3. Pastel color open kitchen
The open kitchen gets adequate sunlight, and there is a sense of spaciousness
To add to the spaciousness, the use of pastel shades of cabinets, countertops, accessories, walls, etc. helps
It can even be completely white or shades of white to give you a sense of more space
Colors when bright tend to reduce the space element of your open kitchen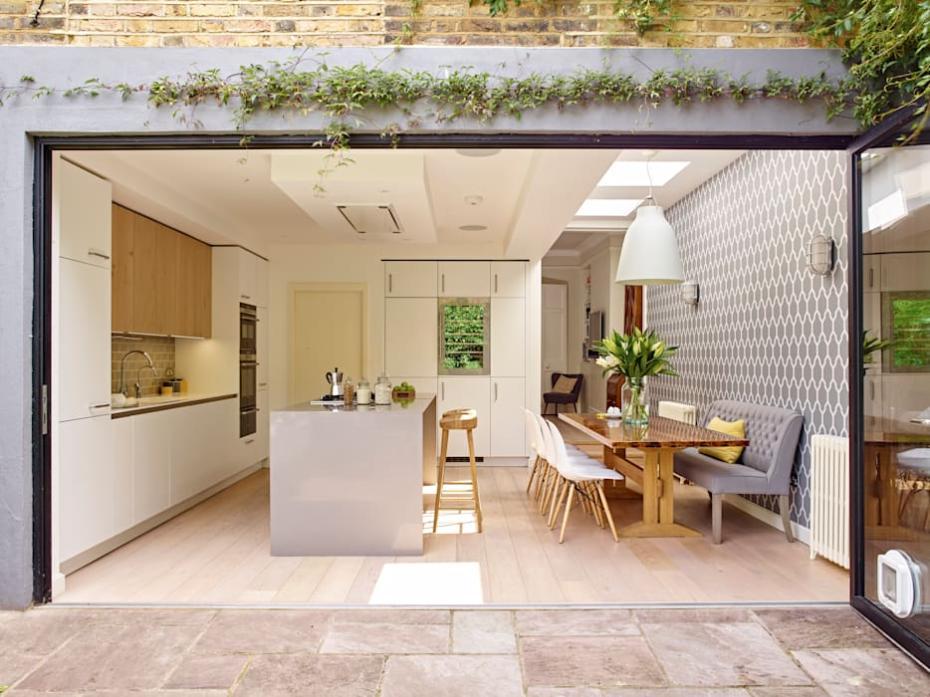 [Source: http://bit.ly/3tIIGlh]
white
4. White theme open kitchen
There is nothing more soothing than shades of white when it comes to an inviting open kitchen
The hues of whites also run in dozens, and these can be balanced to create the mesmerizing elegance you've always wanted
White appears spotless and gives you a sense of purity and calm that is ideal in your open kitchen space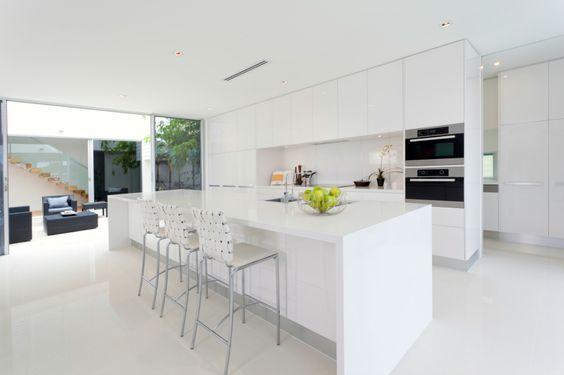 [source: https://bit.ly/317kRHC]
shape
5. L shaped angular counter layout
L-shaped counter layout gives you the 'work triangle' ideal for efficient working in the kitchen
An open kitchen with this conventional design looks complete in every sense and is high in utility
With everything within easy reach, you are able to accomplish your kitchen chores effectively, and also multi-task with either an island top behind the L-shaped counter or a breakfast table just on the other side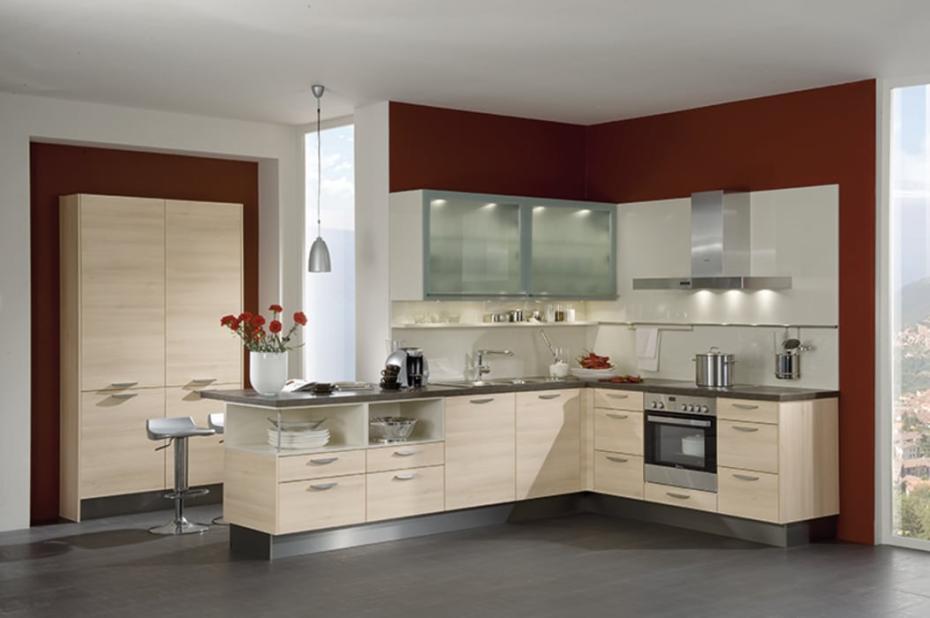 [Source: https://bit.ly/313pnHj]
space
6. Possible to beautify the spaces
It is much easier to beautify the spaces around an open kitchen since you know it's visible to all
An aesthetic appeal to kitchenware, appliances, cabinets and other elements can be created with the help of lighting, use of walls, decorating the areas around the kitchen, or by having beautifully designed elements that look stunning from the dining or living room
All this is possible because an open kitchen is visible from a distance. Thus, the aesthetics can be accentuated due to the holistic view that the viewers on the other side of the room can get
Dishes can act as décor to give it an altogether new meaning
Curios, pictures, frames, pendant lamps, and other decorative items can enhance the beauty of an open kitchen to unimaginable levels
Paint can give the added elegance to the open kitchen
Tiles, stones, and kitchen accessories can add the elegance, glam, or whatever mood you are looking at
You can even invest in appliances like a beautiful refrigerator or a cooking range that looks gorgeous from a distance
The complete picture of an open kitchen can be fully realized from a distance while sitting in the living or dining or upon simply entering the home
The dining table, chairs, or other furniture also can completely transform the open kitchen into a splendid viewing delight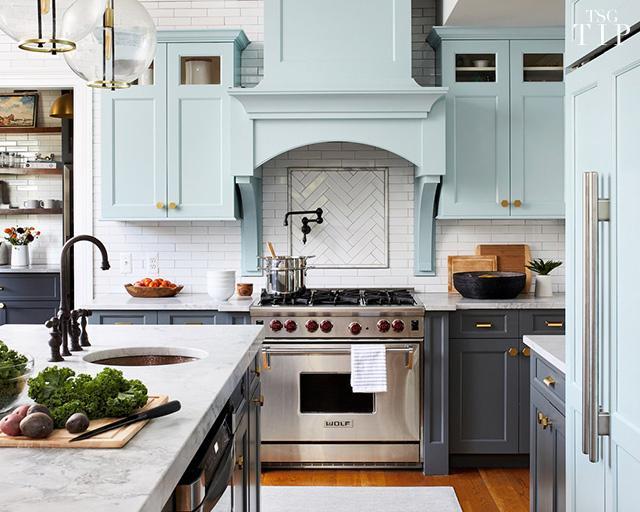 [source: https://bit.ly/2OPqCr8]
[Source: https://bit.ly/3raSbs3]
small
7. Small/designed tiles on the walls
Use of small, designer tiles can cast a spell in your open kitchen design to reflect your persona
This can range from Moroccan to Goan tiles or can be any other element of art
Small tiles could be as small as cubicle blocks of 1 inch or bigger size. Some people like the brick designs, others prefer floral or lifestyle-related images
The creativity in design, shape, color and texture of tiles can be far-reaching
It could be Mediterranean inspired cobalt blues or even floral patterns that are refreshingly inspiring and intriguing
The advantage with an open kitchen again is that you can appreciate the beauty of it from a distance
Your kitchen can actually transform into a work of art when the design elements are synchronized with your thought process to reflect your taste, preferences and persona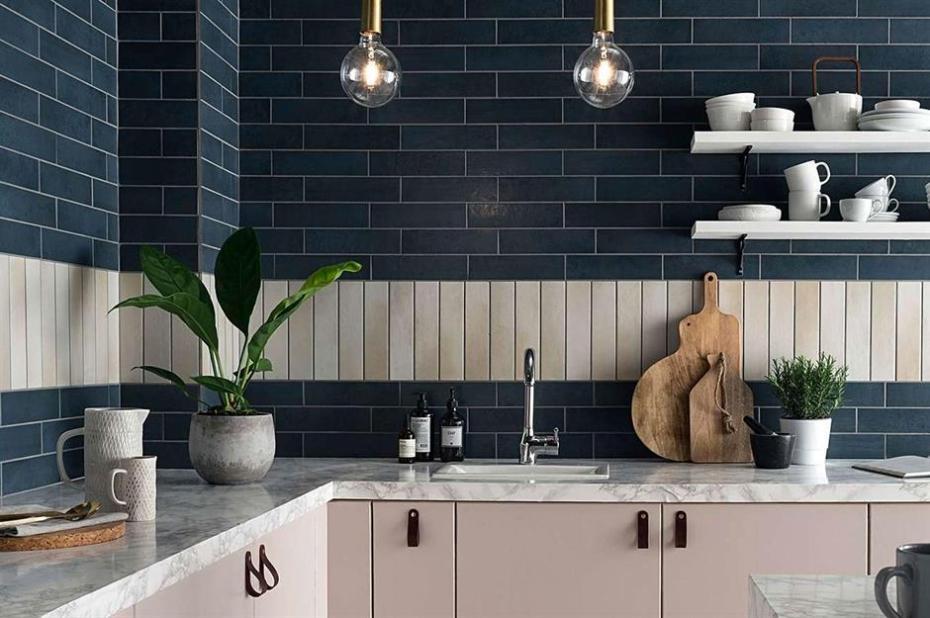 [source: https://bit.ly/2OVmDJw]
[Source: https://bit.ly/3lETjCV]
use
8. Open kitchen design: Use of natural stones and granites on counters
Natural stones are available in many varieties be it marble, stones, granites or other natural elements
Granite offers you durability & brightness. Marble is heat resistant. Quartzite countertops are known for their hardness
Similarly, there are various options in colors and textures with specific characteristics. You can choose whichever goes with your preference
[source: https://bit.ly/2QtV2Q5]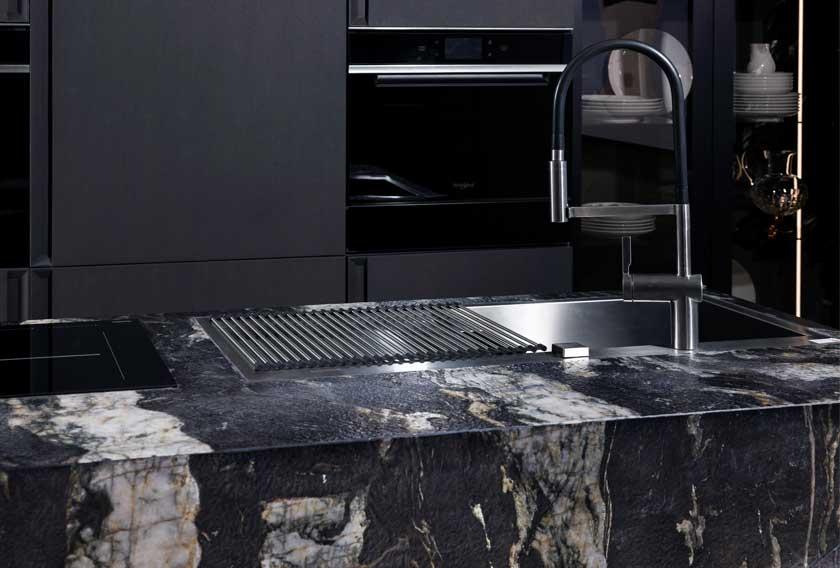 [source: https://bit.ly/3cbQV3E]
go
9. Go bold with prints on lamination and tiles
There are others who like to bend the rules or want to stand out as being different. If you are one of them, you could choose to have tiles and prints in lamination sheets (in cabinets) or tiles (in walls)
Bold colors could be plain or with designs that reflect your liking
The mood you want to create for yourself can be done with both laminates used on cabinets, cupboards, etc…or with tiles used for dado in the open kitchen
Bold is beautiful and reflects the energy you exude. It adds life to the surroundings of your home
One can even go with dimensional tiles with a 3-D effect and a welcoming sight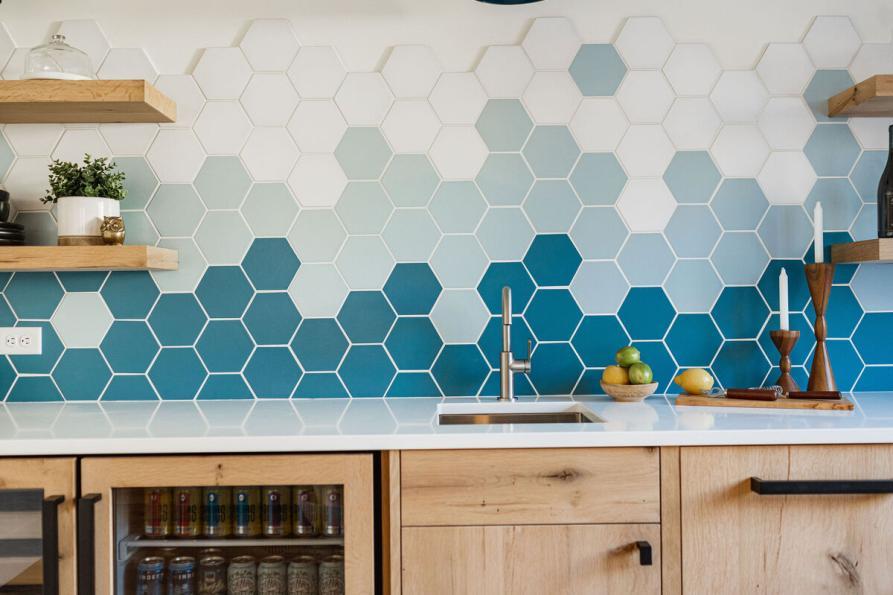 [source: https://bit.ly/315y4kj]
[source: https://bit.ly/392zmkm]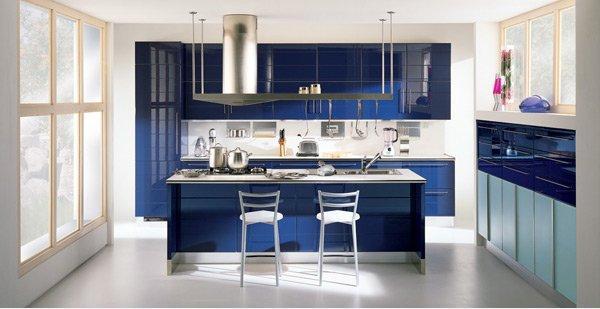 [source: https://bit.ly/3d0G7od]
end
10. Use of high-end designer kitchen counters
One can enhance the look of the open kitchen with show stopper countertops that are simply hard to ignore
This could be done using exotic materials singularly or in combination
Some examples are: i) a mix of Quartzite countertop merged with walnut wood, ii) Staturio or Calacatta marble, iii) countertops made from semi-precious stone like pure white quartz, iv) Brazilian Blue stone, v) Red ironbark timber, and many more
The options are plenty depending on what kind of look and feel one is willing to go for

[Source: https://bit.ly/394E15c]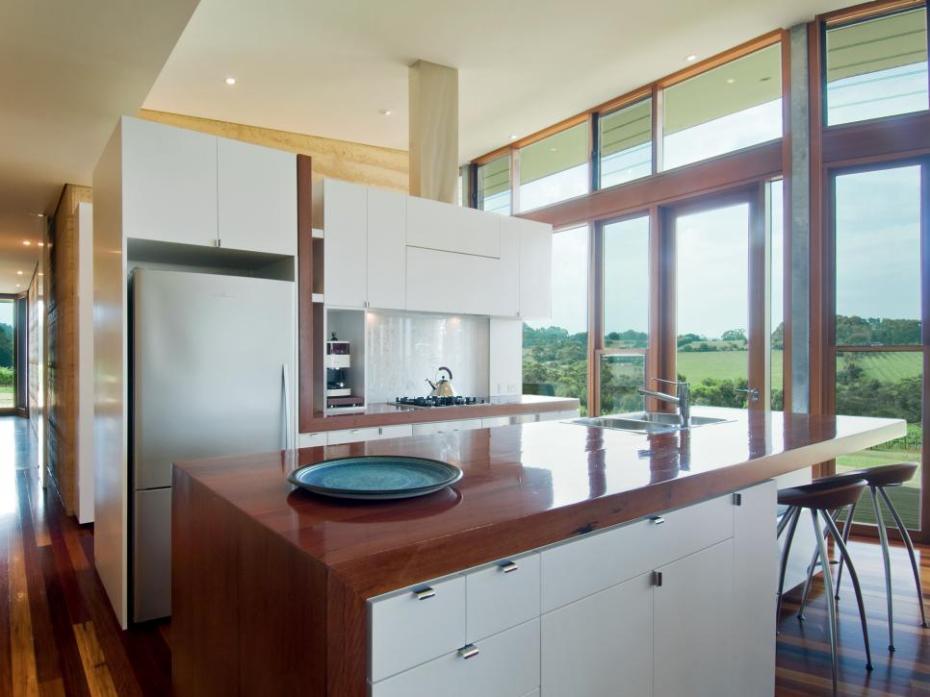 [source: https://bit.ly/3tGQ0xW]
is
11. Open kitchen design Island
Open kitchen islands can be an integral part of your kitchen and add the elan that's hard to ignore
Plus, they offer utility, and a chic look like nothing else. It gets the most attention as you enter the home
A kitchen island is the real star of your home. These are used for cooking preparations, for casual dining storage, and are truly the focus area of the open kitchen
It is also the area where most of the multi-tasking happens, be it for you or your family. One could work, and also have children completing their homework sitting on the island counter of your open kitchen
It gives you the ideal space to socialize, have a meal and work, have your morning coffee or grab a breakfast bite
You could even convert it into your own personal bar in the evenings by just adding a few stools to sit
You could use the island as a water-tap area to wash. The simple look of a tap in the middle of an island looks stunning and soothing to the eye
You could add mirrored texture to your island or even create old country charms of a barn while designing the island
In a nutshell, there is a lot of creativity that's possible with an Island, and it looks stunningly beautiful and makes your open kitchen design truly desirable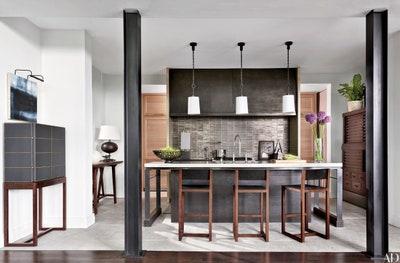 [source: https://bit.ly/3dbpeav]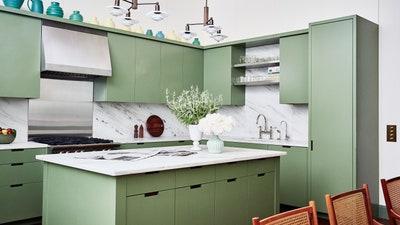 [source: https://bit.ly/2QuQfxO]
[source: https://bit.ly/317lMry]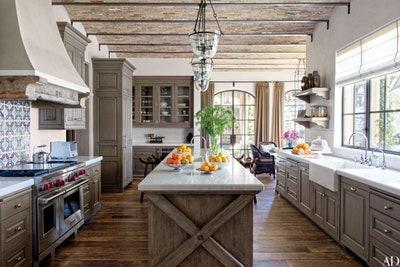 [Source: https://bit.ly/3lBEhxV]
Conclusion
An open kitchen design is for those who want a departure from the usual. It is for those who stand for change, experimentation, lifestyle, and transformation.
The possibilities with open kitchen design are endless, and you can truly enhance your personal space by choosing the right element in your own personal space.
---
To know more about "Reasons Why Open Kitchen Is Increasingly Being Preferred By Home Buyers!".Click here!