6 Undeniable reasons to love a 3 BHK flat in Hyderabad!
---
A middle or upper-middle-class home buyer in Hyderabad normally has a budget of Rupees 65 lacs upwards for a decent-sized 3 BHK apartment. These home buyers in Hyderabad have their reasons well-understood for their love of a spacious 3 BHK or bigger residential unit.
These are the home buyers who do NOT get swayed by oft-misunderstood considerations which derail people into buying smaller homes.
As a 3 BHK home buyer, if you are comfortable financially, then it is wise to consciously choose to opt for some extra space.
Those who are very clear about buying a bigger home are extremely clear about i) a 3 BHK apartment works out cheaper and better in the long run, ii) paying for extra space of a 3 BHK unit is worth every penny, iii) additional space like utility room, additional bathroom, balconies etc. are a necessary for the family, iv) a 3 BHK unit is easier to re-sell or put-up for rent, v) settling for a 2 BHK in a hurry, only to end-up waiting to buy a 3 BHK after a few years is not worth the gamble.
Let us dwell upon some undeniable reasons for the love of a 3 BHK unit in Hyderabad…
1. A 3 BHK flat in Hyderabad is one of the cheapest in the country
There is no exaggeration in the fact that you can get a 3 BHK flat in Hyderabad for as low as Rs 4000 per sft
Be it Gachibowli or Yapral or Sainikpuri area in Hyderabad, you can get superior specifications of a luxury apartment between Rs 65 lacs to Rs 1.3 Crores admeasuring beween 1400 Sft to 2500 Sft …or even more depending upon your budget!
2. Family needs for space need to be planned in advance
You family grows just like your children, and you need to foresee and forecast their needs ahead of time
As children grow from being school going kids to teenagers, they need their fair share of privacy, space and quality of living that comes only with more space
3. More space is a must because with time progressing, you need to have space for unforeseen needs like accommodating your parents or entertaining guests more frequently
Added space becomes an imperative since the home starts shrinking faster than you can imagine
With the addition of clothes, accessories, beddings, furniture, and other needs of all the family members, the space soon starts running out
You need to see the larger picture and predict the unpredictable items that you may need inside your home
A tightly planned budget, with the pre-thought-out allocation of every square inch of your apartment, is no longer possible
You could have your old parent moving in with you, or guests visiting more frequently than you may have anticipated
A 2 BHK is clearly a wrong decision
4. You don't happen to buy your abode too many times in your life, and once your get familiar with one locality, uprooting for a bigger home becomes painful
Once you breed familiarity with your home, your surroundings, and your neighborhood, changing your abode becomes difficult
Many people understand this and DO NOT go for a 2 BHK, especially, if they can afford a bigger home, OR are willing to stretch their budget with a hopeful and bright future
A higher EMI wouldn't hurt in the long run, but a smaller 2 BHK unit will
5. There are some things money can buy, but not factors like your friends and social circle
The worst thing is for you to sell or move out of your smaller 2 BHK home and abandon your friends and social connect
Traveling is a difficult task, and when you establish social connections, moving out becomes painfully sad
Better to opt for a 3 BHK than to uproot yourself from all the comforts and love of the people around you
6. With a pandemic, you simply need more space for work from home needs of yourself, your spouse, as well your children and their spouses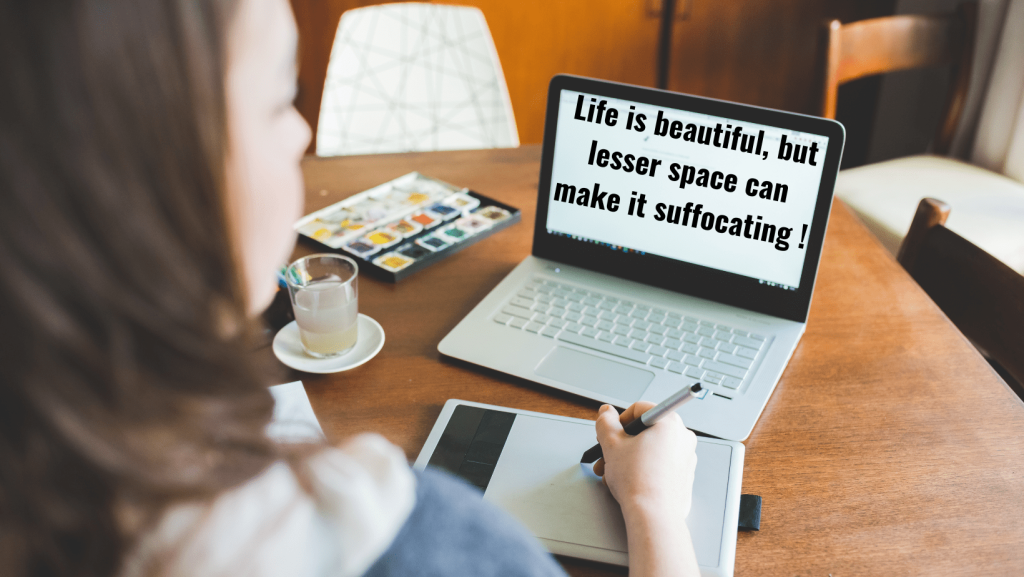 Besides elders, the children also need their space to take their online classes, or for their

recreational

and health needs within the house
More space gives you a healthy environment for mental as well as physical well-being
Life is beautiful, but lesser space can make it suffocating
Simply put, choosing a 3 BHK flat in Hyderabad is a brainer, and there are undeniable reasons for you to plan for a large 3 BHK or bigger home for yourself.
So, choose a spacious 3 BHK flat in Hyderabad! After all, "Home is a place you grow up wanting to leave, and grow old wanting to get back to."
---
To know more about "3 Tips to know if you are ready to buy a 2 or 3 BHK home".Click here!