8 Amazing ideas to create more space in living rooms Of An Indian Home – part II
This is part II about ideas to make our Indian living rooms more spacious and refreshingly inviting!
With simple yet innovative thinking, it is easy to make sure that your living room really becomes high on spaciousness and storage besides looking chic!
1. Avoiding floor lamps to save space in living rooms
[Source- https://whiteteak.com/ ]
[Source- https://www.lightology.com/ ]
Floor lamps are great only if you have too much space to spare. They look great, but eat-up lots of space
A floor lamp makes walking difficult, especially if your living room is small (apartments less than 2000 square feet in India)
Instead, use lighting on walls, or ceiling lights that free-up spaces in your living room
2. Using Ottoman-type nesting tables in living rooms
[Source- https://www.decoist.com/]
[Source- https://www.elledecor.com/]
With companies like IKEA coming to India, home owners are fast adopting the idea of space saving furniture
For instance, you could use a centre table with two side tables nesting under it
There are many such ottoman designs of tables that can save floor space efficiently
3.Using corners of living room shelves for added storage spaces
[Source- https://www.amazon.com/]
[Source- http://bestshelvingunits.com/ ]
Shelves could be shoved in the corners or bends of the living room
You furniture needs to adapt to your spaces, not otherwise
Same goes with storage solutions that should suit your living spaces
4. Overarm side-tables on your sofa arm-rest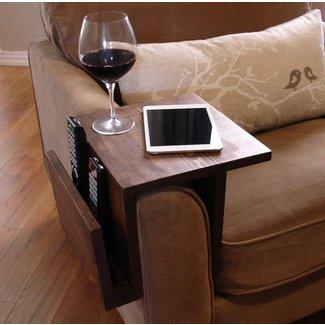 [Source- https://visualhunt.com/]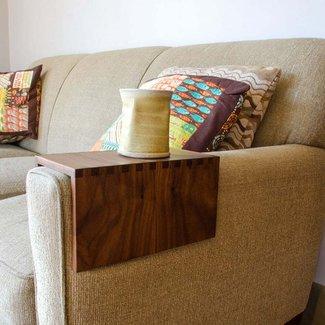 [Source- https://visualhunt.com/ ]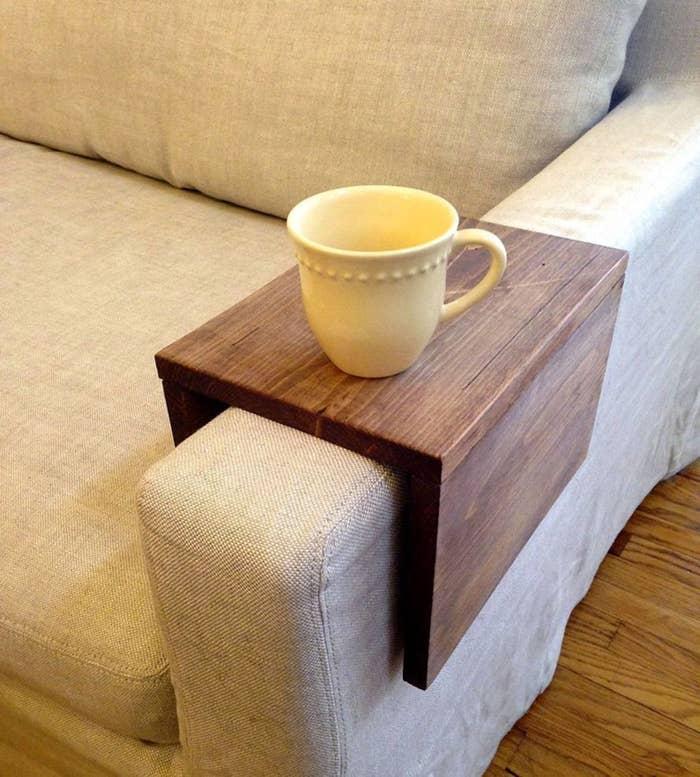 [Source- https://www.buzzfeed.com/]
Some terrific ideas are to have an overarm tables around your seating sofa that saves on floor-space and looks awesome
It offers unparalleled convenience
5. Room partition to save space in a living room
[Source- https://www.housebeautiful.com/ ]
Lesser the furniture, the better it is!
This is where room dividers and partitions can be extremely helpful
With a thin divider, you end up creating an additional space (like 2 rooms in one)
Room dividers can also be used to create storage areas with innovative furniture that are very practical
6. Get miserly in decorating your living room walls
[Source- http://www.home-designing.com/]
Avoid overfilling your living room with decorative items, curios etc. each time you go shopping
After all, our living room is not to be made into a museum of things
We have to consciously ensure that we allow the living room to remain useful for human beings rather than getting filled by too many household items
You can even use walls to mount artwork, photographs etc
7. Using under-the-window spaces of your living room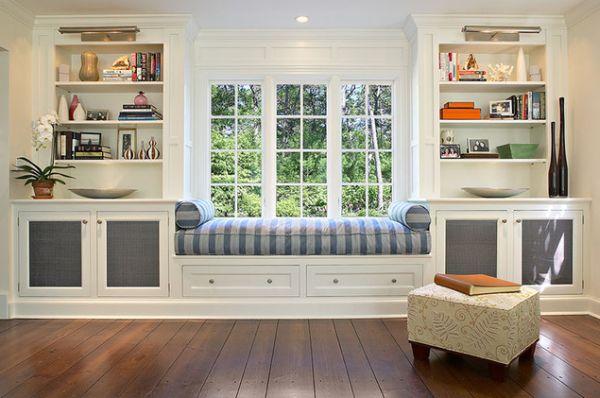 [Source- https://www.homedit.com/]
Available spaces under the windows can be used to create niche to store items, or even to create a sitting area
Sides of the windows can also be utilised to place tall cabinets
Creating a storage cabinet under the window ledge looks very chic and trendy
8. Floating shelves hanging from ceiling for more spaciousness
[Source- www.curbly.com ]
[Source- https://www.desertcart.in/ ]
Floating shelves hanging from the ceiling look exceptionally attractive, and are a great on saving space
You can hang plants, pots, or items of your choice to give them a terrific look and feel!
"The ultimate luxury is being able to relax and enjoy your home."

To quote Jeff Lincoln–
~~~~~~~~~~~~~~~~~~~~~~~~~~~~~~~~~~~~~~~~~~~~~
To know more about "8 Amazing Ideas To Create More Space In The Modern Living Room Of An Indian Home- Part I" Click here!