8 Amazing ideas to create more space in the modern living room Of An Indian Home- part I
A Modern living room is the first one you see as you enter an apartment. With most of the Indian 3 BHK home apartments admeasuring between 1400 sft to 2000 sft, the need to keep them spacious is a must. A living room must not become a place to dump or display furniture. Instead, it should be serving the people in the home, and look inviting!
A living room is occupied most of the times by family where they end-up spending a lot of time together. Hence, it is important to retain the sense of SPACIOUSNESS.
With our impulse-buying habits, and lack of commitment to the spaciousness, our living room sometimes ends-up getting too cluttered, too fast!
It becomes even more difficult when the living room is tiny, or is loaded with too much furniture.
One thing that eats into space is the lack of adequate storage space. With all the household items pouring-in, all the rooms of our apartment soon run out of space!
Hence, the need to maximise on the space you have!!
smart space-saving solutions, with special focus on the Modern LIVING ROOM.
1. Use 'open shelves' on the walls to free-up spaces below in your modern living room
[Source- https://www.a10shop.in/]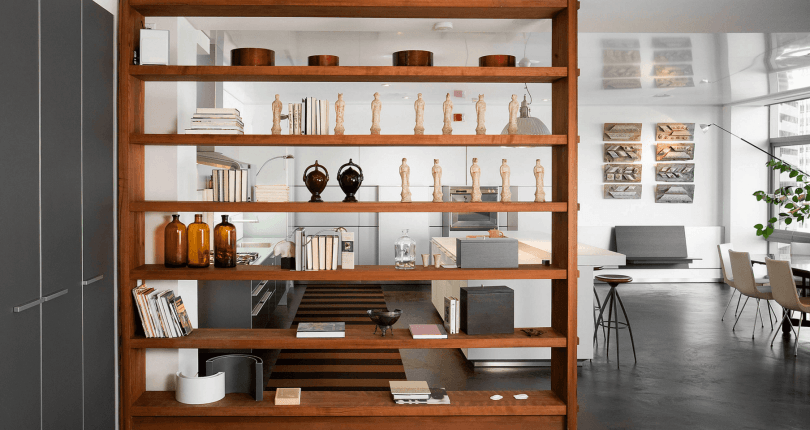 [Source- https://parsdiplomatic.com/]
[Source- https://www.stonegableblog.com/]
Lack of floor space can be overcome by use of shelves
Using your walls optimally, yet aesthetically
Shelves come to rescue to free-up floor space, and make the interiors also look clean and airy
Shelves give you more surface area on the floor. More floor-area means that your room looks bigger than it actually is
Shelves help display curious, decorative items, picture frames and other home decoration items
Shelves put a structure to clutter
Over-doing of shelves must be avoided
Furniture combines with storage boxes also help reduce the clutter when shelves are over-utilized
2. Less furniture, smaller sofas to be rearranged
[Source- https://www.idealhome.co.uk/]
Lesser furniture is better
You need not create a sitting area for every visitor
There is no harm pulling-out a dining chair if the number of visitors are more than 4 or 5
Less is better, and beautiful
Lesser furniture releases space
Push your sofas of sitting couches into corners and against walls to free-up spaces in the centre
3. Multi-purpose, space saving furniture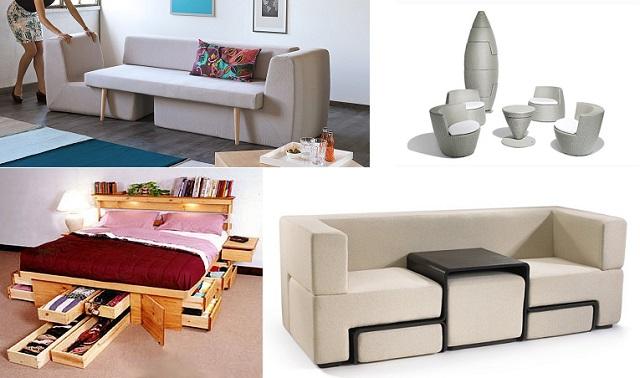 [Source- https://www.goodshomedesign.com/]
Multipurpose furniture is attractive to those using, and also frees-up lots of space in your modern living room
Even your existing furniture can be made multifunctional like stools being used as a side tables
Bed-cum sofas, that convert your living room into a bedroom
Furniture automation that opens-up another dimension of possibilities
4. Furniture with in-built, hidden storage
[Source- https://www.bhg.com/]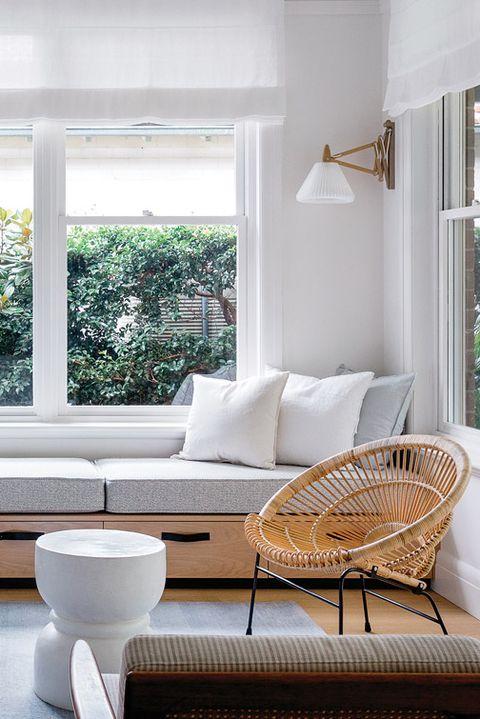 [Source- https://www.finnishdesignshop.com/ ]
[Source- https://www.westelm.com/ ]
Storage can be found in almost any piece of furniture, be it a sofa, a table or a chair
Making a choice between 'less functional' furniture versus 'more functional furniture' is a conscious choice- example- instead of a simple table to put your curious or magazines, buy a tall vertical unit that occupies the same space, but gives you so much more space
Vertical furniture that occupies smaller square feet area of your floor, and is tall is always a better choice as it works like a superb storage unit
Else, go for table tables that have drawers or platforms underneath to give you some extra space to keep your things
Even side tables that you pick for you living room could have a drawer or cupboard underneath for extra space
5. Buying tables without legs, held by brackets (console table)
[Source- https://www.pepperfry.com/ ]
Table hanging with a bracket (console table) is a great space saving solution
You could even place them behind or above your sofa to give you more space
You could have a lot of space saved and created by innovatively managing the height of your legless tables around seating-furniture of all kinds
6. Putting book shelves to save spaces
[Source- https://www.decoist.com/]
Floor to ceiling bookcases are amazing in space-saving, especially if you do have that many curious and books you want to store
Narrow pieces of furniture also help you free-up loads of space in your modern living room
Aesthetically designed bookcases can be sued for keeping your decorative items and curios
By buying and stacking-up narrow storage units, you can avoid space-clogging bulky storage units that take up floor space
However, storage boxes and other organizers also help
7. Television mounted on your living room wall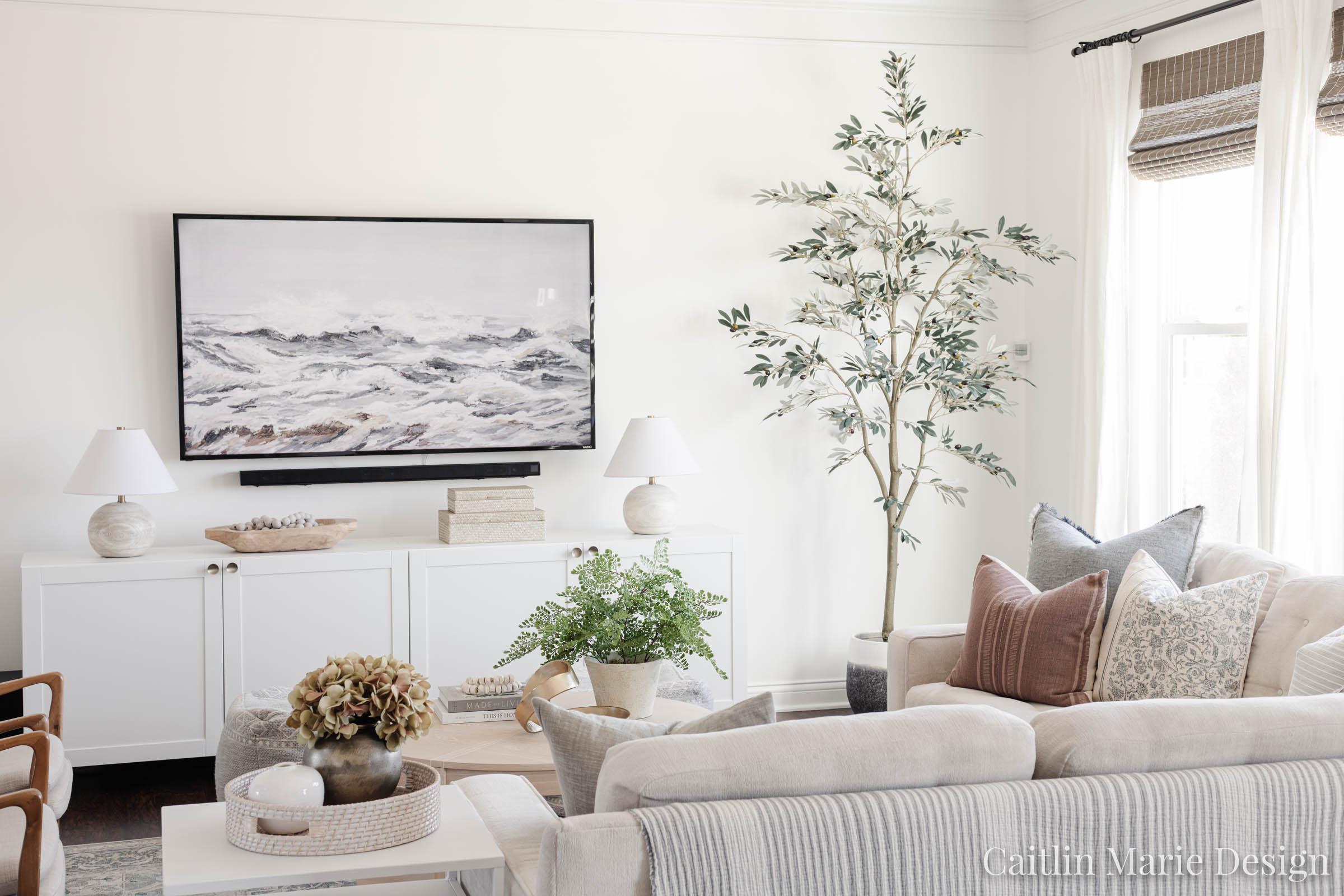 [Source- https://caitlinmariedesign.com/ ]
Televisions can go-up against the wall rather than having a TV cabinet
This frees up lots of space for additional seating or storage
8. Buy the right furniture that fits & suits your floor-space
[Source- https://wallmantra.com/]
[Source- https://www.pepperfry.com/ ]
Buy a 2-seater sofas
Even buying lesser units or upholstered tall chairs can be a better substitute to sofas
Buy furniture that fit comfortably into tight spaces of your living room
Extra-large furniture in a small living room look out of place, and are protruding all over the pace
The right furniture looks chic, trendy and smart
Before buying furniture, make sure to know the measurements of your room, and the corners, so that furniture fits conveniently
"Your home should be a story of who you are, and be a collection of what you love."

Nate Berkus
~~~~~~~~~~~~~~~~~~~~~~~~~~~~~~~~~~~~~~~~~~~~~
To know more about "9 Living Room Mistakes To Avoid If You Want More SPACE In Your Apartment!" Click here!