Home painting ideas: Things to know about painting your apartment in India- part II
This is part II of the article. For a better perspective on the kinds of paints available in the market, please read part I.
In part I of the article, we understood the various types of paints, and their pros and cons. In Part II we shall be understanding how to actually go about the task of painting, and some important tips to the get most out of it!
With knowledge about the basics, we can question the painting contractors with reasonable confidence!
[Source- https://www.snmstore.com/?category_id=3331196 ]
[Source- http://www.huevaluechroma.com/074.php ]
Home painting ideas
1. Choosing the right colours for different rooms
[Source- https://www.dulux.ca/ ]
Those who want to paint themselves, try samples of colours that you desire
Don't just depend on the shade card
If you want a sense of spaciousness- CHOOSE LIGHT SHADES, especially in living, dining and kitchen. The same goes for the bedroom if FEELING MORE SPACE is a priority
For the bedroom, if you are looking at warmth and love, then you can choose yellow or red coloured hues
What is a 'hue'? In simple terms, a 'hue' is a darker or lighter shade of a colour. For instance, dark navy blue to very light sky blue
Brighter colours add a spark to the rooms. Sometimes, you can paint 1 out of 4 walls in a different complementary or contrasting colour. For instance, 3 light brown walls in your bedroom, and a bright reddish or marron-ish coloured wall where you have the head-rest of your bed
SIMPLE RULE- Light tones open up SPACES making them airy and bright
2. Save your furniture from stains of paint
[Source- https://tapemanblue.com/ ]
[Source-Home painting ideas: https://www.mgsarchitecture.in/ ]
More often than not, sometimes, painters simply begin the paint job with complete disregard for your FLOOR and other household items. This is scary!! Your furniture etc. can be stained and look awful when cleaned with smudged-marks
Make sure to take precautionary measures to prevent stains on your furniture and floor
Tip- Moving furniture to the centre of the room, and wrapping them with dust-covers
Spend that extra money to buy the blue-coloured large-sized paint-protective plastic/acrylic sheets that spread over your furniture and floor
Using newspapers is okay if budget is a constraint
Likewise, you need to use paint-protective (low-adhesive) cello-tapes that prevent the fixtures, wardrobes, windows and doors from smudging. After the paint job is done, these are peeled off without any damage to the other surfaces
Even if it's a new home, you need to get your

interiors

done, and the paint job comes last. So, the protection of your newly done-up interiors matters!
3. Using Plaster of Paris for uneven surfaces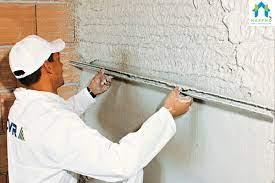 [Source- https://happho.com/ ]
One layer of plaster of Paris can remove the uneven surfaces, and make it super-smooth
The look and feel you get with POP is unparalleled
But, if you don't want that extra smoothness, then make sure that the previous paint is PEELED-OFF
Peeling can be done with scrapers, sandpapers, and even chemical strippers if they don't come off easy
4. Equipment for painting
Use paint rollers for the walls. They absorb more paint and have an even spread
Using a paintbrush also leave you with a clean finish, especially in the corner of the walls
Brushes are used for a textured effect, and this also looks beautiful
Either way, depending on what kind of finish you want, you could comfortably go for the .p/[brush as well
5. Using a primer
[Source- https://interiordesign.lovetoknow.com/ ]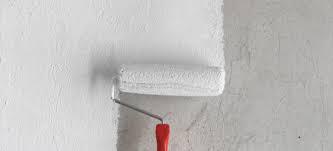 [Source- https://www.doityourself.com/ ]
Primer gives you the most important BASE for drywall. It helps adhesion of the paint of your choice
Primer is white, so any colour can be painted on it, and comes out best-looking!
As an adhesive, primer helps in sticking increasing the durability of the paint
So, do not skip using a primer for your interiors
Besides, primer is very reasonably priced and is NOT worth skipping
TWO COATS of primer give you a beautiful finishing of the actual paint!
6. Number of paint coatings
[Source- https://coatings.specialchem.com/]
While TWO coats are what painters normally recommend, you can go for THREE COATS for the paint to really stand out!
Also, the coat must dry off and cool out completely before you apply the next coat
Using a primer actually helps apply a lesser number of coats, and saves you on cost too!
7. Cleaning after the paint job is done
[Source- https://www.apartmenttherapy.com/ ]
You can use dish soap, cleaners or turpentine to remove stains
With these basic tips, you can be reasonably confident about how to go about the paint-job of your home interiors.
~~~~~~~~~~~~~~~~~~~~~~~~~~~~~~~~~~~~~~~~~~~~~
To know more about "Home Painting Ideas: Things To Know About Painting Your Home Apartment In India- Part I". Click here!