What 'extras' do we get with a 'ONE APARTMENT PER FLOOR' 3 BHK luxury flat in Hyderabad?
The concept of 'one apartment per floor' is fast catching up with homebuyers in Hyderabad.
In standalone buildings across Hyderabad, over 95% of the new residential projects are offered in this category. The builders who operate in this segment are getting competitive and are aware of the demands of the buyers who seek a good quality home with all the essential amenities and luxuries needed for a discernible living.
The standalone apartments in Hyderabad are built on plot sizes ranging from 400 square yards to over 800 square yards. These residential plots normally are chosen by builders in well-established colonies across Hyderabad.
Advantages of these standalone buildings with 'one apartment per floor' living-
low-density living with less crowd around you
much lower cost as compared to building an independent bungalow
more space, better privacy, exclusive access to floor
high end specifications possible
facilities like power back-up, elevators, exclusive parking are possible
economies of scale can be achieved with all the amenities
location is usually much better, and surrounded by a well-developed social infrastructure
you can enjoy the quiet and peace of a residential colony
you get a 'sky-villa' feel
'One apartment per floor' home- independent floors for an inspired living!
This simply means that you are occupying the entire floor plate of the standalone building. So, if you are buying an 'independent floor' in a 5 storey building, the complete floor is yours! It simply can't get better than that!
What extras do you get?
you take the elevator, and land on your own floor
greater privacy because no neighbours are watching you
the 'one apartment per floor' apartment would have virtually all sides open barring the one where your elevator and staircase is located
the design element gets better with exclusive floor apartments greater than 2000 square feet
the lifestyle status is superior to what you feel with a regular apartment
A 'one apartment per floor'- 3 BHK luxury flat in hyderabad an example explained
Given below is a floor plan of an 'independent floor'-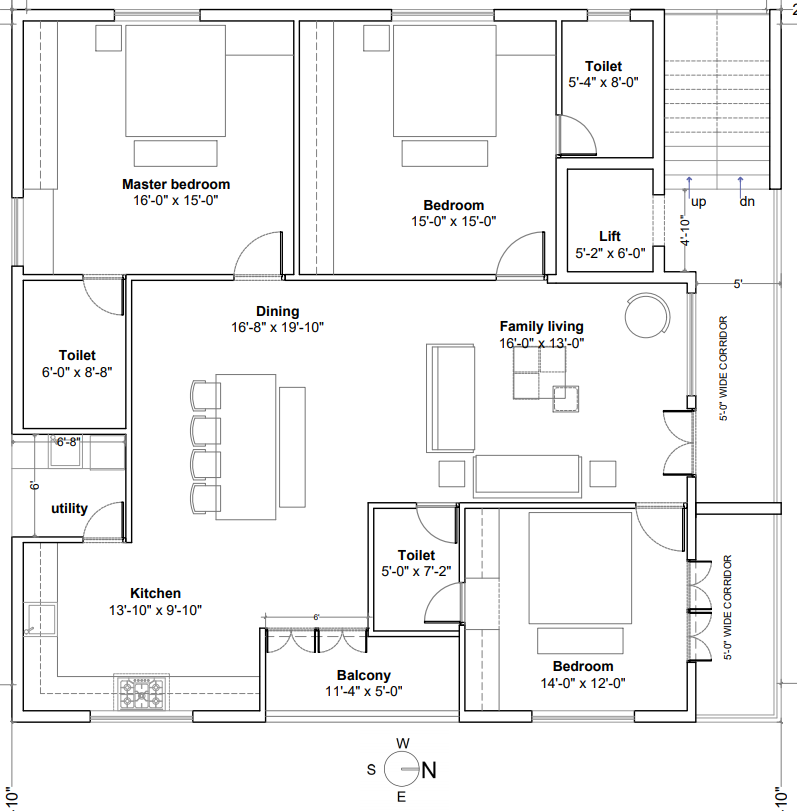 [Project Tamanna Lakeview, Sainikpuri]
Observations on the uniqueness of this design–
Kitchen- a massive kitchen with the edge of the kitchen opening into the dining. This gives a spacious fee. The window allows you to see outside of the home, as good as living in your own villa
Dining- Again a very spacious dining room adjoining the balcony that allows ample sunlight and ventilation
Living room- living room through the corridor. This being an exclusive floor, you can keep the mesh door open, and enjoy the common space of your corridor exclusively to yourself. This gives you a sense of enhanced privacy as you enter your floor
Bedrooms- 3 bedroom with attached bathroom. With all sides open, you have windows in all the bedrooms, and all the 3 bathrooms/toilets have access to open air outside the building along with sunlight
Exclusive lift and staircase- These being next to the corridor give a sense of luxury, where the lift operates exclusively for each floor only. The number of families being five, you have lesser crowd entering the premises
Exclusive parking, genset, security- Security can be made available at the ground floor depending on how much you wish to spend. The car parking on the ground floor makes it a pleasure to enter you home, with your vehicles standing within the compound wall, and NOT on the road side. This is as good as living in an independent home with more luxurious specifications
High-end Specifications- These are possible in every element of the home, be it accessories/fittings, flooring, interiors or even exteriors
Homebuyers in Hyderabad are seeking the best of amenities and specifications even in these 5 storey exclusive 'independent floors'. The builders are also responding innovatively to capture the market with best-in-class quality offerings.
These homes are more expensive than regular apartments, better located, and better equipped (depending on the locality & demand factor).
Locations like Sainikpuri, Yapral are seeing such exclusive floors being offered at very competitive prices ranging from Rs 4800 to Rs 6000 depending on the level of luxury the buyers are looking at!
~~~~~~~~~~~~~~~~~~~~~~~~~~~~~~~~~~~~~~~~~~~~~
To know more about "6 compelling reasons to go for a 3BHK flat in Hyderabad" Click here