Yapral hyderabad locality: a tranquil & serene area to buy your 3BHK home, leading to good health & happiness!
Yapral locality in Secunderabad is almost like an extension of the beautifully ordained Sainikpuri! No wonder, Yapral as a locality is fast becoming a preferred choice of many home buyers in Hyderabad who simply love the quiet and peace of this cantonment-like area.
Yapral Hyderabad locality was prominently an agricultural area till the 1980's, but with the expansion of the city, it was transformed into a lush-green and beautiful residential area.
The Army cantonment-like feel makes you want to be in this soothing location. With passge of time, Yapral has turned out to be a posh yet affordable locality with several gated communities and high-rise apartments on offer.
The area has caught the imagination of IT professionals, doctors, Armed Forces Officers and NRIs and many other people who seek a better 'quality of life' that Yapral offers!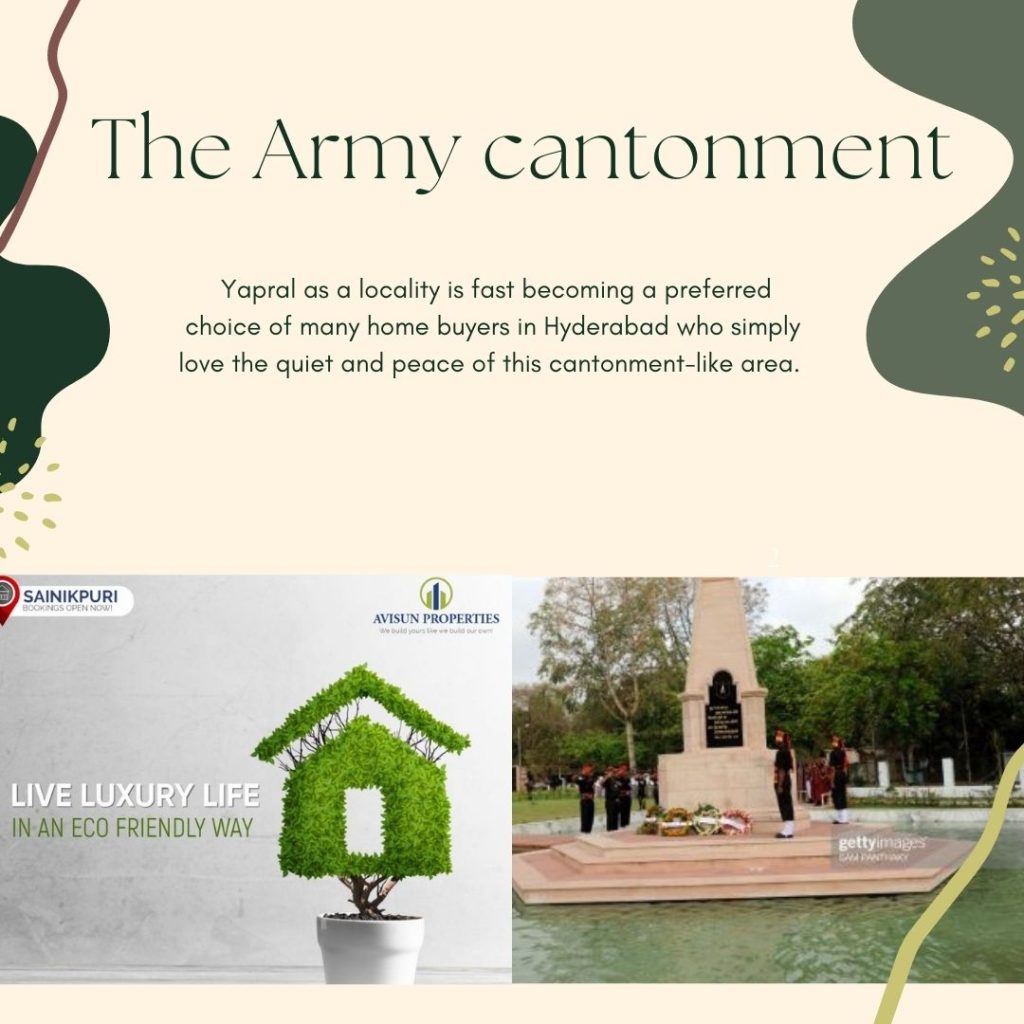 Some of the aspirational residential colonies that changed the skyline of Yapral are: Bhanu Enclave, Sylvan gardens, Greenwood Residency, Patel's Green Park, Green front, Mani Enclave, Prakrutikh Vihar, Jupally homes, Tulsi Gardens, Shaili Gardenia, Mahalakshmipuri Colony, Radha Regal Rows, Swarnandhra, Pedso 1 and 2, Sabari Niwas, Habitat Royale, G K Pride, Shridi enclave, Shanthi Nagar, Sai Krupa Colony, and Employees Colony, Sai Enclave, Lake Meadows among others. 
New construction in the 'standalone building' 3BHK apartments segment is being preferred by many home buyers.
These standalone building apartments are constructed in smaller plots admeasuring approximately 1000 square yards, and come loaded with all the relevant amenities that make living beautiful like power back-up (generator), elevators (lifts), exclusive parking etc.
Reasons why Yapral as a locality is picking pace are…
1. Proximity to Army cantonment and Sainikpuri
Yapral is right adjacent to Sainikpuri, the EME Centre, the Army Officers' club (RSI- Bollarum), the MCEME Centre and College of Defence Management nearby set the tone for Yapral as a preferred location to settle down for the Armed Forces personnel
Sainikpuri is barely a stone throw away from Yapral. Infact, the Sainikpuri post-office and JJ Nagar post office is right next to Sainikpuri post-office
While taking a drive from Sainikpuri to Yapral, you don't realise when you move out of Sainikpuri and enter Yapral. Yapral is like a natural extension of Sainikpuri into nature's paradise
2. Easy access and commute to Secunderabad
Yapral Hyderabad locality is well connected through the cantonment area, the roads that lead to Alwal, with Outer Ring Road towards the Shamirpet road, and Sainikpuri road that leads to E.C.I.L. and Tarnaka
Connectivity is excellent, and yet you are living in a quiet haven of your own when you are at home
3. Green cover of the cantonment with clean air
Thanks to the green cover due to Cantonment right next, you enjoy being in the lap of nature in Yapral
The fresh oxygen is a boon, courtesy the thick cover of trees in the cantonment area, will remain for decades to come
A significant chunk of cantonment area of over 4 square kilometres is located around Yapral locality
With heavily planted trees and plants, you are assured of greenery to soothe your eyes!
The temperatures in this green locality also seem lower as compared to the rest of Hyderabad
4. Excellent social infrastructure and shopping hubs
The shopping hubs, educational institutions, medical facilities, transportation, eateries etc. surround the Yapral Hyderabad locality in abundance
New shops and facilities come-up every 6 months making the locality even more desirable
Small businesses will continue to offer more and more facilities and conveniences to residents of Yapral in the times to come
It is virtually a self-sufficient locality, and everything is available within a 3 to 4 Kilometre radius regardless of where you are in Yapral
With Yapral, Sainikpuri and A.S.Rao Nagar markets nearby you have easy access for all your daily and long term needs
5. Residential home options ranges from Economy to Luxury
You have many home options for the budget home-buyers as well as luxury seeking customer
The residential offerings range from independent bungalows, row houses, 'gated community apartments' and 'standalone building' apartments
The prices range from Rs 4500 per sft to over Rs 7000 per sft depending on the kind of home and configuration you are looking for
Yapral as a locality caters to the needs of all range of home buyers in Hyderabad
Overall, the charm of Yapral Hyderabad locality can be felt with a visit of the area through Sainikpuri approach road to get a complete feel of what this lush-green area feels like!
In the times to come, the Yapral locality will become an even more sought-after option for homebuyers to call home!
A happy, healthy and balanced lifestyle is most certainly possible by living in a locality like Yapral!
"Happiness lies, first of all, in health."

George William Curtis
~~~~~~~~~~~~~~~~~~~~~~~~~~~~~~~~~~~~~~~~~~~~~
To know more about "Exploring Sainikpuri, Yapral Localities: An Excellent Area For Buying Your Apartment In Secunderabad, Hyderabad". Click here !