Clever storage tips for small apartments to create sufficient storage space in your compact 2 & 3bhk flat in India- Part 2
This is part II of the article. Please read part I for a better understanding and continuity.
The article is meant for those Indians who feel overwhelmed with the limited storage space!
Here we are discussing simple and innovative storage tips for small apartments to create space.
No matter how big or small our apartment, space continues to get lesser by the day.
We don't have to stop buying things OR clutter our homes due to lack of space.
With creative thinking, we can do a lot with our existing spaces!!
Creative storage tips for small apartments
Let us continue exploring…
1. Bunk beds for children
[Source- https://www.templeandwebster.com.au/ ]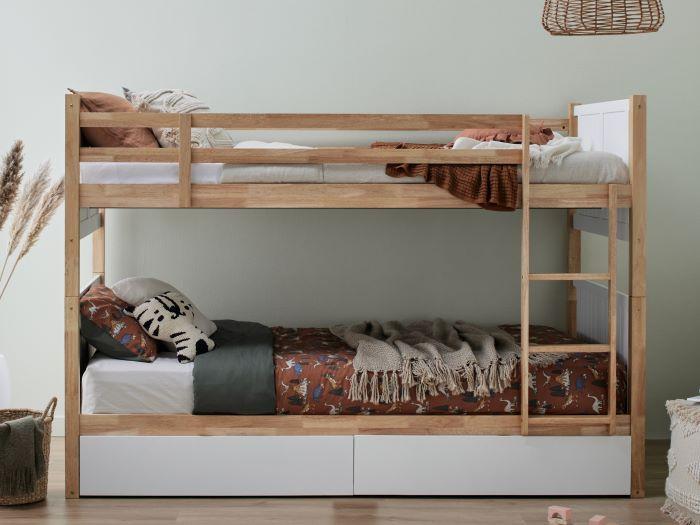 [Source- https://b2cfurniture.com.au/ ]
Choosing a bunk bed for two children is a great space saver
For couples with two children, you could use the saved space for study or other activities like playing, entertainment, etc.
2. Having multiple cabinets and wardrobes
[Source- https://www.pinterest.com.au/ ]
Rather than having a wardrobe, small cabinets around the head area of your bed help. These cabinets can have multiple PULL-OUT sections that are better than having a wardrobe-like formation
These can be used to hide or store many items including toiletries, cosmetics, gadgets, pillows, bedding, and more
3. Built-in wall storage, and 'niche' areas embedded in the walls for wardrobes or cabinets
[Source: https://pin.it/7mWKbtp ]
Built-in wall storage is also helpful in storing various objects and household items
Many builders provide separate nice (enclosed areas) in walls or under the windows to enable this built-in storage
At times, it is better and more flexible to have an apartment with separate niche areas which help release the precious floor space!
4. Opting for wardrobes with mirrors
[Source- https://www.aliexpress.com/]
With this, you could discard the need for a separate dressing table
A full-length mirror on the door of your wardrobe helps and also makes your room look big
5. Foldable pull-out beds
[Source- https://www.smartbed.com.au/ ]
A pull-out bed that can rest against the wall is a great option to release precious space for cross-utilization
It's worth buying a folding bed that gives you access to sprawling floor space in your bedroom
6. Wall-to-wall storage in passages and utility room
[Source- Storage tips for small apartments: https://www.pinterest.com.au/ ]
If you have a passageway in your house, use the space to accommodate wall-to-wall storage. Make sure you either paint the doors the same color as the walls or add a mirror here
The utility room truly doubles-up to take care of your laundry and kitchen storage needs
The utility room can also double up as a home for your pets
7. Use of storage accessories and organizers
[Source- https://www.amazon.co.uk/]
[Source- https://www.wardrobeworld.com.au ]
Accessories like jars, boxes, and modular kitchen accessories help you store many items in your bedroom or kitchen
Many tailor-made accessories can be made for keeping various household items well organized
The
8. Wall mount accessories for specific use
[Source- https://www.mydeal.com.au/ ]
[Source- https://www.harveynorman.com.au/]
Use wall-mounted furniture accessories like retractable shoe racks which conveniently fold inside the wall and release lots of floor-space
Old and vintage furniture pieces can also be put to use for making storage available
9. Bathroom spaces for storage
Storage can be added both under the wash basin or even around the water closet (WC)
You can store various items like towels, toiletries, medicines, and other bathroom supplies
Spaces above the bathroom doors and corners can be put to effective use for

storage
10. Foldable furniture can be stacked away when not in use
foldable furniture is terrific since you can easily fold it, and put it away when not in use
Foldable furniture also prompts you to be more active at home, and allows you to think and move on the go!
11. Greenery adds to spaciousness at home
Photo by vadim kaipov on Unsplash
This is one item that adds to a sense of spaciousness
You can have herbs or plants that are oxygen-producing or have plants that can give you fresh produce for your cooking like coriander, mint, basil, or curry leaves
The spaces in your kitchen and balcony can give you the much-needed green cover
While pots and greenery occupy space, it still ends-up giving you a sense of space
In your tiny apartment, you can actually set up

a vertical green garden

on your walls
These are some of the ideas that help create and release lots of floor spaces in your compact apartment in India!
~~~~~~~~~~~~~~~~~~~~~~~~~~~~~~~~~~~~~~~~~~~~~
To know more about "Clever Storage Space Ideas For Small Apartments: To Create Sufficient Space In Your Compact 2 & 3bhk Flat In India- Part I".Click here!