.
Small bathroom layout: Ways To make small bathrooms look bigger and more spacious in Indian homes- part I
What Indian home buyers struggle with most is maximizing space while designing their bathrooms. Living, kitchen, dining, and bedrooms are the places where you spend most of your time. This is why most builders in India give lesser space for your bathrooms and try to give you more space in other rooms. Even the home buyers don't mind it, but we also don't mind our bathroom looking bigger than it is!
Post-pandemic, this has become even more imperative since people want more spaces to move around, and stretch their legs.
With small bathrooms, the challenge that comes is that you don't get enough space for 'storage'.
In the bathroom, you need storage for many things related to toiletries, cosmetics, washing/cleaning items, hand towels, or even clothes to hang at times.
Average-sized or tiny bathrooms feel cramped and suffocating, which makes you uneasy.
As a homeowner sometimes ends up giving up on 'functionality' and 'design' elements to make the bathroom look and feel more spacious. This is not required.
The reality: Your bathroom does NOT need to look big to seem more stylish.
With a bit of planning and thoughtfully crafted design tricks, you can create designs that maximize the space of your tiny bathroom! Plus, this can happen without compromising on storage!!
Tips to utilize every square inch of Indian bathrooms in making it feel BIGGER & BETTER!
1. Small bathroom layout: Wall hanging Water-closet (W.C) units
Replace your conventional two-piece or one-piece W.Cs with a wall hanging W.C. where the water unit is hidden or embedded inside the wall
One-piece or two-piece W.C. sitting on the floor takes a lot of space and makes them look stuffy
With the water tank of your W.C. hidden, your bathroom does not look cramped-up
A Wall-hung toilet is a space-saving alternative
You can demand your builder to provide you with this, especially if the plumbing has still not been completed
Wall hanging W.Cs is tankless and baseless
Wall hanging W.Cs also hide all the plumbing elements like pipe, inlets, outlets, etc.
The result: Less space and a sleek-looking bathroom!
Using wall hanging W.Cs are so much more convenient to use and clean. You can mop, clean, and clear the water from underneath easily. This way, your bathroom looks drier and more beautiful smelling.
With wall-hanging W.C, the base does NOT come in the way of your cleaning efforts. You don't have to bend to clean all the area around it!
Wall hanging W.Cs is flexible, as you can adjust the height of the W.C while fitting them. With base-mounted W.Cs this option is NOT available, since they come in standard size!
Wall hanging W.Cs can be adjusted to family depending on their height. This means, your W.C can be a perfect fit for you and your family since your legs won't be hanging or over-folded while using the W.C
Being able to adjust the wall hanging W.C to the exact height you want makes them so much more comfortable-to-use
The only flip side of having a wall hanging W.C is that they need professional expertise to install. So, they are expensive as well as difficult to install
That's why it's best to have wall-hung W.C installed before the builder has done the plumbing. After the conventional W.C is installed, it is difficult to install a wall-hanging W.C. unless you are okay to spend on renovation costs!
2.Small bathroom layout: Floating wash-basin-cum-storage units (vanity)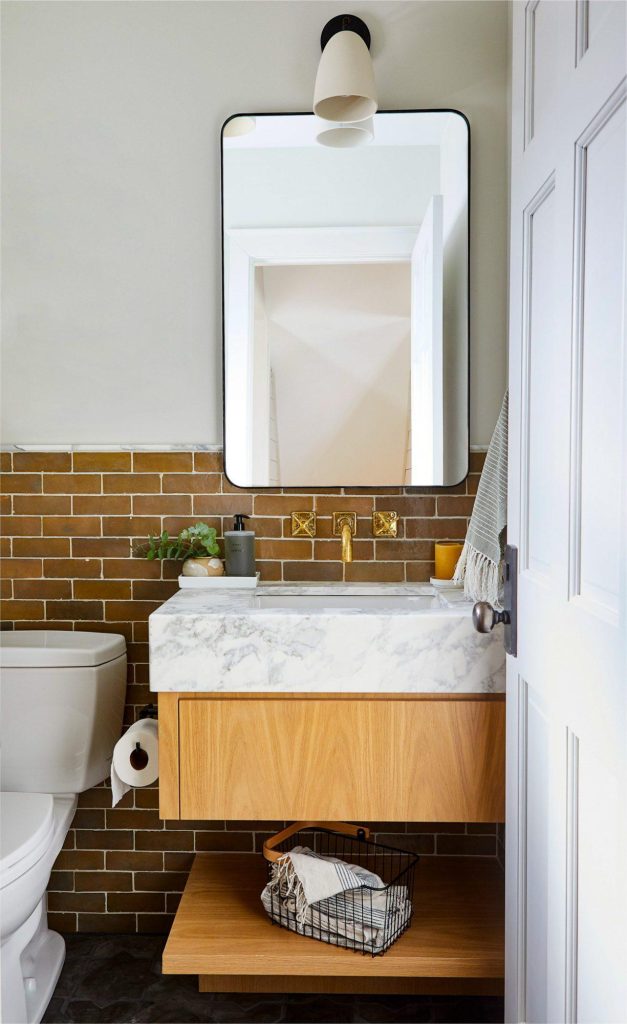 [Source- https://www.allbathroomgear.com.au/ ]
Floating items like wash basins, soap dispensers, etc. free up many inches making your bathroom feel bigger
With a floating vanity, you can feel very bright and more spacious
Keeping the bottom shelf or space of the vanity empty makes for easy cleaning
For more storage space, you can always add movable baskets or boxes to make small bathrooms better organized and stylish
The good thing about movable baskets is that the floor space can be freed-up at your will
Like a wall-hanging W.C, even a floating vanity with a wash-basin fitted into it can be adjusted as per the average height of the family members
This makes it suitable for children as well as elderly
With a well-adjusted height, you are at ease while using the bathroom. You have to worry about reaching out and pulling items out of your vanity drawers
Even if you have a slippery bathroom, you are safer with a vanity adjusted to your family members' average height
~~~~~~~~~~~~~~~~~~~~~~~~~~~~~~~~~~~~~~~~~~~~~
To know more about "Bathroom Storage Ideas: 5 Storage And Space-Utilization Ideas To Get The Most Out Of Your Indian Bathroom!" Click here!