Robosand vs. Natural Sand: a Trade-off?
Traditionally, construction materials like 'concrete' require mixing of cement, river-sand, larger aggregates (gravel), and water. With the unprecedented growth of construction industry world-wide, procuring 'river-sand' is becoming more difficult and costlier with every passing year. Global regulations are applying brakes over the excessive exploitation of river-sand.
With this scenario emerging, manufactured-sand or robosand has now become the most preferred substitute. Besides, 'river-sand' is almost two to three times costlier than robosand owing to the over-exploitation and receding supplies of river-sand.
However, home buyers are not fully aware of robosand, and having questions lurking in their minds about the suitability and safety of this substitute to river-sand. In this article, we are focussed on evaluating and understanding river-sand and robosand from a home-buyers' point of view.
Understanding the basics: river-sand, desert-sand & sea-sand
'River sand' has been used for concrete mason work, and requires very little water. River-sand or natural-sand has better texture, is smooth and round in shape with extremely low 'silt' and 'clay' content.
'Silt' is super fine material that is not good for construction. 'River sand' contains very less of silt making it an ideal raw material for construction.
Similarly, 'clay' does not allow cement to bond, and 'river sand' has very little clay content that is ideal for making strong concrete.
River-sand contains small parts of rock in sand size, and owing to natural occurring, it has all kinds of sizes that makes is suitable for construction.
Some of us may wonder: can we not use 'desert sand' or 'sea sand' that are available in abundance? The answer is a big 'no'! 'Desert sand' and 'sea sand' are useless for construction purposes. Here's why:
'Desert sand' is too fine and smooth hence not well-graded (unsuitable for construction), and sea sand is a result of sand eroded by sea which contains corrosive salts. Sea-sand has poor compressive strength, and extremely low tensile strength that makes it unfit for construction.
It's interesting to know that countries like U.A.E (specifically, Dubai/Sharjah) which are sitting in the middle of Arabian Desert import river-sand from countries like Australia. This is done because the 'right sized' river-sand particles are ideal for strong concrete and landfilling.
Robosand: a substitute to river-sand
River-sand being the ideal raw-material for construction became a bane for the rivers, posing serious environmental threat. Rivers have been plundered recklessly to feed the immense growth of world infrastructure. Unprecedented and criminal use of sand has created an ecological imbalance!
It takes thousands of years for sand to form along the river beds, and there is no way to replenish it once taken. Mankind cannot be allowed to deplete the river-sand deposits incessantly. So, the alternative to river-sand that works very well is 'manufactured sand' or 'robosand' which is pegged to be cheaper, better, and environmental-friendly!
Home Buyer's Thoughts:

Is Robosand a 'Good Substitute' Or a 'Compromise'?
For a home buyer, being environmentally sensitive may not be a priority. So, if a builder uses river-sand or robosand, or both, we get sceptical. We wonder why that happens, and get suspicious on the quality front.
The ultimate goal for every home buyer is to have a strong, durable, long-lasting, and safe home that can withstand all the natural calamities, and various other known/unforeseen pressures over the decades. Without the right knowledge, a home buyer may end up fostering negative perceptions and apprehensions about the 'quality and suitability' of construction materials like robosand!
Questions that might trouble a home buyer are: Which is better for construction of my home: robosand or river-sand? Which of the two results in a stronger building in the long run? Which one is my builder is using, and why? If robosand is being used, am I being adversely impacted cost-wise or otherwise? By using robosand, is my builder trying to make more money by compromising on something? Does my builder have the expertise to use robosand well to create a strong, study, safe and secure building for my family?
Well, to clear this mist around such suspicions, a home buyer must understand the properties and usage of both river-sand and robosand.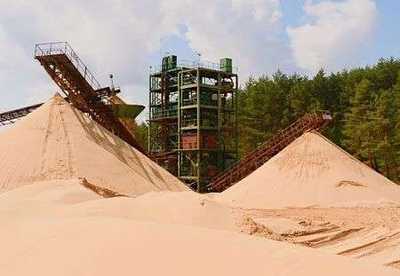 [Source:https://robosand.weebly.com/]
River Sand vs. Robosand: An understanding
Sand, or more specifically, River-sand works as 'fine aggregates' in concrete and mortar that is used in the construction of a variety of civil engineering structures. Being a gift from mother-nature, river-sand has come into existence due to the 'weathering of rocks' over tens of thousands of years. Owing to its suitability, river-sand has been mined excessively from the river beds over the last two centuries for construction work.
Manufactured sand (m-sand) or robosand, as the name suggests, is manufactured from stone-quarries 'replicating' the mother-nature's method. A 'Rock-Hit-Rock' crushing technology or 'VSI technology' (Vertical Shaft Impact) is deployed to manufacture robosand. Rocks are continually blasted using this technology, and after a multiple cycles of crushing, they are reduced to the size of a natural sand particle. Fine particles and impurities are cleaned/washed away till they become fit to be used as 'construction aggregates' similar to river-sand.
The reasons for manufacturing robosand are: i) in response to the global scarcity of natural river-sand, ii) growing global demand of 'fine-aggregate'. iii) high transportation costs of natural sand due to locational constraints, iv) inherently high presence of silt and clay (impurities) in river-sand.
Robosand:

T

he Advantage
The advantages offered by robosand are: i) cost-effective compared to river sand, ii) environment friendly, iii) lesser impurities resulting in 'higher ability to withstand extreme pressures', better resistant to abrasions, higher concrete strength compared to river-sand. Usage of robosand actually enhances the strength of the building, although it entails using higher proportion of cement to gain the optimum concrete strength.
Robosand vs. River-Sand:

Properties & Differences
| | | |
| --- | --- | --- |
| Factors | Robosand | River sand |
| How it's made | Factory made | Nature's gift |
| Moisture-factor for binding concrete | Moist only upon being washed | Naturally locked moisture creating concrete better |
| Size & shape | Angular aggregates, rough texture; implication- need more water & cement | Being smooth textured, needs lesser water |
| Strength of concrete | Higher compared to river sand having high compression strength; reduces construction defects | Comparatively lesser |
| Silt and marine elements | Nil, which is good | Silt tends to go beyond the stipulated 3% mark |
| Consistency of size | Achieved as it is manufactured | Not consistent in size being naturally occurring |
| Adverse impact to environment | Much less compared to exploitation of river sand | Extremely high; impacts ground water and dries-up rivers |
| Cost effectiveness | Highly cost effective being cheaper than sand by almost 50%; easy availability | Expensive; Availability subject to nearness to natural mining site, and transportation costs |
| Possibility of being adulterated | Less | High |
| Usability | Recommended for use in concrete and brick work | Likewise for river-sand |
Builder's Competence In Using Robo-Sand:

A

Critical Factor
While the comparison above tilts heavily in favour of robosand, we cannot ignore the strengths of naturally occurring river-sand. Concrete made with river-sand is preferred by many builders, since working with robosand demands a thorough knowledge, skill and competence. Hence, some builders are quick to dismiss robosand owing to their lack of capability to work with them.
The source of supply of various grades of robosand matters a lot to achieve the perfect build quality. The 'quality' and 'different grades' of robosand varies with the 'type' of construction, and the structural engineer must know 'where to use what grade and quality' of robosand. Used correctly, robosand gives optimum concrete strength in the 'columns', 'slabs', or 'brick/block work'.
The technical know-how of 'how to achieve the right compressive strength' and 'practical knowledge' of using robosand is very critical to obtain optimum strength and stability. The Civil Engineers of the builder must have a complete understanding of the IS code provisions, as given by 'Bureau of Indian Standards Guidelines IS: 3831970', and apply the right knowledge to create a safe structural fit for human occupancy. Lack of knowledge, a compromise in the building construction rigour, or mediocrity in following Standard Operating Procedures need to be avoided by the builder.
Questions To Ask:

A

Home Buyers' Perspective
Questions a home buyer may ask are: i) is the builder ensuring that the supply of robosand is being done from a reliable source? ii) is the robosand particles being supplied in conformity with the standards and required quality specifications (BIS norms & guidelines), and 'fit for purpose'? iii) is the builder applying the requisite engineering know-how and competencies while using raw materials like robosand?
An affirmative response to these questions results in you owning a superior home that secures lasting peace of mind!
Conclusion
A home buyer needs to the aware that robosand can be a superior alternative to river-sand, provided it is being procured from a reliable source, and is being used optimally with a robust structural engineering rigour. Hence, home buyer needs to ascertain that the builder is optimally using the right grade of robosand, thereby optimizing the building's strength. Robosand is clearly a cost-effective and eco-friendly substitute of natural sand.
In a nutshell, usage of robosand in making of your dream home or apartment is not risky. On the contrary adds strength to the life of the building when done by a competent builder backed by a sound & professional Engineering precision. It's actually a matter of 'will' and 'skill' of the builder. If the builder's intent is genuine, construction rigour/processes are meticulously driven towards excellence, then the outcome is a superior home for decades of worry-free living!
To know more about "Tips on evaluating QUALITY vs. PRICE- a 'wise approach' before booking your 3 BHK flat in Hyderabad" Click Here!