6 reasons why modern modular kitchen is being preferred by new-age home buyers in India!
Indian home buyers are increasingly opting for open kitchen regardless the size of their family.
Most people, including men in Indian households now enjoy being around kitchen. Clearly, the Indian kitchen is no longer a Bastian of the women alone! You find men in the family being on equal footing with women when it comes to household chores including cooking, baking or even housekeeping activities.
[Source- https://housing.com/]
An inviting kitchen space is a pre-requisite for anyone to step into a refreshingly smart looking kitchen.
This is where the joy of cooking is accentuated with a modular kitchen, where the meal or snack you cook becomes a joy-to-craft in a beautifully gorgeous kitchen.
Home buyers in India are increasingly seeking a functional, interactive, multi-task enabling and spacious MODULAR kitchen.
Let us explore reasons why MODULAR kitchen is the most basic need for the emerging uber Indians.
[Source- http://ghar360.com/ ]
Traditional Indian kitchen integrated with a modern modular kitchen
A modern modular kitchen is SMARTER, and integrates the essentials of a traditional kitchen with the help of technology
By SMART, the modern modular kitchen aims at giving the new-age home owner a more convenient and luxurious option with a modular kitchen
Being the smarter version of a traditional boosts kitchen efficiency with a high glam-quotient 
Why are modular kitchens appealing to Indian home buyers?
1. Convenience
modern Modular kitchen allows you to perform multiple tasks
Convenient place helps you cook, prepare and do multiple kitchen-tasks smoothly
A modular kitchen is more convenient than traditional kitchen in many ways simply because the traditional carpenters cannot produce the results that come with a modular kitchen
A modular kitchen with its in-built flexibilities allows you to make an ideal design
Modular kitchen gives you a systematically made kitchen design
Convenience is key, and the kitchen is made-up of smart factory-made modules
Every square inch of your kitchen is utilized well with a modular kitchen
Every nook and corner of your kitchen is utilized
[Source- https://www.mydeal.com.au/ ]
2. Flexibility to be tailor-made
You get a customized kitchen based on your needs
It is beautiful with stunning aesthetics
Being customizable, you can make storage, platform, cooking-areas as per your needs and preference
The kind of kitchen you want is possible. All you need to do is communicate the makers of modular kitchen or your interior designed
Even specifications, accessories etc can be made to order
3.Neat and clean clutter-free feel with specifically designed storage areas and shapes
Modular kitchen makes things extremely organized
You can have spices, accessories, utensils etc. of different shapes stored as per your expectations
All shapes and sizes of grocery and crockery can be fitted therein
We can organize things in a modular kitchen better, since all the accessories are made and designed for specific purpose
Storage is NOT haphazardly unlike a regular kitchen made by a carpenter
Storage solutions are made systematic and scientific in a modular kitchen which has tremendous options of superb accessories that become part of the modular kitchen
Items get randomly stored in a traditional kitchen
With smart storage solutions of a modular kitchen, you can store everything properly
4. Easy to maintain and durable
The modular kitchen design is easy to maintain
Plenty of materials you get to choose which is high-quality and durable
Modular kitchen materials are much easier to clean
Smooth finishes of a modular kitchen are easier to clean
The modules in a modular kitchen are detachable
Kitchen modules of a modular kitchen can be easily taken out and cleaned
Repairing a modular kitchen module is easier
Modular kitchen comes with a beautiful embedded chimney to remove the smoke, oils etc. to keep the
Modular kitchen is designed to remain well-ventilated
Quality of materials used in modular kitchen is meant to be sturdy to last for years
[Source- https://dengarden.com/]
5. Chic and appealing looks
Lighting and accessories are also optimal in a modular kitchen
A modular kitchen can be designed beautifully with the most stunning designs
Sleek layouts are possible with modular kitchen and its accessories
You have the flexibility of many designs like the carousel units, pull-outs and more
[Source- https://wonderfulkitchens.com.au/ ]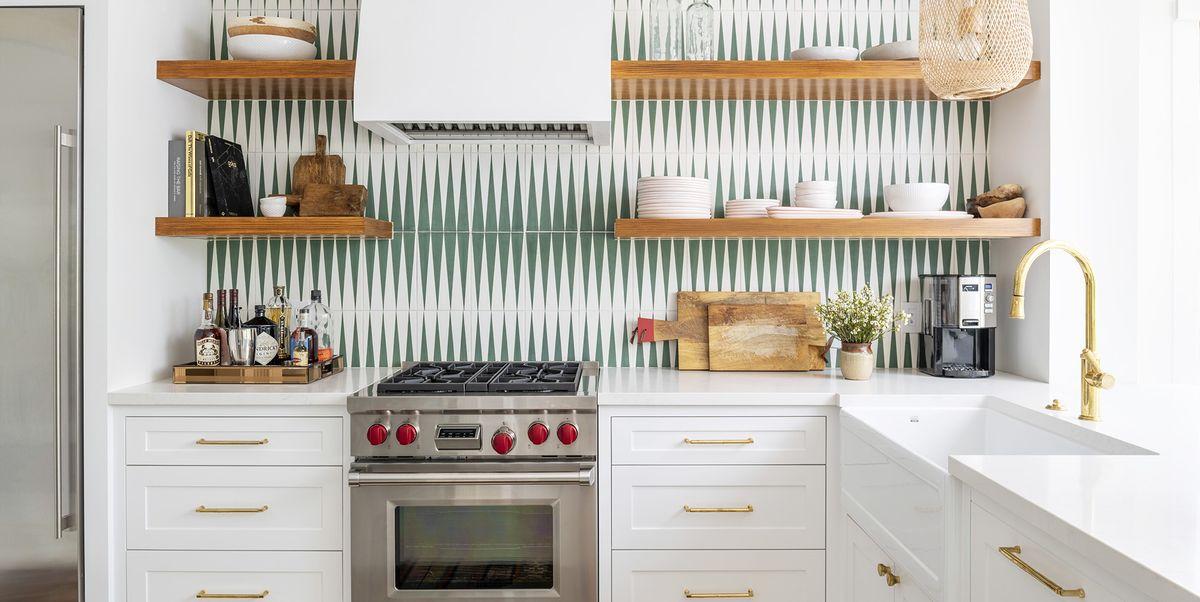 [Source- https://www.goodhousekeeping.com/ ]
6. Functional and efficient
The

modular kitchen

is definitely the most beautiful and functional kitchen design that you will come across. Plus, the enhance your efficiency and bring joy as you use your modular kitchen
Overall, a modular kitchen is the ideal marriage between beauty and functionality which is attractive to the Indian home buyer.
~~~~~~~~~~~~~~~~~~~~~~~~~~~~~~~~~~~~~~~~~~~~~
To know more about "Open Kitchen Design For New-Age Home Buyers!". Click here!