Factors that make a 3 BHK homebuyer to buy luxury apartment in hyderabad
The concept of LUXURY is relative. In simple terms, a LUXURY home can be viewed as a property that is amongst the top 10% of the properties in a city within a certain segment.
Here we are talking about 3 BHK apartments ranging from approximately 1600 sft to 3000 sft apartments in 'gated community complexes' or 'standalone building apartments'.
Gated community complexes are built over acres of land, with many amenities and facilities.
On the other hand, 'standalone apartments' in Hyderabad are built on plot sizes ranging from 400 square yards to over 2000 square yards. These residential plots normally are chosen by builders in well-established colonies across Hyderabad. These again comprise of two types:
Cluster based apartments i.e. two or more apartments connected through a common corridor, and
'One apartment per floor' which all sides open, and clear sky view through all the external windows and doors. These have no common walls, and give a 'sky villa' independence
The Luxury factor in apartments
Dream home means different to different people. But, let's look at the home buyer segment that falls between a budget of Rs 65 lacs to Rs 1.7 Crore.
We will look at what LUXURY means within this budget range, to make the topic relevant to this budget range segment in Hyderabad.
What makes a home luxurious are its specifications, features, quality, and location. Hence, luxury has to do with interiors, exteriors, facilities/amenities, and all that goes into the making of the home.
Luxury also has to do with a lifestyle factor amongst a certain social group, families, and peers. Luxury is also a matter of perception. For instance, luxury could be associated by a certain social group with: a) a certain locality in Hyderabad, b) a certain quality of construction, c) a set of specifications of material used in an apartment (flooring, accessories, doors/windows, security, aesthetics, etc.), a certain size or 'type' of an apartment.
For instance, a 'One apartment per floor' apartment measuring 2000 sft or more will be perceived to be more LUXURIOUS compared to a regular apartment where you have 2, 3, or 4 apartments on a single floor.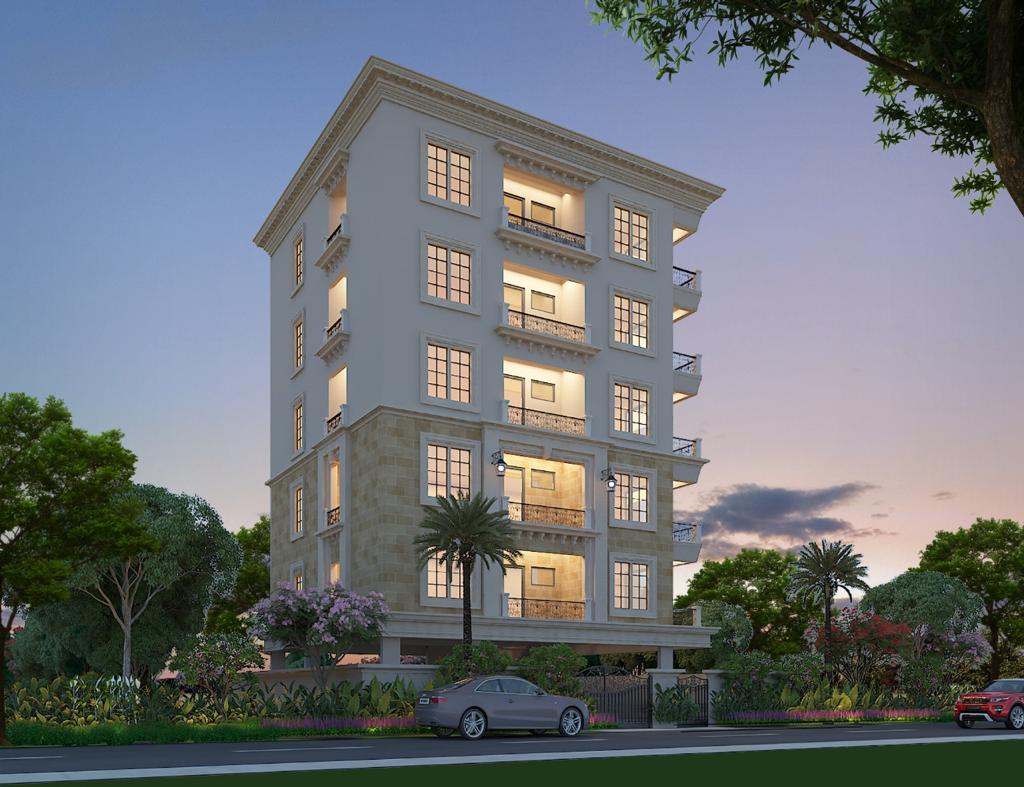 Factors that make a luxury home in this segment
Nowadays, many luxury apartments are loaded with high-end specifications and exclusive features that make your dream home stand out!
Having vast and open spaces is important besides an array of amenities.
The designs need to be pandemic-ready, nature-friendly with modern cum Vastu-based architecture.
5 features that define a luxury home, making them an exceptional property are as follows:
1. Security and social distancing compliant homes
In-built security features give an exclusive feel
High end security devices, and security guards separate luxury homes from regular homes
Homes with smart locks, CCTV cameras, safety alarms for fire or break-ins
Having a strong security mechanism to check inflow of visitors at the entrance
2. Spacious home plans with work/study from home design elements
Luxury comes vast spaces, work-from-home and study options
Spacious rooms, open-viewing areas, balconies that are carefully crafted
Modern architecture than complies with Vastu, yet is functionally optimum
3. High-end, spacious, semi open-kitchen and laundry-room
A spacious kitchen with provision to incorporate appliances
Ability and provisions to integrate double ovens, heating drawers, island sink, washers etc. These features are not seen in a typical middle class kitchens
4. Clear views and open skyline
In inviting home in a peaceful environment
A surreal view of the surroundings from the windows and balconies
A view with an enjoyable gaze of the skyline
Clear feel of fresh air to calm your mind
5. Smart homes features
Smart features such as a security system accessible via mobile phone app, motion sensor lighting, timer-set lights, smart thermostat etc.
Luxury is indeed a state of mind, and yet there are a few something that helps stand out when it comes to your dream home.
With luxury comes quality, and with quality comes a better lifestyle for your family!
To quote Jochen Zeitz- "We should bring in an environmental attitude, and I think luxury should automatically be about sustainability and quality."
~~~~~~~~~~~~~~~~~~~~~~~~~~~~~~~~~~~~~~~~~~~~~
To know more about "What 'extras' do we get with a 'ONE APARTMENT PER FLOOR' 3 BHK luxury flat in Hyderabad?" Click here