Must-know basics of electricals for an Indian home buyer- part I
Electricals in your home must be taken seriously. A home buyer must be aware of what makes an electrical system in the apartment, and how to make sure that every member of the family is safe.
With knowledge about the basics of electricals, one can be better equipped to make sure electrical fires or electrocution are kept at bay.
One needs to know how 'short circuit', and make sure that your home is completely protected from any form of electric fire or threat of electrocution.
Electrical safety needs to be assessed with a great sense of responsibility. While the builder is responsible for it, and the 'occupation certificate' is issued only once the builder follows all the measures to secure safety, it is still necessary to err on the side of caution.
Electricity is inherently a dangerous thing, and we cannot see really witness how electricity flows. This can result in hurt or accidents, hence the need to understand the basics of electricals, safety-related measures, and equipment being provided to us by residential builders.
basics of electricals for a home buyer
Why is electrical safety important?
The human body is a 'conductor' of electricity, which means it can cause damage to the human body upon contact
Electricity is safe so far as it flows in the intended path. We must ensure there is no Direct or Indirect contact of the human body with electricity, and we remain protected
Direct or Indirect Contact
Ensure there is no live wire contact
Have proper insulation to live parts, enclose them properly with high-quality branded wiring, and ways to break/stop any surge
Direct contact is when we can come in contact with a live wire accidentally or through a current leakage
To protect against injury for these reasons, features of the protection system in any electrical installation must be in place
No compromise on the quality of cables or wires
The cable must be made out of copper and complies with IS 8130 for insulation
Aluminum wires are a strict no
Know the distinction between Single-Core and Multi-Core wires, and use them appropriately
Single-Core wire
Multi-Core wires
[Source- https://www.indiamart.com/]
Single-core strands are normally used for house wiring. These are not having the extra black cover. We must make sure the PVC insulation of these is fire retardant and has a low smoke
Multi-core wires are used for connecting an appliance with the plug. They are having the extra sheathing (black cover) which makes it safe
Normally, light/fan circuits are wired with a 1.5 sq. mm cable. Plus, power plugs are wired with a 6/16A with 4 sq. mm. cable
The builder should have followed the color code: RED, BLUE, YELLOW for phase, BLACK for neutral, and GREEN for earth wire. This helps avoid any unsafe issues when a repair or modification is needed
Switch and Socket
Switch or Socket needs to be high quality and able to withstand constantly being switched 'on' and 'off'
High quality branded switches would ensure that they do not fail decades after they are used
A poor quality switch and socket eventually weakens resulting in heating and insulation failure
The sockets and switches in India are usually made as per Indian Standards, however, high grade and quality switches are usually more expensive than low ones
Quality shows in workmanship, and the earth pin needs to be thick and long to avoid any shock to the person touching the appliance
Sockets with a shutter ensure that kid do not accidentally put their fingers inside it
Box to house Switch and Socket Panel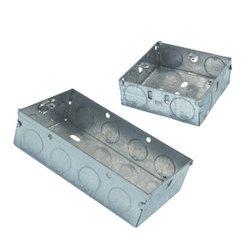 [Source- https://dir.indiamart.com/]
[Source- https://www.havells.com/]
A Steel or GI Electrical box of good quality must be bought
Using Steel/GI Box results in earthing and tripping of MCB
Conduit
[Source- https://www.indiamart.com/]
Wires must not be laid open. Concealed wiring is normally provided by most builders and that's safe!
Rigid pipe or metallic pipe must be used by the builder for laying wires in the open
With concealed wiring, mechanical damage does not occur, plus smoke does not spread because there is no oxygen available to cause its spread
Concealed wiring is more aesthetic
One should for a conduit (flexible or non-flexible) that is in accordance with Indian Standards
Knowledge and safety go hand in hand. One must not take the knowledge about electrical devices easy!
"No Safety, Know Pain. Know Safety, No Pain."

An anonymous quote
~~~~~~~~~~~~~~~~~~~~~~~~~~~~~~~~~~~~~~~~~~~~~
To know more about "Importance Of Home Insurance To Protect Your Dream Home And Life-Earnings!" Click here!