Elevating lifestyle with a marvellous 3 BHK builder floor apartments in Sainikpuri, Hyderabad!
---
Sainikpuri in Hyderabad is now one of the most preferred locations for lifestyle and tranquillity. With lush green surroundings, well-laid roads, and a cantonment-like feel, Sainikpuri in Hyderabad feels like an oasis in a desert!
Nowhere in Hyderabad do you get such a relaxed feel as the one you experience in the Sainikpuri locality. No wonder, the area is fast becoming a thriving social-connect centre filled with many cafes, restaurants and other eateries operating in this picturesque location.
The Sainikpuri main road is simply beautiful, with Vayupuri and Defence colony on one side, and Sainikpuri on the other side.
Sainikpuri is fast becoming a happening area for all age groups. The young crowd is only too happy to flock to the Sainikpuri area to soothe their nerves. The locality provides the ideal location to hang out with friends to have a good time in beautiful natural environments.
The adjoining colonies within the Sainikpuri post office also carry the flavour of this Army-like area with plenty of trees, walking tracks and GHMC or society maintained gardens. Sainikpuri is also a favourite spot for morning and evening walkers to unwind and rejuvenate in the lap of nature.
This is why many small-scale builders are constructing exclusive floor apartments in Sainikpuri with all the modern new-age specifications.
These standalone buildings are usually built on areas ranging from 400 square yards to over 1000 square yards. One of the most appealing and attractive propositions is the 'builder floor' residences that are spacious (over 2200 sft) and luxurious in every aspect.
Reasons that make builder-floor apartments in Sainikpuri truly attractive to a 3BHK home buyer in Hyderabad are-
Architecture and design to optimise your lifestyle quotient
Comfort and convenience are blended with architectural designs
100% Vastu since all sides are open when you buy a builder floor
With only 5 floors in a 5 storey configuration, you get ample sunlight and ventilation
The designs offered by architects in these builder floors are new-age, efficient and spacious
You get 'one apartment per floor', and no neighbours
Privacy is 100% with you owning the entire floor
Social distancing and safety are an automatic outcome of living in an exclusive floor home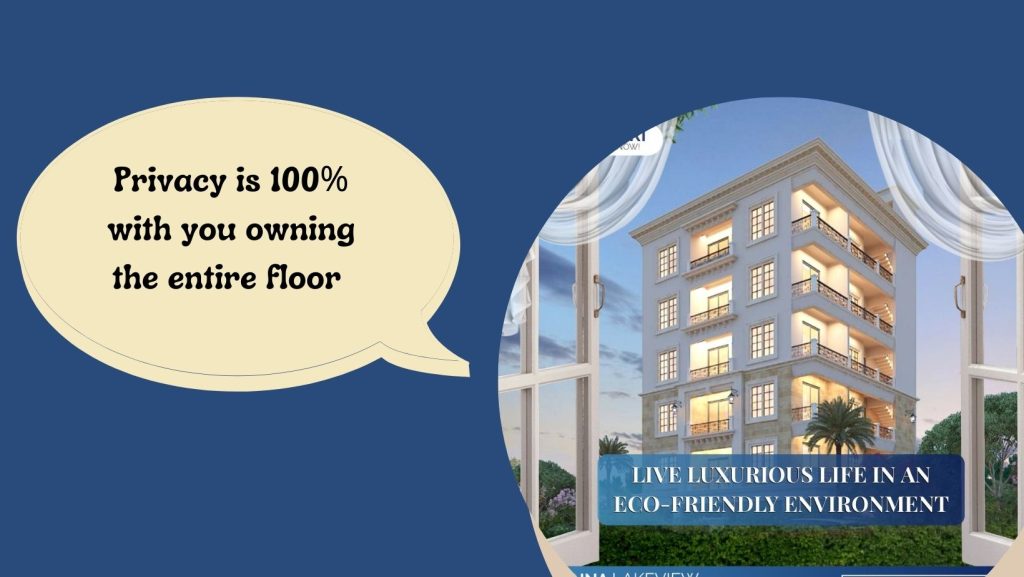 Luxurious specifications include direct elevator access (lift)
Specifications are high with direct access
With your exclusive parking in the ground floor, you live a luxurious lifestyle
A builder floor address adds to your stature and status as compared with regular apartments
Inviting friends and family over to a builder-floor is a delight considering the number of spaces you can enjoy
Specifications of interiors and exteriors are high-end with branded fittings, accessories to entice your senses
The price per square foot could range between Rs 5500 to Rs 7000 per sft depending on the level of luxury apartments in Sainikpuri.
Convenient living in a great location with excellent social infrastructure
Sainikpuri is a stunning locality
With A.S. Rao Nagar market, Sainikpuri main road, hi-tension road (Double road) thriving, you have all that you need
The social infrastructure around Sainikpuri is the best- be it educational institutions, shopping hubs, educational institutions, healthcare facilities etc.
All the thinkable conveniences required for a comfortable lifestyle are available in easy reach
Plus, the face of Sainikpuri is changing by the day, with many more shops, superstores and other attractions getting added to this thriving locality
One visit to Sainikpuri gives you a superior and convincing feel of calling this place your home
Well-connected with the city and proximity to ORR
[Source- https://telanganatoday.com/]
With ORR nearby, it is well connected to the entire city including the airport
The access to the city is convenient with roads leading to Uppal, Secunderabad, Alwal
Travel is convenient in this area, plus, once back from your place of work, you feel extremely relaxed in Sainikpuri
A home that will always remain in the nature's lap
Being next to the Army area, this place will always be high in green cover
The Army EME centre, MCEME, CDM and other Army installations have huge land parcels running over many square kilometres that will always remain spacious and full of greenery
This area makes a lot of room for fresh oxygen for decades to come
Health and wellness are the obvious outcomes of living in the beautiful environs of the Sainikpuri locality in Hyderabad!
These are reasons enough to elevate your lifestyle with spacious 3BHK builder-floor apartments in Sainikpuri, Hyderabad. Many home buyers, IT professionals and NRIs are not settling for concrete jungles in the city, and are instead choosing life by choosing an exclusive builder floor in Sainikpuri!
"Don't settle for what life gives you; make life better and build something."

– Ashton Kutcher
---
To know more about "Exploring Sainikpuri, Yapral Localities: An Excellent Area For Buying Your Apartment In Secunderabad, Hyderabad" Click here!