Tips & ideas to create 'work and study from home' spaces in Indian homes!
Ever since the pandemic, the concept of work from home has come to stay, especially with professionals who work on their laptops all day long at home!
The residential apartment builders in Hyderabad and other Indian cities have been quick to respond to this change. The 2BHK and 3BHK homes are being offered that may have separate study or office spaces as part of the new-age designs. Alternatively, in the floor-plan (2-D or floor-plan design) itself, the architects are giving ideas on using other rooms to integrate a work from home space in your apartment.
It's important to use the existing spaces in the most efficient manner to work or study!
Although the builders might offer additional design elements in the home plan, eventually the needs are determined by the home buyer.
For instance, you could have a family of 4, husband-wife working from home, with 2 or more children studying from home. So, you need four work or study from home options within your existing home!! You need to cater to the needs of all, whether it is for work or study, and provide a productive space that serves the purpose.
This also depends on how much square foot area is available to you in your 2 or 3 BHK apartment, builder-floor or independent-villa.
More important, how you plan your work and study from home spaces also depends on the available budget!
work and study from home Space: tips and ideas
1. Small, slim custom desk in bedroom, living or study room
[Source- https://nypost.com/]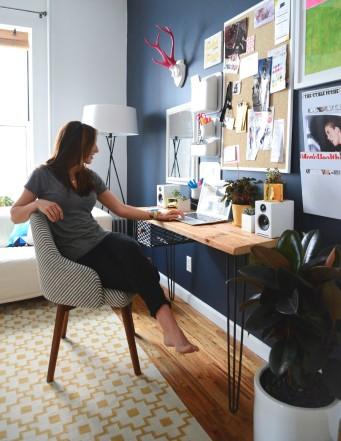 [Source- https://nypost.com/]
This could be in the form of a rack-like 3 or 4 feet table that either latches-on to the wall, or is collapsible (frees-up space when not-in-use)
This way, you face the wall of your room, and are able to focus on your work
With collapsible tables or racks, you can use the spaces when not working or studying
2. Tiny, portable study/work unit/table in bedroom
[Source- https://nypost.com/ ]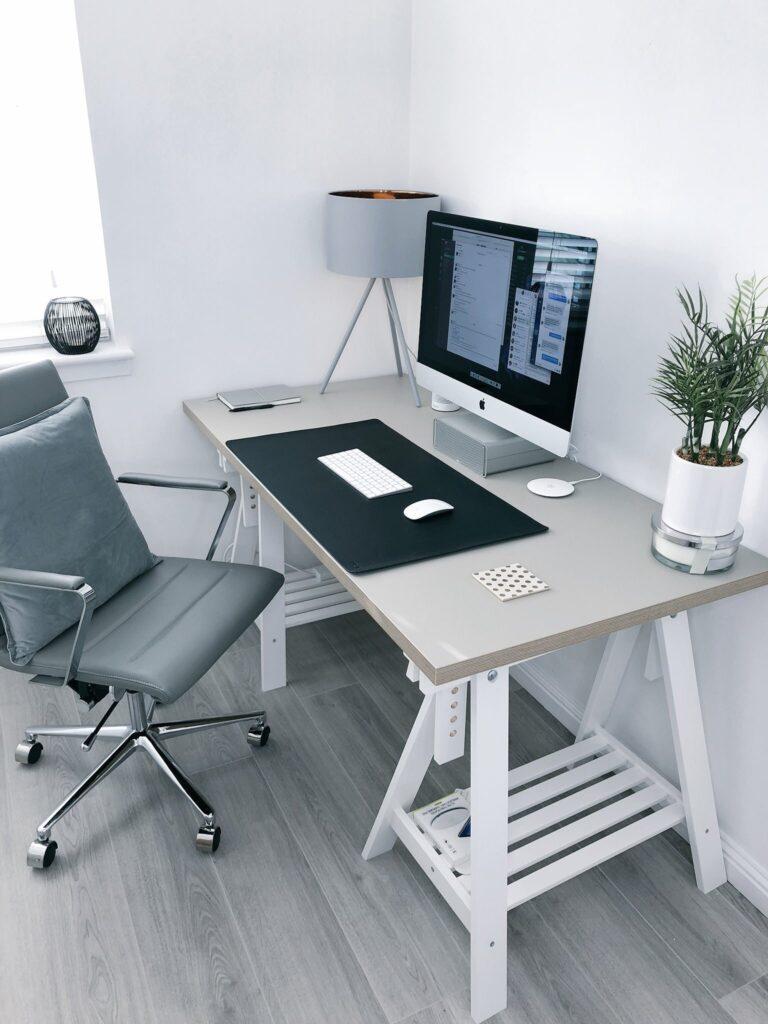 [Source- https://www.cortlanddesign.com/]
Portable, light tables & chairs allow you flexibility of choosing the spaces on-the-go
When required, you can easily shift from one room to another
3. Mid-size office table in your study or living room
[Source- https://www.cortlanddesign.com/ ]
[Source- https://nypost.com/]
These mid-sized tables and ergonomic chairs (with or without wheels) can also be moved easily
Using living room is a great idea, especially, if you are sure of the solitude to concentrate without much disturbance or distraction from family members or visitors
4. Using living room to place work table
[Source- https://www.roomsketcher.com/]
There is no harm using living spaces to keep your work-station or study-table & chair
Being in bedroom all day long can be suffocating, so when space is a constraint, living room is a refreshing alternative!
After all, the home is meant for your convenience and well-being! So, use all the rooms as you please!
Living rooms are usually bigger than bedrooms, and give the much needed respite of spaciousness
5. Creating minimalistic workstations against walls or built-in work spaces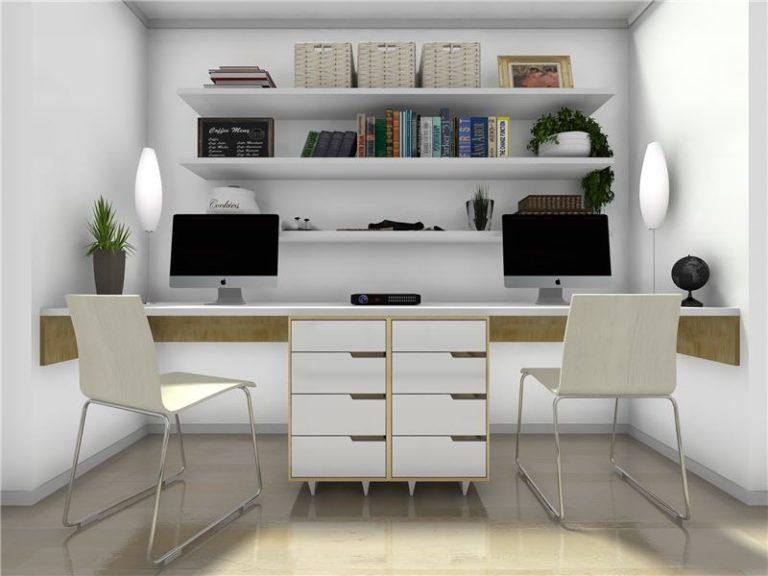 [Source- https://www.roomsketcher.com/]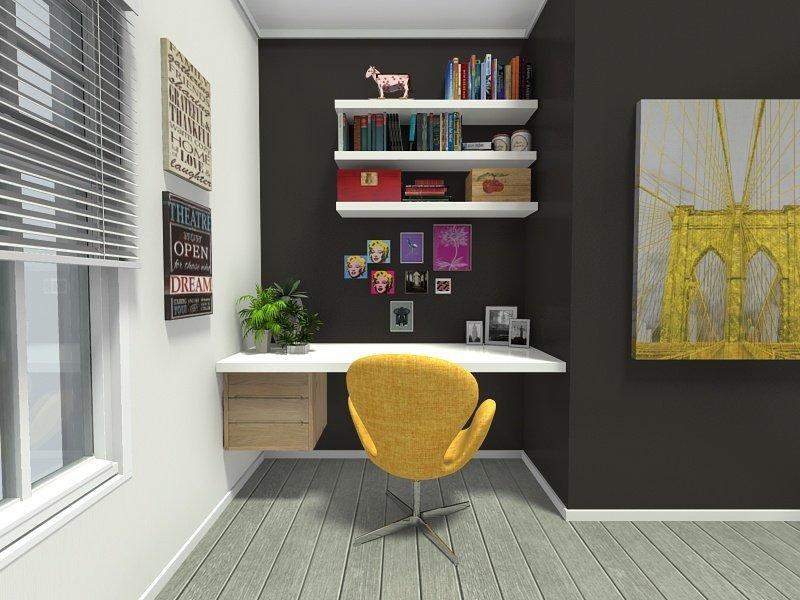 [Source- https://www.roomsketcher.com/]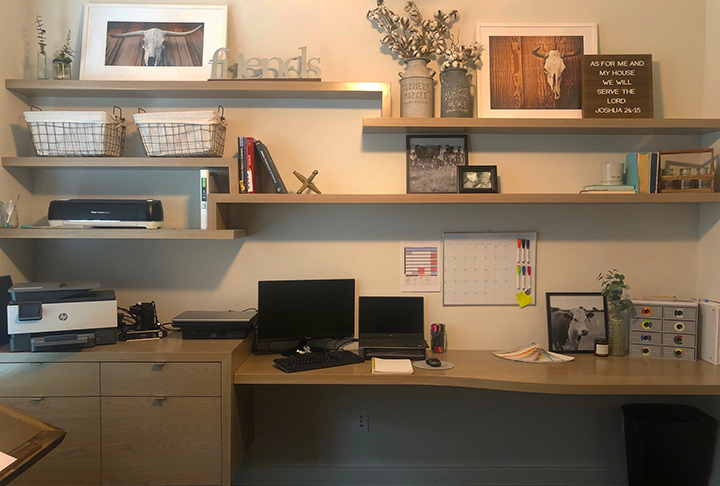 [Source- https://www.cortlanddesign.com/]
Built-in workspaces tend to occupy lesser spaces, and are easier to maintain
But, you can do so, only if you are sure that these will remain fixed in one place, and no change is warranted
Build-in spaces remain fixated and permanent in one place
You can create such work-spaces in niches or areas which are otherwise not put to use on a regular basis
6. Creating proper workstation in work from home office space or study room
[Source- https://www.roomsketcher.com/ ]
Lot of builders are now aware of the needs in a post-pandemic world, and are offering designs with well planned spaces to cater to work from home spaces
It is important that you use these dedicated rooms well depending on your needs, budget, and preferences
It is important to create the right ambience in these dedicated home-offices or study-rooms as you will be spending many hours working in here
You need to create work or study from home spaces that are optimal on functionality, and make you and your family feel happy!
"There is no path to happiness; happiness is the path."

Buddha
~~~~~~~~~~~~~~~~~~~~~~~~~~~~~~~~~~~~~~~~~~~~~
To know more about "'Remote Work From Home' Factor Triggers Demand for Spacious 'Builder Floor Homes' In Hyderabad! " Click here!