Window AC Vs Split AC – an easy comparison for home buyers' clarity!
As a home buyer who has just gotten possession of one's dream home, you need to know many things about interiors. Air conditioning is an important element that goes into protecting your loved ones from the scorching heat of summer time!
Plus, you have to balance your budget and priorities when it comes to air-conditioning.
It also depends on the individual priorities, likes, and dislikes of each family member. Some family members may prefer a split air-conditioner, others may prefer a window AC.
[Source- https://www.indiamart.com/ ]
Some of us are very particular about looks and aesthetics and don't want the air conditioning unit popping out of the window. Also, the window air-conditioner tends to take away some space from the window, reducing the inflow of natural light.
The split AC on the other hand can be fixed on the wall. Plus, it looks way more elegant and pleasing as compared to a window AC.
Both split and window AC require access to the outside for the outdoor unit. The split AC particularly has two units- an outdoor and an indoor unit. Additionally, a split AC needs a 3-inch hole in the wall for ducting purposes.
On the cost front, a split AC may be cheaper than the window AC depending on the start rating and brand of AC being bought. Installation cost comes with both. Similarly, for your split AC you need to have space provided by the builder for placing your outdoor unit safely.
All these factors need to be considered before you buy your AC as a home buyer.
[Source- https://www.flipkart.com/]
[Source- Photo by Max Vakhtbovych: ]
Window AC Vs Split AC:
Let us explore Window AC Vs Split AC, some of the main comparison points, and the right approach to help you make your selection with clarity.
Pricing
Have a set budget. After all, too many needs chase a limited budget
If it's going to be a window AC, know which window is designated for it
If you are going with a split AC, know which wall should hold the indoor unit, and where the outdoor unit will be installed
Space required
Window AC needs more space because all the stuff is packed in one unit- viz.-  thermostat, a fan or blower, refrigerant, compressor, evaporator, and a condenser coil
Split AC gives you some more flexibility since the outdoor and indoor units are separate
[Source- https://www.amazon.in/ ]
You need space for the outdoor unit. Plus, you need to make sure it remains easily accessible should you require a maintenance or repair a few years down the line
Energy consumption and efficiency
A 5-star split or widow AC consumes lesser electricity
AC with inverter technology consume lesser electricity
You could even choose to go for a 3 star AC which is just fine
In the long run, a 5 star AC is a better bet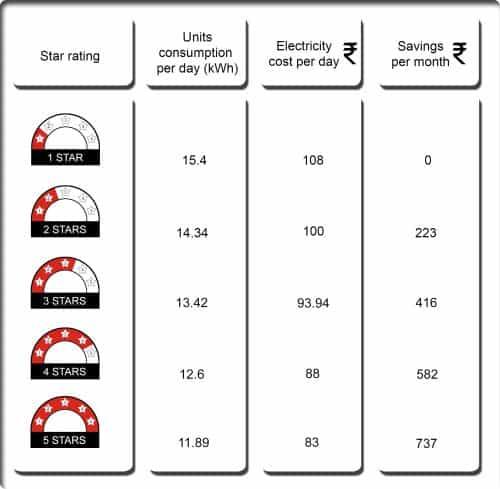 [Source- https://top10talks.com/ ]
Noise
Split ACs are quieter and generate 35 decibel sound. Remember- they are not sound-free…so, quiet does NOT mean they don't make a bit of noise
You can easily go for a window AC too which generates noise of about 50 decibels– that's NOT unbearable. So, noise really is not a very dominating criterion, especially if you are balancing pricing and other priorities
You can safely choose either of the two ACs- window or split- both are excellent if they are good on the star rating of 3 and above
[Source- https://www.newair.com/]
Cooling capacity
Split ACs

are mounted high on the walls, so their cooling capacity is more than window ACs
With split ACs you have more options in design and tonnage
Don't ever go for an AC which is more or less than the capacity required
[Source- http://acservicejaipur.com/]
Maintenance and serviceability
Window AC is one unit, so maintenance is low
Split ACs can get comparatively more messy if a problem arises because the outdoor unit is placed outside
[Source:https://www.youtube.com/]
With this guidance on Window AC Vs Split AC, you can easily choose what works best for you!
"The choice to take action to accomplish what you want or what you deserve is entirely up to you. No one is going to seek you out and no one is going to do it for you. It's your move." 

– Catherine Pulsifer
~~~~~~~~~~~~~~~~~~~~~~~~~~~~~~~~~~~~~~~~~~~~~
To know more about "Split AC Vs Window AC: A Perspective For Middle-Class Homebuyers In Hyderabad".Click here!