Walk-in Shower ideas for small bathrooms to optimize space & utility in Indian homes
---
Space needs to be optimized carefully when it comes to a bathroom. Regardless of how big or small your Indian apartment is, the size of the bathroom usually remains around 50-70 square feet.
You can still fit in a walk-in shower in a small bathroom, and feel refreshed upon using it.
The layout, designs, tiles and colours can all work for you to give a beautiful walk-in shower space.
Let's explore some of the ways that your walk-in shower can turn out beautiful and convenient…
1. Corner walk-in shower ideas- super space savers
[Source- https://www.bjcbathroomsandkitchens.com/]
[Source- https://www.homedepot.com/]
Corner shower is the best choices to optimize on space
You get plenty of floor space with a corner shower
A small, yet practical choice that allows space for other fittings, fixtures, and accessories in your small Indian bathroom
2. Neo-angled walk in shower enclosures
[Source- https://www.rwcnj.com/]
[Source- https://www.vigoindustries.com/]
You could even go for a triangular-shaped neo-angled walk in shower design if space is a challenge. A neo angled shower gives you the width you need, and also saves on space
The Neo angled enclosures have no unnecessary protrusions in the corner and make it smooth and convenient to move around in your small bathroom
3. Move away from tubs to create better space
Removing the bath tub releases spaces
Creates space for a walk in shower
Makes your bathroom more airy, light and pleasurable to walk into
Bigger the shower area, the more luxurious is your shower experience
4. Wall partitions serve as demarcation for walk in shower
[Source- https://www.pinterest.com/ ]
Sometimes all you need is a toughened glass partition to keep the water from splashing all over
Plus, you get a clear space for your walk in shower
Half-wall installation can be very effective as shower guards that prevent water from splashing on to your toilet seat
Besides, you get the privacy you need, openness is retained, and you can use tiles and plants to further decorate your small bathroom in your apartment
5. Use toughened glass shower door for maximum natural light
[Source- https://www.jaquar.com/ ]
Natural light can make way for keeping the entire bathroom well-illuminated
A see-through barrier with glass-door and partitions makes is appealing, airy, spacious and allows light flow in every nook and corner of the bathroom
Tinted glass shower doors can also work well if you have ample natural light
6. Use small and long shower trays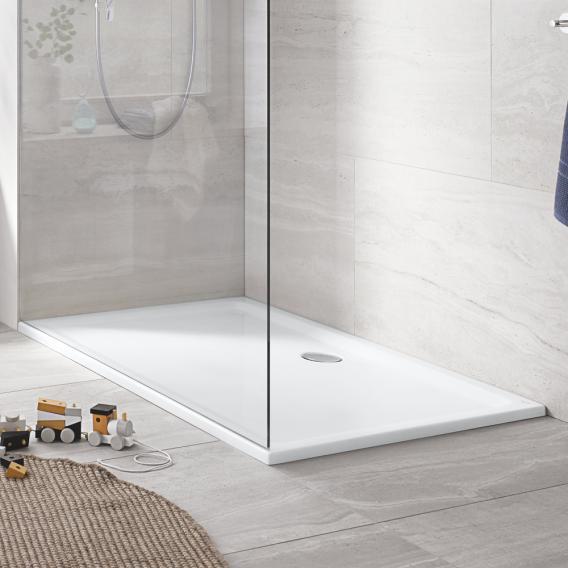 [Source- https://www.reuter.com/ ]
A shower tray is the base for a shower area. A shower tray is the floor on which you stand in a walk-in shower. It collects the drizzling water, and creates a smooth base to clean and provide a pleasing visual treat in your walk-in bathroom
Shower trays come in all kinds of shapes and sizes. With all the flexibility, choose the one that goes well with your existing bathroom space.
Avoid large squares and go for small and long shower trays to save on space
Shower tray must have a shallow pan. Excessive depth tend to make your shower area seem smaller
7. Using light colours in bathroom to enhance spaciousness
[Source- https://www.pinterest.com/]
Clean, simple, and minimalistic interiors help small bathrooms look much more spacious
Too much clutter or detailing can be visually suffocating and give a cramped look
White, light blue, and lighter pastel shades give a light and airy feel to the walk-in shower areas as well as the entire bathroom
Having said that, you can always use bold colors if that is what defines your personality. There are no hard and fast rules
8. Using vertical tiles for a spacious look and feel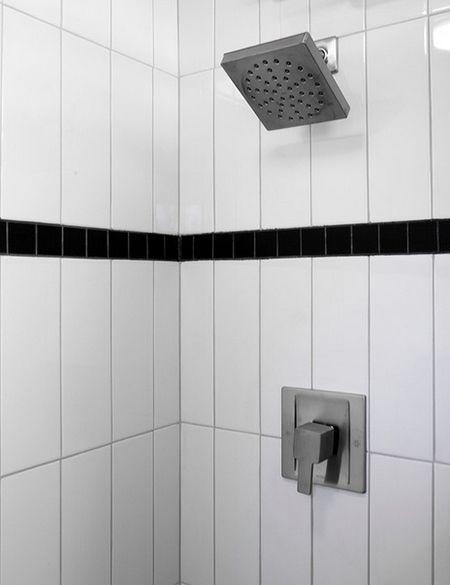 [Source- https://www.pinterest.com/ ]
Vertically placed tiles trick the eye into creating more space visually
Tile laying vertically in brick or block patterns make the bathroom seem elongated upwards, making everything seem bigger
You don't have to stick to small tiles. Large tiles look equally great for a minimalist interior effect
9. Use furniture that fits in well, without protruding disproportionately
[Source- https://victoriaplum.com/]
Small spaces need to be managed cleverly
The furniture is meant for the bathroom not the other way around
Any accessory you use must fit the scale of the bathroom
Furniture or accessories must be too imposing to make the bathroom seem overwhelming and dwarf the room
Compact cabinets, vanity units, and built-in storage units work well in saving space
"I'm O.K. having a comfortable life. I don't have to live in a mansion and drive Aston Martins or Ferraris."

Mya
---
To know more about "Bathroom Storage Ideas: 5 Storage And Space-Utilization Ideas To Get The Most Out Of Your Indian Bathroom!" Click here!