7 Tips To Turn Your Small Balcony Into a Lovely Outdoor Haven!
If you are living in an apartment with a small balcony, you can easily turn it into your favourite outdoor hangout.
Creating your perfect balcony becomes easier when you begin thinking about it! A few things to keep in mind to revamp your balcony-
Materials you choose for furnishings must be sturdy and long-lasting to cope-up with the weather conditions all year-around. Balcony materials are like a long-term outdoor investment, and the sturdier they are the better- e.g. wicker, wrought iron, teak, and plastic
Plants are a terrific choice to spice up your balcony. Many flowers blossom in a balcony garden
Privacy can also be achieved in your balcony by using tall plants, climbing vines, and shrubs
Weatherproof textiles and fabric hangings help you cordon-off your balcony from the prying eyes of neighbours. This gives you the much needed privacy as well as shade-protection from sunlight, rain or excessive winds
Privacy screens can be established with metal or bamboo screen in your balcony
7 Tips To Add Life Into Your Balcony
1. Create more seating area
Make the balcony an extension of dining and lounge area
Adding an Outdoor rug and pillows even on the floor give you a comfortable feel, as you convert your balcony into a on-the-floor sit-out
Give your friends or family access to plenty of seating in the balcony by creating a couch, or by just throwing in a couple of bean bags into your balcony
2. Use vertical walls around the balcony
Simply stack your plants to create a vertical garden rather than spreading planters on the floor of your balcony
Use space saving nesting tables and hanging planters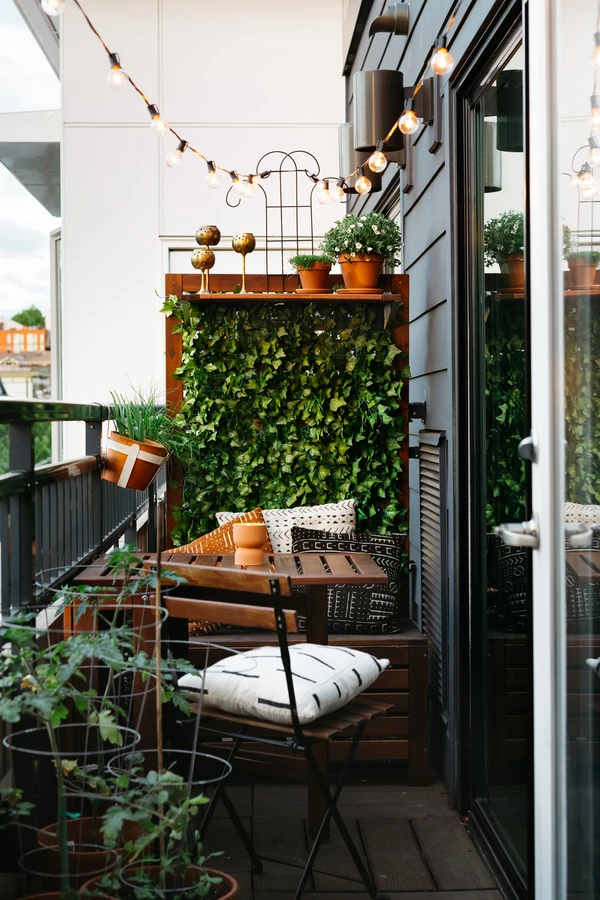 3. Minimalistic look
A small space must not be cluttered
With a minimalist look, a tiny outdoor area looks much nicer
Slender, foldable furniture can be a respite. For instance, coffee table and chairs, or relaxing-chairs with cushions look gorgeous
4. Fantastic flooring- soothing, rustic or bold look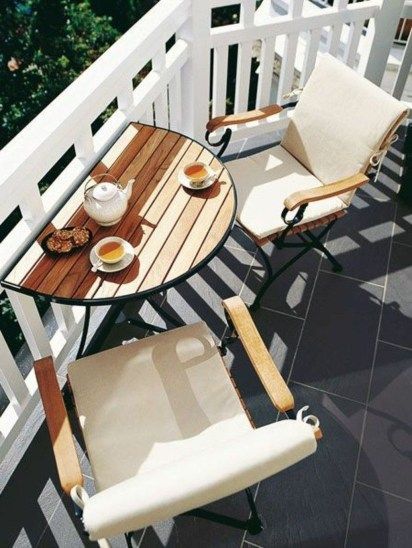 Use bright or contrasting colour flooring, and match the furniture to it for a stunning look
The theme you choose depends on your taste and preferences
You could even use wooden or pastel-coloured flooring tiles to give you a stunning look
Colourful rug, planters can make your balcony soothing and stylish
5. Beautify balcony walls beautified as per your persona & preferences
Walls can also be embellished with wooden planks, and beautiful wall-hangings to exude your preferences
Design your balcony outdoors with your comfort in mind
You could use coloured paints depending on your preferences. This can range from being subtle to dark/bright colours
6. Light up your balcony with electrical lighting or traditional lanterns
Use electrical lighting to create a surreal environment
Else, use handheld or wall-based lanterns with candles or other ways to create the ambience you are looking for
7. Balcony doubles up as your area to relax, meditate and work
You could soak the sunlight on a winter day
Else, use the area in the morning for your yoga schedule
Work from home can be enjoyable by sitting in the balcony, working on the laptop, taking calls, and engaging in other activities
A beautiful small balcony can add to the wellness of family, and make life beautiful!
"Life is full of beauty. Notice it. Notice the bumble bee, the small child, and the smiling faces. Smell the rain, and feel the wind. Live your life to the fullest potential, and fight for your dreams."

Ashley Smith
~~~~~~~~~~~~~~~~~~~~~~~~~~~~~~~~~~~~~~~~~~~~~
To know more about "Optimal Use Of 'Balcony Space' In Your Apartment To Brighten-Up Your Life!" click here