The joy of vegetable gardening in an apartment or independent Indian home!
It just takes a few simple gardening experiences to mould you into a vegetable gardener.
In fact, it's just one good experience that can get you hooked for life!
Sometimes we buy a home, and the builder gives us an apartment with landscaped outdoors and gardens. But, one thing that you won't get is access to grow or eat vegetables from your housing society garden!
To do that, you need your own garden or pottery space in your kitchen, balcony or in your own backyard!
If you have never planted anything in your life, it's a thrill to grow a few food-based plants.
In the post-pandemic era, home buyers in India are increasingly seeking homes with balconies in their apartments. Those who buy a home on an independent plot have more land area available to explore.
1. Vegetable gardening: How do you go about which plants to grow?
Your garden zone can be on your balcony, your kitchen, or even closer to windows where you get the required sunlight.
Step 1:
Yes, what vegetables you should start with should always be clear before you begin your vegetable gardening. To make it easier — what vegetables do you enjoy eating? You need to start there!
Step 2:
After this what need you need to do is you have to compare your list of favourite vegetables or herbs to a list of easy-to-grow plants. Because some vegetables or herbs take more time to grow and also, they can make a first-time gardener successful in their very first season.
Step 3:
Keep watch on the perfection at the garden gate. There is no perfect plant, zone, or gardener. Some of your plants are going to thrive and kick-ass — and some aren't. This is a known fact.
Step 4:
Get the latest dirt from the locals on the tomatoes, peppers, or green beans that are winning in your garden zone. You can head to your local nursery and/or some manure to mix in the soil to yield good vegetables.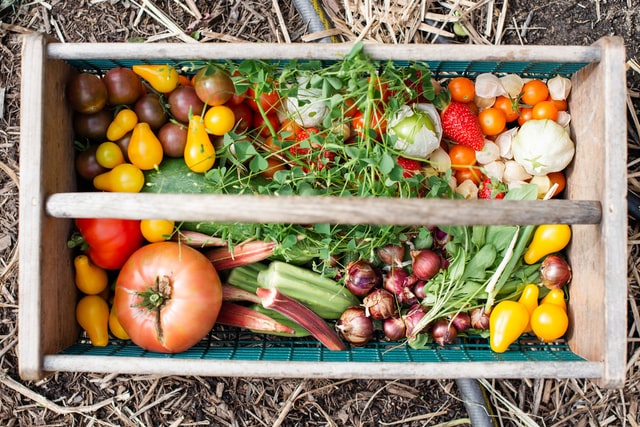 2. Vegetable gardening – List of Easy-to-Grow Vegetable Plants
Herbs
Herbs in the vegetable garden or in their own bed make fantastic first plants. Once established, most herbs require little watering. They do well in poor soils but do like a well-draining one.

Squashes
A healthy vegetable family and easy plants for the gardener. Plant summer squashes such as cucumbers and zucchini and winter squashes like pumpkin and spaghetti squash.

Lettuce
Salad greens are easy to care for and mature incredibly fast. Gardeners can plant lettuce seeds and harvest them for the dinner table in a month. You'll have the best luck if you grow it in the cooler months such as early fall and late spring. This tolerates nearly any type of soil and its reliability makes it a crop that's easy to experiment with.

Tomatoes
These are called the darlings of the home vegetable garden. can take full-on heat and there's a variety available for every climate. The key with tomatoes is to choose varieties that love your zone. Surprisingly few plants are needed to produce a high yield of fruit and bush varieties are particularly easy to grow in containers.

Radishes
Radishes are among the simplest vegetables to grow. They germinate easily and don't make any quirky demands. Plant them alongside carrots and just as these are ready to be harvested, it's the right time to thin carrot seedlings.

Potatoes
These are not only easy to grow but fun to harvest.

Carrots
are indispensable in the kitchen garden. Yes, carrot seeds take a lot longer to germinate than many other seeds (just keep them moist and they'll pop up), but carrots aren't hard to care for and are fun to grow.

Green beans
come in bush types and climbing types. Both are easy to grow, but the climbers will keep producing if you continue to harvest the beans.

Peppers
From bell to chilli, hot to mild; these are exceptionally easy crops to grow. Peppers come in a wonderful assortment of colours – even lavender and purple.
Some easy-to-grow Indian Herb Garden Plants are Holy Basil, Curry Leaves, Mint (Pudina), and Carom (Ajwain) among other varieties.
The list goes on, but it is most important to take the first step and enjoy it!
"The love of gardening is a seed once sown that never dies, but never grows to the enduring happiness that the love of gardening gives."

– Gertrude Jekyll
~~~~~~~~~~~~~~~~~~~~~~~~~~~~~~~~~~~~~~~~~~~~~
To know more about "Questions to ask as you set up a kitchen garden in your apartment balcony!". Click here!