5 considerations for identifying the Best location in Hyderabad for a new home buyer!
---
For a new home buyer in Hyderabad, one critical criterion that would need to be evaluated is the location of the property. Sometimes we get confused about what a good location could or should be, and end up buying a home in a location that does not fulfill our real, hidden, or undiscovered requirements.
Is location really the most important criteria to buy a home, OR is it an over-rated concept? If we were to still evaluate an apartment in Hyderabad, what would make for a good location? Should you really be worried about a 'good location' or a 'sensible location' that works best for your overall peace of mind? These are the questions we need to ask ourselves and go about finding the answers to while retaining a sense of self-worth and self-importance.
Sometimes we end up asking ourselves questions related to 'location' that may not lead us to a fulfilling quality of life and overall happiness. These could be: Will I get the approval of friends and family, and impress them if I choose the best location? Will my property appreciate in future in terms of resale value if the location is really good?
'Location' is a very subjective criteria, and 'best location in Hyderabad' is no longer a feasible or sensible option.
A home buyer in Hyderabad has many options, and can easily seek a ' sensible location ' that's good for you based on a balanced approach. To do so as a sensible home buyer, you must consciously consider your individual needs and preferences in determining what a good location means, and what it should offer you! A simple way to achieve a balanced or sensible approach is to keep your family and individual priorities on top, and finding the best location in Hyderabad will become much easier!!
In this article we shall dwell upon:
1) …how Hyderabad is now a city of multiple mini-markets or mini-hubs that are self-sustaining and self-sufficient, resulting in a multiplicity of good locations all around the city 
2) …the 5 important factors that make for a good location within broad areas/hubs and mini-hubs, namely:
i) Proximity to Locality Hub
ii) Neighbourhood
iii) Social Infrastructure
iv) Precise Location- Pros & Cons
v) Apartment in itself, and NOT being over-obsessed about location
Single 'good location' vs. 'multiple locations' across Hyderabad
The city of Hyderabad has outgrown the concept of a Central location that could be termed the best location. Individual preferences and priorities differ for every family or person. The prices of these localities also differ based on the demand and supply factors along with the land prices of a particular area or locality. Certain localities or areas within a broad area are cheaper than others. For instance, an apartment of a certain specification in Madhapur could be more expensive compared to a similar one in Nallagandla due to the locational advantage of Madhapur. However, Nallagandla is also a good location with good connectivity to the IT job hub of Hyderabad, and an apartment we can buy could be much bigger and better for living. So, although the location of Madhapur is better, the living experience could be better off about 5 or 6 Kilometers away from the best location. 
Hence, defining the best location in Hyderabad gets very subjective, and is open to individual preferences, priorities, and trade-offs!
Growth of multiple self-sustaining mini-hubs and mini-markets in Hyderabad
The city of Hyderabad had been divided into 5 main zones as per the GHMC classification viz. North, South, Central, East and West Hyderabad. It's interesting to note that in Hyderabad, dozens of localities have come up which are now being considered as centrally located by the home buyers in their respective localized territories. It is now common to hear home buyers talk about localized territories like the Tarnaka area, A.S.Rao Nagar area, Kukatpally (KPBH) area, Sainikpuri area, and Alwal area, Jubilee Hills area, Nallagandla area, and so on.  
No longer do we consider the City Centre to be the most attractive. There was a time we would go to Abids or M.G. Road (Secunderabad) for shopping in Hyderabad and Secunderabad, which is not the case anymore. 
We have branded stores, franchisees, restaurants, multiplexes, supermarkets, hospitals etc. of all types cropping-up in all these localized locations across the city that cater to about 5 to 10 square kilometers of area . Malls, large shopping arcades, buildings have sprung up all over the city in a well distributed and generously spread geography within Hyderabad.
Growth factors of mini hubs and localized localities in Hyderabad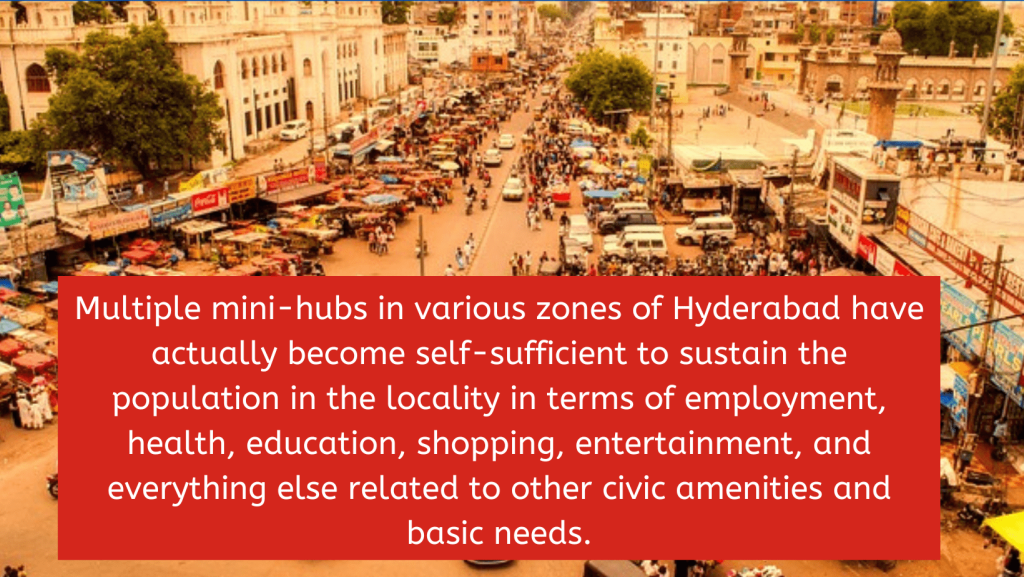 Multiple mini-hubs in various zones of Hyderabad have actually become self-sufficient to sustain the population in the locality in terms of employment, health, education, shopping, entertainment, and everything else related to other civic amenities and basic needs. People in a certain locality no longer have to flock to any Central market in Hyderabad.
Factors that have fuelled growth of these multiple mini-hubs in Hyderabad are: increase in population of Hyderabad over the last 40 years, want of better social infrastructure to keep pace with this growing population, and the growth of multiple job hubs across the city of Hyderabad.
GHMC classification of 5 zones in Hyderabad
The GHMC classification, as depicted below, shows the fantastic growth of Hyderabad city, and the creation of many mini-hubs and mini-markets across Hyderabad with a wonderfully self-sustaining social infrastructure:
North

– The North Zone of Hyderabad as per GHMC classification comprises

areas like Yapral, Defence colony, Jeedimetla Industrial Zone, Quthbullapur, Malkajgiri, and Alwal, Macha Bollarum, and areas adjoining Sainikpuri. The majority

of this area falls under the Secunderabad cantonment

division comprising localities like

Trimulgherry, Ammuguda, Marredpally

,

Mettuguda, Seethaphalmandi, Boudha Nagar, Chilkalguda, Padmarao Nagar, Bansilalpet, Ramgopalpet, Begumpet, Marredpally, Addagutta

.

South

– areas,

and markets in and around Shamshabad Airport, Budvel, Attapur, and some of these areas have a sizeable chuck of land bank for IT hubs and industrial developments

. The South zone comprises of areas like

Moosarambagh, Saidabad, Saroornagar, Barkas, Moghalpura, Chaderghat, Falaknuma, Zoo Park, Puranapul, Begum Bazaar, Shali Banda, and Rajendra Nagar

.
Central

– comprising areas like

Golkonda, Military area, Hakimpet, Mehdipatnam, Langer house, Esamia Bazaar, Agapura, Gun Foundry, Amberpet, Kachiguda, Himayathnagar, Bholakpur, Nallakunta, Jubilee hills, Banjara hills, Yousufguda, Sanathnagar, Khairatabad

. The localities in and around Jubilee Hills are closer to the West Zone, the IT hub of Hyderabad, and are considered to be the posh and more expensive areas of Hyderabad

East-

comprising Uppal, Tarnaka, L.B. Nagar, and Pocharam which is again a preferred residential hub. Companies like Infosys located in Pocharam are fuelling growth in the residential sector. Specific areas include

Cherlapalli, Mallapur, Nacharam, Uppal, Habsiguda, Ramanthapur, Kothapet, Mansoorabad, Hayathnagar, Vansathalipuram, Karmanghat, Champapet, Saroornagar, Rama Krishna Puram

,

Gaddiannaram and P&T Colony

West

– This is the most happening area

being the employment hubs in the IT and ITeS sectors. The working

population in this sector flocks to this area to ease their commute to their place of work, besides availing the excellent social infrastructure. Specific areas around the IT hub of Hyderabad are

Serilingampally, Nallagandla, Nanakramguda, Kondapur, Hafeezpet, Chanda Nagar, and Rama Chandra Puram, Patancheruvu, KPBH colony, Moosapet, Mothinagar, Fathe Nagar, Old Bowenpally, Kukatpally, Vivekananda Nagar Colony, Hydernagar

among others.
5 Factors for identifying the best location in Hyderabad
With this background, let us explore the factors that make for the best location in Hyderabad:
1. Proximity to Locality Hub
The localities in Hyderabad are now having many self-sustaining and self-sufficient areas in all respects. It is best to be in closer proximity within 3-4 Kms of where you are planning on exploring your apartment or home. A sensible option is to make sure that you are close enough, yet at a slight distance from the Central Local Hub of the part of Hyderabad, you choose to live. This way you get to enjoy a cleaner,greener environment and more open areas with low-density living. Another important consideration is to watch out for low lying areas no matter how close it is to the hub and avoid the possibility of water logging during rains.
For example, it is alright to be in Nallagandla, which is slightly away from Madhapur, yet close enough for an easy commute to the IT job hub. Another example is choosing areas around Sainikpuri like Yapral which are closer to the A.S.Rao Nagar micro market and main roads, yet offer a serene and tranquil living with lush green surroundings.
2. Neighbourhood
Another factor is the personal choice of the kind of neighborhood that appeals to you. This is a matter of personal choice and has to do with factors like:
Accessibility

Amenities

Appearance

Greenery

Gentry
Your neighborhood also determines the plot size or the land parcel upon which your apartment or home is built. A green area with lots of trees, public parks, open areas, etc is an important consideration.
In terms of accessibility, you should look for a place that is well connected to all the adjoining and important areas, and also comfortable with public transport connectivity. The area should be one that is NOT avoided by private taxi or auto-rickshaw operators, so that commute and connectivity are not a problem. Localities that are tucked away in remote areas with accessibility only through one route should be avoided.
Safety is the key driver to judging the neighbourhood you choose. You and your family should be able to move around safely without any threat of any kind at any time of the day.
Important amenities like grocery stores, shops, restaurants, police station, fire-brigade, hospitals etc. should be located nearby.
These are factors that you must arrive at by visiting the locality, and speaking with residents who reside in a certain locality you are planning on. It is best to understand the pros and cons threadbare from those who have a firsthand experience with that locality.
3. Social Infrastructure
Social infrastructure has to do with broadly meeting the needs of the residents of a particular city or locality. All the educational, shopping, employment, healthcare, and entertainment hubs supported with all the civic amenities make for a strong social infrastructure.
Types of social infrastructure human beings need are healthcare institutions (hospitals), educational institutions (schools & colleges), markets, housing-related needs, civic amenities like roads, drinking water, roads, sewage and so on. In has to do with all that we need to make life livable, and to enhance our quality of life.
For choosing a locality in Hyderabad, virtually all 5 zones in Hyderabad are replete with the best of social infrastructure. In fact, within the zones also, the localized areas are also growing to cater to the needs of over 9 lakh people residing in Hyderabad.
Hence, we are spoilt for choice so far as choosing the best place with optimum social infrastructure in Hyderabad is concerned. With civic bodies like GHMC, the municipalities, wards etc. the entire city of Hyderabad is very well-connected. The presence of road connectivity through Outer Ring Road, multiple flyovers, a well-managed and responsive traffic management etc. make Hyderabad a great choice regardless of where you choose to buy your apartment. So many ongoing projects are further going to make commute better in the coming decades.
4. Precise Location- pros & cons
By precise locational pros & cons, reference is to the exact location where the apartment or home is constructed. For a balanced living, you do not want to be living in a noisy,polluted and crowded place.
A home buyer needs to bear in mind that the location should not have elements of nuisance that intrude with a comfortable living. The home should not be in close proximity to public places, too close to public gardens or temples, in areas surrounded with function halls, or right next to a school to name a few. These places can be a source of constant disturbance!
You want your home to be a place where you can enter and exit easily, don't have to face parking woes or struggle in the narrow lanes due to heavy public and traffic movement. Besides, the home needs to be noise-free and air-pollution-free,not located in an inconvenient spot where there is some nuisance that makes your life difficult!
It is better to know what potential irritants could eat into your peace of mind, although on the face of it the location may seem flawless. This could be a place of worship, garbage dump, dirt or even a flood-prone area.
5. Apartment in itself, and NOT being too obsessed about location
This is perhaps the most critical element. For instance, a terrific location with all the advantages of the world can be NO reason to settle for either a low-quality apartment or an apartment that does not meet the family's needs.
Sometimes, people forego a 3 bedroom apartment barely 500 meters away from a supposedly good location and instead opt for a more expensive, 2 bedroom apartment at a so-called good location. This is a trade-off that may not be worth it.
Over obsession with the location sometimes comes in the way of a healthy and better living experience for some home buyers who just get carried away with the lure of a better or best location.
Some disadvantages that come with these so-called 'good locations', especially, those closer to the main road , are: i) continuous disturbance of vehicular traffic, ii) increasing density of population, iii) air pollution, iv) lesser space owing to a higher cost, v) a smaller apartment leading to a poor living experience, vi) potentially lesser space to walk around in peace…and many more.
However, the advantages could be the close proximity to all the thinkable social infrastructure.  
The question is: is it really worth the benefit we forego by NOT moving to a slightly less connected location. End of the day, the location is alright for a commercial property, and may not make much sense for a residential property. For residential property, location becomes a relative element and can be traded in favor of more important considerations that help increase the overall living experience.
Thus, one needs to strike the right balance of thought, and NOT be over-obsessed with a location. Within an area, there could be slightly more secluded locations that are cheaper, bigger, and in many ways better.
Conclusion
In a nutshell, while buying an apartment in Hyderabad, each of the 5 zones of Hyderabad offers good/multiple locational advantages depending on what your priorities and preferences in life are. Owing to the excellent social infrastructure and civic administration in Hyderabad, the entire city is good to live in. Options are plenty, however, one still needs to be cautious about not choosing a place that causes inconvenience or disturbance of any sort to lead a peaceful life on a day-to-day basis.
Hence, a new home buyer must make proper inquiries to this effect while evaluating home options, and take a deliberate, well-thought decision while evaluating what a good location is.
Having said that, over-obsession with location based on what people or builders say must be avoided while choosing a property, and you should give more importance to yourself , and what you want out of a good living experience. 
While thinking of a good & sensible location, you must consider factors like the size of the unit, quality elements, accessibility, safety, potential disturbances, decent proximity to social infrastructure, air & noise pollution, and other family-oriented priorities that makes your home desirable to your family. 
In a nutshell, you must not exclude yourself from the equation while thinking of the best location in Hyderabad. A good location is the one sensible choice you make that works best for you and your family!
'Home sweet home. This is the place to find happiness. If one doesn't find it here, one doesn't find it anywhere.'

–

M.K. Soni
---
To know more about "5 Reasons Why Buying A 3 BHK House In Hyderabad In An Interior Location Of An Area May Be A Wiser Decision!". Click here!