7 compelling reasons to go for a 3 BHK flat in a standalone apartment in Hyderabad specifically in Sainikpuri & Yapral locality
We have many 3 BHK flat options in Sainikpuri, Yapral locality in Hyderabad to choose your dream home! Rather than choosing an all-amenities-loaded 'Gated community apartment', you have brilliant options in 'Standalone apartment in Hyderabad, especially in the Sainikpuri-Yapral belt with no unnecessary 'frills' that cost more and do NOT add value in the current times.
Standalone apartments in Sainikpuri, Yapral are now packed with all the thinkable luxuries for high-quality living! This makes standalone apartments in Sainikpuri very attractive to home buyers in Hyderabad. The options range between Rs 65 lakh or Rs 2+ crores for an apartment in a standalone building in the Sainikpuri-Yapral locality in Hyderabad. You could choose a 3 BHK apartment ranging between 1400 sft to over 2500 sft depending upon your requirements.
The smaller builders who continue to build 'standalone building apartments in Hyderabad are aware of this need for luxury & amenities seeking home buyers. The builders sure are responding well to this demand for high-end upscale living. This is why builders in and around Sainikpuri & Yapral are being extremely 'innovative' in offering 'RELEVANT AMENITIES & FEATURES'.
This standalone apartment in Hyderabad especially in Sainikpuri' does not offer the additional common amenities that come with Gated community counterparts, but this is more than adequately compensated with the charm of quaint and quiet environs of Sainikpuri, an upscale locality to own a high-end home.
Thus, this article is for those looking to move up the social ladder, own a piece of a 'standalone apartment in Hyderabad, and are pragmatic in wanting more out of life by choosing Sainikpuri & Yapral as their abode!
Let us explore the 7 compelling reasons why 'standalone building complexes' (confined within a small plot size of 400 square yards to 1500 square yards) may make a lot of sense for buying your 3 BHK home in Sainikpuri, Yapral belt, Secunderabad.
7 Compelling reasons to opt for a 3 BHK flat in a standalone apartment in Hyderabad preferably in the Sainikpuri-Yapral belt
1. Good social connect with a standalone apartment in Hyderabad, especially in Sainikpuri, Yapral homes
Social connect is high because of lesser apartments in plots admeasuring 400 square yards to 2000 square yards. Smaller plots allow you to know neighbors by their names and faces
Provision of parking lot area and terrace area for functions/festivals in standalone buildings makes up for a good place to socialize and get together during festivities and occasions
Lesser families from 5 to 30 in a standalone building is actually good in the post-pandemic era, especially from a social distancing angle too
2. Modern security & safety systems in standalone buildings is par excellence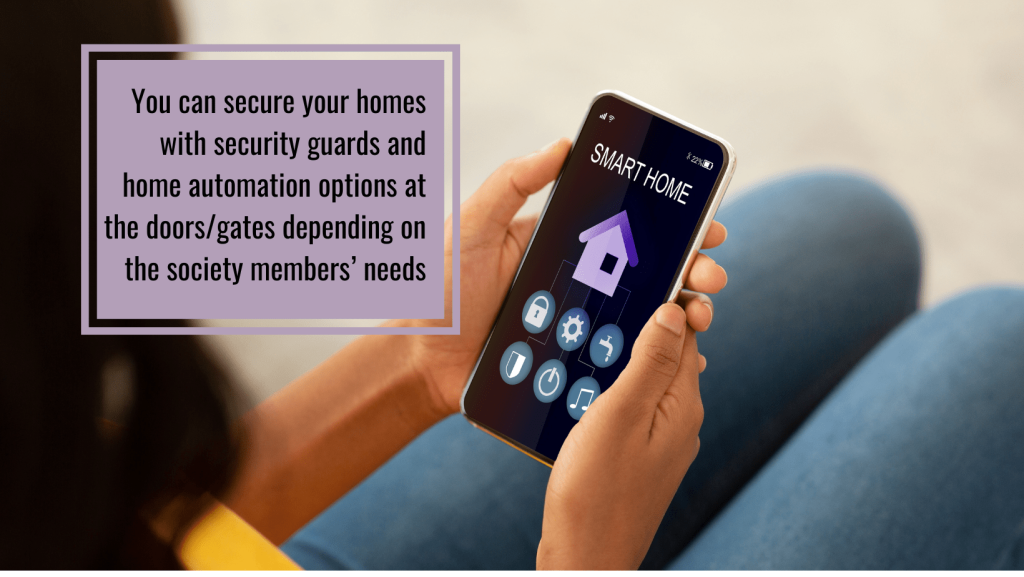 Security features being provided are as good as the ones with gated-community. You can secure your homes with security guards and home automation options at the doors/gates depending on the society members' needs
3. Best-in-class construction quality, and provision of high-quality elevators with a luxurious, high-end feel in standalone buildings in Sainikpuri & Yapral
Quality of construction is also higher because home buyers now are seeking more, and are willing to pay for the amenities
Now, seeing bigger & branded elevators in a 400-200 square yard plot is a common feature in Sainikpuri / Yapral standalone building apartments
Also, with a low-density population, the influx of visitors is lesser which is safer for residents
4. Standalone buildings are safer in terms of social distancing, and relevant amenities like Diesel Genset (Power back-up), adequate parking
The location of 'standalone building apartments' is better and safer
Relevant amenities like dedicated parking slots, lifts, and power backup are of optimum quality in standalone buildings in Sainikpuri, and Yapral residential projects in standalone buildings
5. Availability of excellent social infrastructure in close vicinity in Sainikpuri, Yapral belt
Everything you need for a comfortable living is just a stone throw away from your standalone apartment complex in the Sainikpuri locality
Plus, with home deliveries becoming a way of life, Sainikpuri is becoming even more preferred as a place to live
Plus, in and around Sainikpuri & Yapral, you have multiple gyms, restaurants, fine-dining cafes, hotels, SPA, shops, etc.
6. High lifestyle quotient with exclusive, low-density living around Sainikpuri locality
Lifestyle quotient takes a huge leap when you move to Sainikpuri, Yapral locales as a homeowner
Within Sainikpuri, you will find an array of residential projects that offer ultra-luxe 'One apartment per floor'
Home buyers from discerning backgrounds have all the options in Sainikpuri for their very 'sky villa' in a standalone apartment
7. Availability of well-designed modern spaces with abundant natural light and ventilation (Vastu compliant)
Clearly, standalone buildings in Sainikpuri score very high here because Vastu-compliant designs with MORE SPACE are made available to you in a standalone building
Besides the edge of low-density living, you get to buy a much BIGGER apartment at the same price within Sainikpuri, Yapral area
Better ventilation & bountiful sunlight entering your home is a given in your Sainikpuri, Yapral home
Sainikpuri and Yapral boost an excellent location from a lifestyle perspective, and all the needs are close by. With your apartment in Sainikpuri, you are surrounded by excellent & thriving social infrastructure, be it shops, entertainment options, eateries, medical facilities, educational institutions, etc.
These are indeed compelling reasons to choose Sainikpuri & Yapral as your dream home and to enjoy unmatched community living!
"We have all known the long loneliness, and we have found that the answer is community."

– Dorothy Day
~~~~~~~~~~~~~~~~~~~~~~~~~~~~~~~~~~~~~~~~~~~~~
To know more about "Tips on evaluating QUALITY vs. PRICE- a 'wise approach' before booking your 3 BHK flat in Hyderabad" Click here!