small Indian bathroom design: Ideas to Make a small bathroom look more spacious and beautiful!
Indian home buyers want to optimize bathroom spaces by using vertical walls, shelves, storage ideas, and many more.
Besides these ideas, some important design and material-related changes can actually make a small bathroom look big.
Small Indian bathroom design tips and tricks to make a small bathroom look bigger and more stylish.
1. Use Clear Glass-divider in your small bathroom shower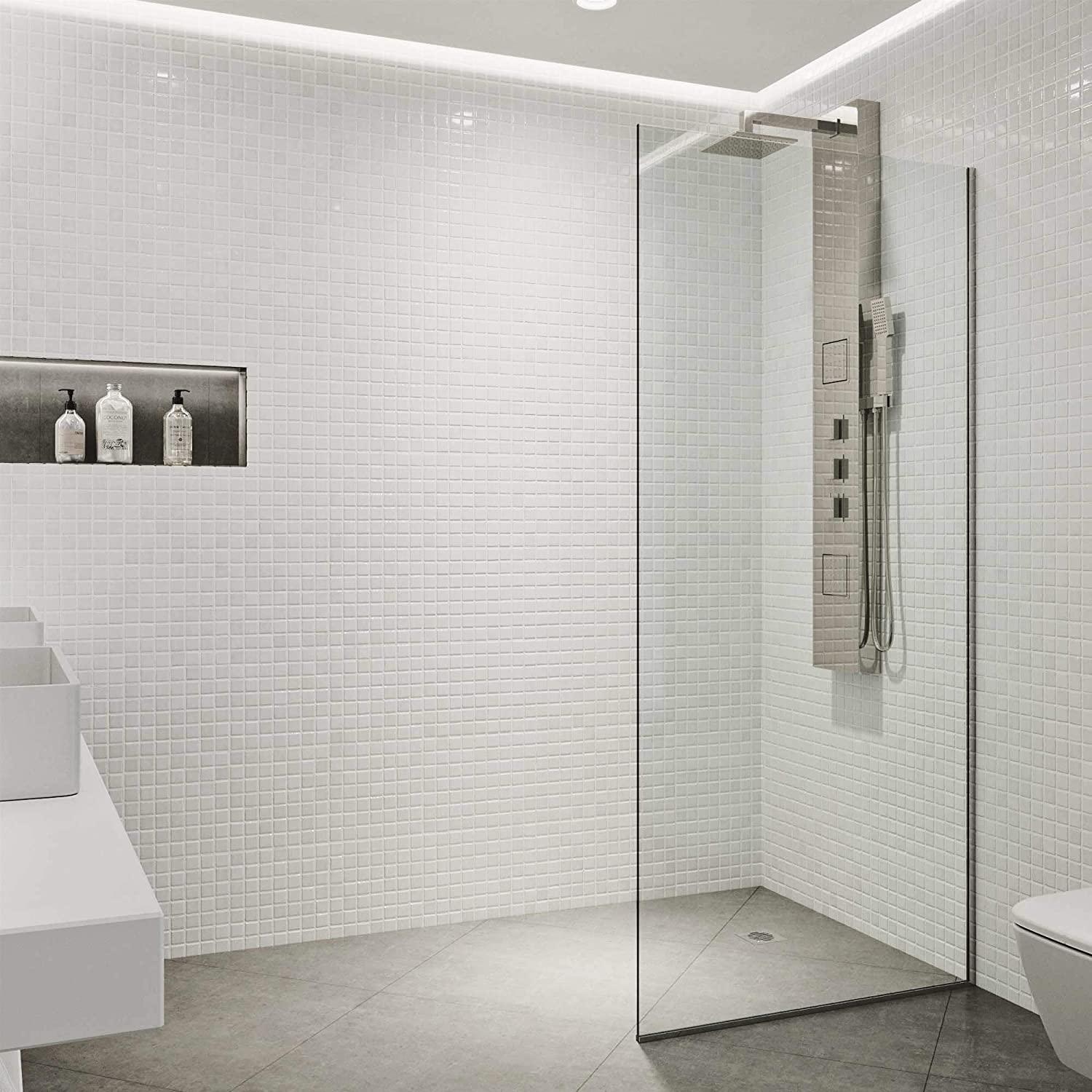 [Source- https://www.ubuy.vn/ ]
The bathroom will look more stylish and spacious when you replace shower stalls (curtains) with clear tinted or toughened glass
With clear glass, a wall-like divider separating the shower area
Despite that, the clear walls make the shower area feel like it is part of the bathroom
This way, a CLEAR CLASS divider being transparent gives the illusion of more space
Clear glass also opens up the shower area to more light coming through
If the clear glass is not possible, the next alternative is to use a clear (transparent) shower curtain
However, it is much easier to clean glass shower doors rather than plastic-based curtain liners
2. Using mirrors or Shiny-surfaces in your tiny bathroom
[Source- https://ryansallglass.com/]
Using a mirror maximizes visual space in any room
It makes a small bathroom look bigger
When light reflects on mirrors, it adds greater depth to a small bathroom
This way you can actually TRICK THE EYE. You can actually install TWO MIRRORS ON OPPOSITE SIDES to create this illusion
However, this must be done carefully, since having too many mirrors is NOT for everyone
Instead, you can have shiny surfaces, tiles, cabinets, or shelves try having shiny cabinets, shelves, vanities, or countertops
A shiny surface has a reflective surface which gives the same effect of more visual space
3. Lighting, Colour, and space-enhancing decor tips
[Source- https://www.architecturaldigest.com/]
Lighting can help make the room feel bigger
You can use both reflective lighting, as well as natural lighting to maximize visual space
Having a window and natural sunlight inside your bathroom also gives an open and airy feeling. So, it's good to choose a home with a bathroom getting direct sunlight
[Source- https://justinplace.com.au/ ]
Else, you need to go for artificial electrical lighting that's strong and bright
'Recessed lighting' helps in tiny bathrooms. Recessed lights (downlights/can light) are lighting fixtures installed into the ceiling or wall. They are designed to sit inside the wall or ceiling with electrical components hidden. They give a polished finish, and only the bulb glows from within the opening
It is advisable not to use too much decorative lighting as too many light fixtures make the bathroom feel stuffy and smaller
Suspended lights must NOT be used
Using hiddenly recessed or cove lighting designs is best as they look subtle, simple, and unobtrusive
So far as colors are concerned, going with a SINGLE COLOUR (monochrome) increases the visual space of a tiny bathroom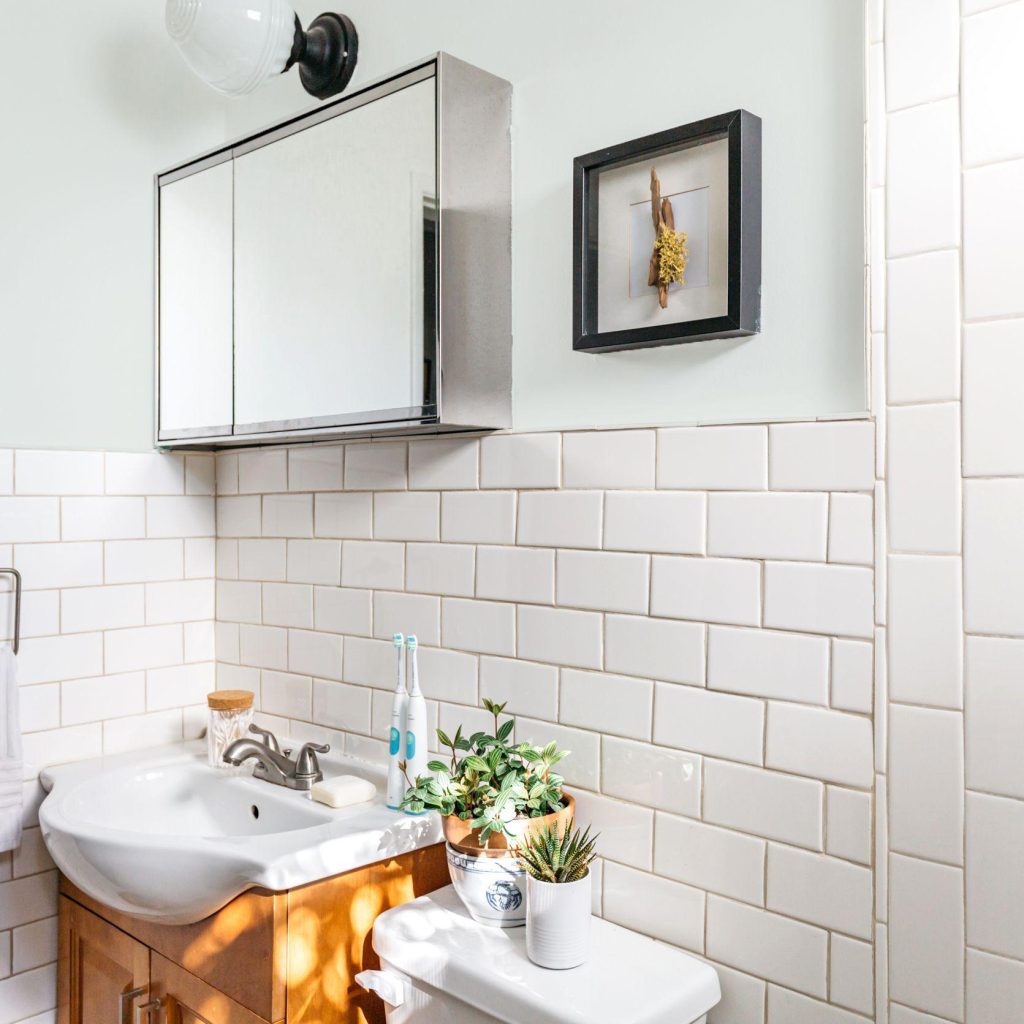 [Source- https://www.thespruce.com/ ]
At best, you can use TWO SHADES OF THE SAME COLOUR if you want some variety in colors
Using neutral and soft color schemes is best for a small bathroom as it gives the illusion of more space and brightness
Lighter colors of all the materials used in the bathroom give a feeling of more cleanliness and greater spaciousness
Dark colors can make the bathroom look even smaller
[Source- https://www.architecturaldigest.com/]
Bold colors can be used only in small splashes. Better to use accessories and decorations in the bathroom alone
Walls or floors could be bold, but it is better to make the GLOSSY so that 'reflective lighting' remains intact
If you want to go a bit bold, you can use a darker color on your ceiling. This plays the trick of anyone using the bathroom looking at the ceiling. By looking at the ceiling, the eyes are taken off from the small bathroom
Similarly, you can use a decoration item or an accessory to become the focal point of your small bathroom

,

and the eyes are glued to this focal point
For example, you can use an unobtrusive yet appealing item like a light fixture, mirror, sculpture, painting, or plant to create a focal point (a good distraction)
~~~~~~~~~~~~~~~~~~~~~~~~~~~~~~~~~~~~~~~~~~~~~
To know more about "Ways To Make Small Bathrooms Look Bigger And Spacious In Indian Homes".Click here!