'One apartment per floor' 3 BHK flats alone can be 100% Vastu compliant! A perspective for home buyers in Hyderabad
While the concept of 'one apartment per floor' is fast catching up with homebuyers in Hyderabad, homebuyers often ask if these are Vastu compliant.
Standalone apartments in Hyderabad are built on plot sizes ranging from 400 square yards to over 2000 square yards. These residential plots normally are chosen by builders in well-established colonies across Hyderabad.
Vastu compliant homes catch the imagination of many homebuyers in Hyderabad. While in a cluster-living based apartments cannot be fully Vastu compliant, this is surely possible with a 'ONE APARTMENT PER FLOOR APARTMENT'.
So, if you are looking for a Vastu compliant home, then you could safely chose a standalone building apartment with a 'one apartment per floor' concept home.
The first question is- why is Vastu compliance NOT possible in regular apartments? The answer is simple, Vastu Shastra was NOT meant to be force-fitted in multi-storey cluster living, especially with 3 or more apartments on a single floor connected with a corridor. Vastu Shastra proposed almost 300 years was meant to apply only to residential plots. To begin with, it was meant for only the palaces and temples. Later on, it was proposed to give a guidance to the general public so that homes are NOT made in a haphazard manner. Over the years, fear mongers and pundits have turned Vastu Shastra into a scary science.
Vastu was originally intended to be based on scientific reasons guided by two simple yet logical factors-
Natural light (sun light)
Good Ventilation
Major Tenets of Vastu-
These are about 'location' of rooms of your apartment-
Master Bedroom for elders- South-west direction. It's warmer and Sunny corner, which is healthy for elders of the house
Children's bedroom- East or West. These areas are well-lit, NOT too hot, and good for children. Allows them to study in adequate lighting
Guest bedroom- North-West corner. Guest stays for a lesser period, and should be kept at a distance from other family members giving privacy to both parties
Kitchen- South-East or North-West. These spots are warm, provide Sunlight as soon as the sun rises, airy, and is a good area for cooking and killing germs/bacteria
Hall- North-East. This allows adequate light through-out the day
Dining- North or East. This makes this eating-area closer to kitchen, adequate lighting, airy
Bathroom- North-west or West. This helps elimination of germs/bacteria with adequate warm sun-light
Plus, sleeping-direction must never be with the head pointed towards North in any bedroom. This is because 'North' direction has a magnetic field that's bad for the head (flow of blood impacted as it contains iron/haemoglobin that interacts with 'North pole')
Can these tenets be applied to a 'ONE apartment per floor' with ease?
The answer is a BIG YES! With a 'one apartment per floor' concept home, you have all sides available to you which is NOT possible in a regular 'cluster apartment'.
A 'one apartment per floor'- the floor plan clearly shows that 100% of the Vastu tenets are being applied to this design.
Given below is a floor plan of an 'independent floor' with Vastu compliant design-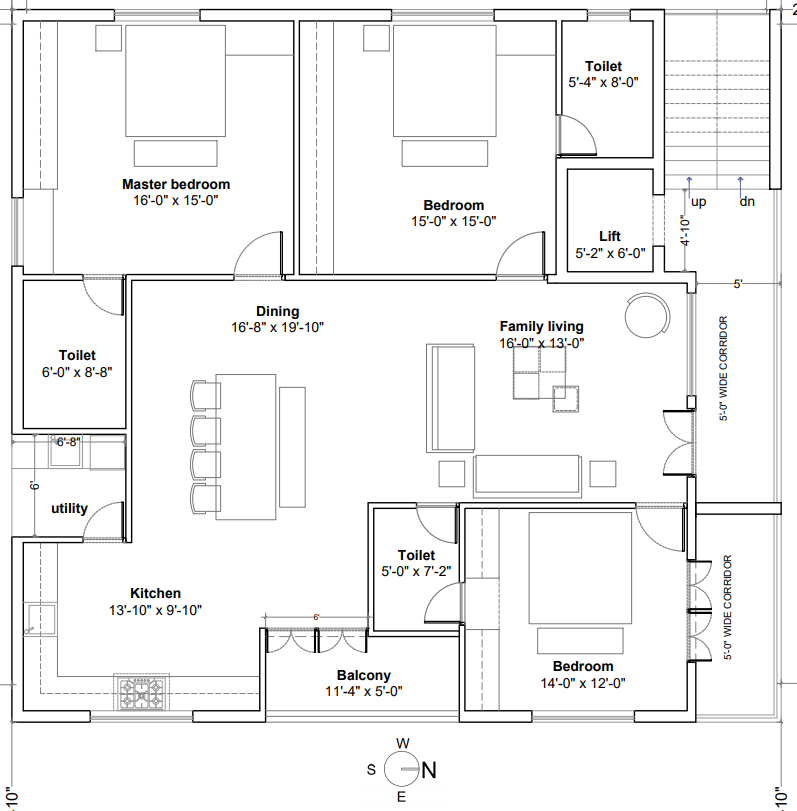 [Source- Tamanna Lakeview apartment plan]
Clearly, the design of the 'One apartment per floor' 3 BHK unit has all sides open
With all sides open, and NO common walls, the Vastu compliance is ensured 100%
The bedrooms, kitchen, dining, living and toilets are all 100% as per Vastu in this design
Hence, the 'One apartment per floor' concept homes alone give you Vastu compliant homes! However, one should still NOT be over-obsessed with Vastu, and be driven by functionality, convenience and comfort. Eventually, Happiness matters more than anything else!
To quote Ralph Waldo Emerson- "A house is made with walls and beams; a home is built with love and dreams."
~~~~~~~~~~~~~~~~~~~~~~~~~~~~~~~~~~~~~~~~~~~~~
To know more about "What 'extras' do we get with a 'ONE APARTMENT PER FLOOR' 3 BHK luxury flat in Hyderabad?" Click here