Indian real estate market scenario by 2030: a perspective for home buyers in Hyderabad, India
---
This is to shed some light on the Real Estate sector in India, and to indicate the positive growth indicators which are bound to positively impact Hyderabad over the next 8 years!
The indicators are applicable at a global Economy level and speak of how India is a country.
The snapshot of the industry is based upon the findings of CREDAI.
What is CREDAI?
The apex body of private Real Estate developers in India, established in 1999
The vision of transforming the landscape of the Indian Real Estate Market
Pursues the cause of Housing and Habitat in India
CREDAI represents 13000+ Developers across 21 States in India
CREDAI plays an important role in policy formulation and coordinates with various Ministries of the Government of India and State Governments at regular intervals
Strives to make the Real Estate industry organized and progressive
Works closely with government representatives, policymakers, investors, finance companies, consumers, and real estate professionals
CREDAI is a recognized partner for the Government in policy formulation related to Real estate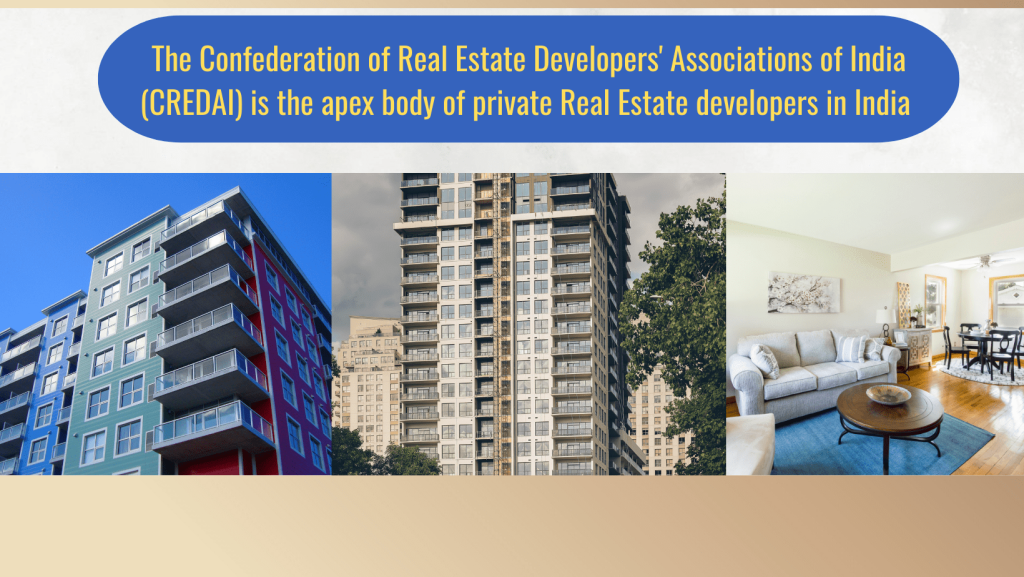 Indian real estate market scenario by 2030
The points highlighted below are mainly from the CREDAI report titled India '2030: Exploring the future' among other reliable sources.
The pointers mentioned below will help draw meaningful inferences for home buyers in India.
The Economy of our country is growing, and the indicators depict the potential for a sound return on investment in Indian Real Estate.
Thus, Economic indicators clearly point toward a healthy growth path for the Indian real estate market.
India's growth in the next ten years will be based on five pillars of the Indian Economy, viz.

Demographics
Cities
Real Estate
Climate and Sustainability
Technology

The demographic dividend driving our economy
India to be a USD 9 trillion economy by 2030
India's per capita income can touch USD 5,625
We will have a population of about 1.5 billion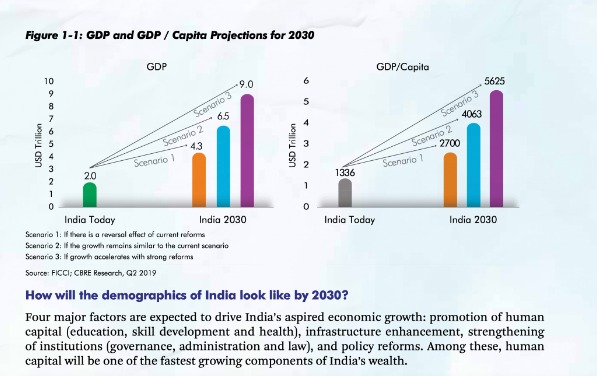 [Source- CREDAI]
India's working-age population will also rise from 50.5% in 2011 to about 58.8% in 2031. This means more and more people will contribute to the growth of the country
The emigration of Indian talent which began in 2015 will further reduce
The domestic talent base will grow
More and more entrepreneurs will rise within India. This means an entrepreneurial evolution over the next 10 years
Reskilling of the current talent pool in India will be required for meeting future industry demands
[Source- CREDAI]
There has been a decline in Labour Force Participation Rate (LFPR); from 55.8% in 2008 to 51.9% in 2018. This is because of lower female participation in the workforce in rural areas
Our median age by 2030 will rise from 27 years in 2019 to 31.4 years in 2030 still way lower than 40 years in the US and 42 years in China
India already has over 900 million smartphone users. This will further grow and will transform the country into one of the world's biggest technology landscapes in the world. Smartphone penetration in India is estimated to be about 42%
By 2025, India's digital economy could create an economic dividend of USD 800 bn – 1 trillion. This may create over 65 million direct jobs and retraining and redeployment of 40-45 million workers
Evolving construction technologies will be embraced in the future viz. Tunnel, aluminium and Jump formwork, pre-fabricated buildings, additive manufacturing and BIM
Technology will be integrated into Real estate viz. Intertwining technologies such as automation, AI and IoT to transform business models
Evolving workplace strategy will impact Real estate. This means technology will enable corporates to digitize processes and make data-driven decisions to optimize and manage space usage
Office stock will grow to a billion sq. ft. by end of 2030; Flexible offices will become a mainstream source comprising 8-10% of the total office stock
The close integration of start-ups and conglomerates for delivering tech-enhanced services. India will lead as a unicorn destination
There is a tremendous retail opportunity in India. India by 2030 will emerge as the 3rd largest consumer market behind US and China. Retail shopping centre stock to cross 120 mn sq ft by 2030
Healthy demographics: Four major factors will drive India's aspired economic growth: (1) promotion of human capital (education, skill development and health), (2) infrastructure enhancement, and (3) strengthening of institutions (governance, administration and law), and (4) policy reforms
Human capital will be one of the fastest-growing components of India's wealth in the decade ahead
These indicators pose a positive outlook of the Indian Real estate market scenario, and Hyderabad Real Estate markets will also be extremely encouraging over the next decade.
"All life naturally strives for growth. It is a natural phenomena. There are no conceivable limits to our growth. Once one ecosystem is outgrown, there is always a larger more comprehensive ecosystem to grow into. This should continue endlessly and exponentially."


– Hendrith Smith
---
To know more about "Compelling Reasons For NRIs Investing In Indian Real Estate: A Perspective For 2022 And Beyond!" Click here!