Home loan rejection reasons, and remedies: part-2
This is part II of the article. Read part I for better understanding and continuity.
The article deals with home loan REJECTION reasons that put your plans to buy your dream home on hold!
You must be prepared with all the required documents, and know what it takes for approval without a hitch!!
Getting a closer look at the home loan rejection reasons helps us get better prepared in our endeavors.
The main home loan rejection reasons in India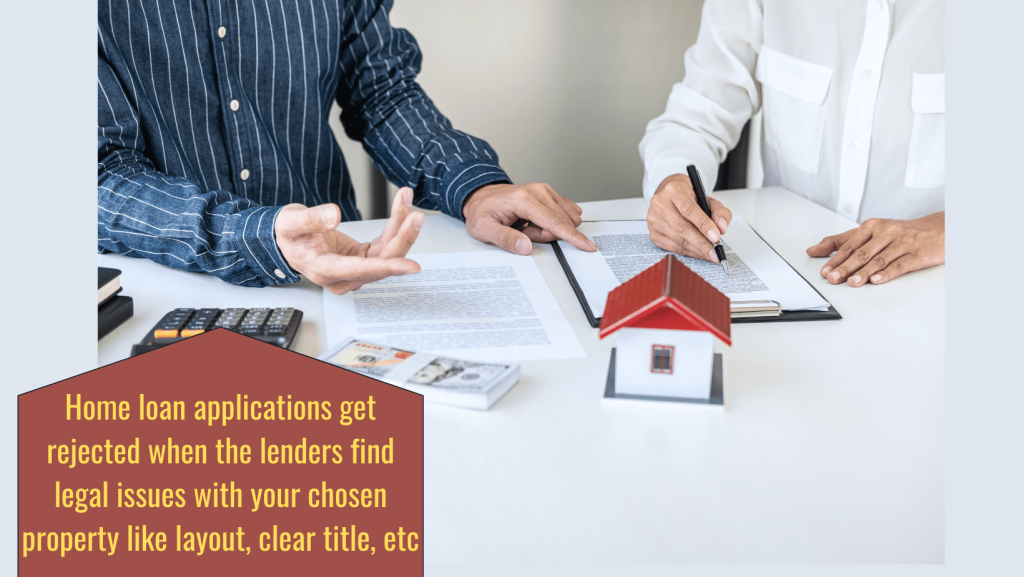 1. Choosing the right property with good resale value
For mortgage, it is required that the property you choose is free of legal hassles, and has a high resale value
The lender will give you a loan on properties that they find RISK-FREE
New properties that are RERA approved, and constructed by trusted builder matters!
Home loan applications get rejected when the lenders find legal issues with your chosen property like layout, clear title, etc
2. Avoid a property with minor rights
Avoid seeking a property that has 'minor rights'
Make sure to ask your seller, and if this is not clear, then the bank may reject your application
3. Very young applicants fresh out of college are looked upon as a risk!
Sometimes banks reject loans to very young borrowers who are yet to demonstrate a stable job with over 2 years of experience
Graduates fresh out of college are NOT preferred by banks, hence, the application may get rejected
It is wiser to wait and build some credit history and show a stable income of at least 2 years before you think of filing an application for a home loan!
4. Budding Entrepreneurs are considered 'high risk' by home loan lenders
Unless you have an established reputation and income stability, home loan approval becomes difficult if you are an entrepreneur with an uncertain future
Uncertainty means the stability of income is NOT sure, and this is a RISK
5. Obtaining a NOC for previous loans
If you have a previous loan that you have foreclosed, make sure to get a NOC (No Objection Certificate)
NOC gives you a clean chit and also establishes you are a trustworthy low-risk person
6. Reasons like 'Mismatch of signature' can be derailing
This might seem like a frivolous reason, but a mismatch in the signature can be a reason for home loan rejection
So, make sure to recheck your signatures rather than try to make amends later on
7. Getting tired and sick of the lengthy home loan application process
A home loan application is very lengthy, but you must NOT get tired and sick of the process
Also, never try to resort to short-cuts or take the details lightly
Avoid conflicting information or mismatch be it a signature or address etc
Make sure that you are mentally prepared to take this on as a time-consuming exercise
8. Not taking small bill repayments for granted like phone bills
Even an unpaid Telephone bill can result in your application being rejected
Do not assume or consider these items to be small
9. Unresolved customer service issues related to payments
Sometimes we may have been charged the wrong amount by a service provider or a credit card company, and our matter is under resolution
For instance, if you have a credit card dispute, it is better to PAY FIRST, ARGUE LATER
If this is not done, then despite highlighting the issue to the customer service unit, the credit history gets spoilt
With credit card companies, yet another reason is to mistake a "SETTLEMENT" amount given by credit card companies as the end of the story. The fact remains, that while they may be reversing only excessive late charges or interest or fees, these can be taken adversely by CIBIL, and result in home loan application rejection
Basically, any unpaid bill will adversely affect your credit rating forcing your lender to reject your home loan application
10. Home loan rejection reasons: Too many credit cards
Having too many cards means your exposure to taking more and more DEBT is high
This is scary for lenders who assess your application
More the Cards more is the access to FUNDS. More the finds available to you, HIGHER IS THE LIKELIHOOD of your DEBT!
11. 'High credit limit' OR 'High outstanding' on credit cards
A high credit limit on your card does not mean that you have a high income alone. With a high credit limit comes the RISK of you swiping your card! That's scary for lenders!!
A high credit limit means you can go on a spending spree
The banks are vary of IMPULSE BUYING and don't want those with a home loan to have access to funds which in turn makes them exposed to more and more REPAYMENTS
The Home loan lenders like it if you are NOT TOO EXPOSED with excessive CREDIT FACILITY readily available to their borrowers
12. Steps you can take to reduce chances of rejection
Contact your credit card bank to reduce your credit limit. After all, you don't want to scare your home loan lenders with excessive Credit limits lying at your disposal
Having too many credit cards also is NOT a good idea. It is better to cancel credit cards that you have no intention of using. After all, maintaining payments also becomes a hassle with many credit cards. You surely do not need more than 2 or 3 credit cards!
Never have any pending bills. Pay them up, and make sure your CREDIT UTILISATION SHOWS that you are pretty controlled in your monthly spending!
Make a conscious effort to increase your CIBIL score by observing financial sobriety
Tell the banks about your credit history without hiding anything. Especially, if you have any existing loans like car loans etc. declare them. Need not hide or lie, because they will anyway find out
Credit card payment default is a strict no-no. This hits your CIBIL scores the most. If you have a dispute, FIRST SETTLE THE BILL if the due date is approaching. All the disagreements, arguments and fighting can be done later!
Do not undermine the role of credit card usage. Many people land up getting rejected as they take credit card spending, and repayments lightly! NEVER DO THAT!
Your easy-going credit card usage and poor repayment history can actually cost you your dream home! Even mindless or impulse-buying spends on your card must be avoided at any cost!
Other elements like fixed deposits, collateral securities, having a guarantor or having decent insurance policies also help you secure a home loan.
With the above inputs, you can avoid home loan rejection, and be better prepared to handle the home loan process!
~~~~~~~~~~~~~~~~~~~~~~~~~~~~~~~~~~~~~~~~~~~~~
To know more about "Home loan rejection reasons- Part 1". Click here!