5 critical factors driving Hyderabad real estate on a growth path!
---
Hyderabad is proving to be the fastest-growing city in India. Ever since the formation of Telangana, the state government has left no stone unturned in making Hyderabad a desirable destination for global and domestic businesses. The investor confidence is high for the ease of business that the state offers!
Telangana is now a preferred hub for IT, ITeS companies, as well as many other services and manufacturing industries to set up a base. Consumers with high income are further propelling the growth of the entertainment, shopping, healthcare, and educational facilities in Hyderabad. No wonder, IKEA, a global conglomerate set up its first retail hub in the sprawling area near Mindspace, Hyderabad.
Hyderabad continues to be in a leadership position in the life sciences industry. Genome Valley is a case in point and has emerged as the most preferred investment destination for global companies investing in life sciences-related fields.
Factors driving Hyderabad real estate on a growth path!
The major factors that are still going strong in making Hyderabad a solid investment destination, and a city truly worth living in are:
1. Remarkable infrastructure coupled State government's commitment to economic growth
The infrastructure of the city is to be seen to be believed. The development of Western Hyderabad, the financial district, genome valley, and areas around Nanakramguda, the Rajiv Gandhi International Airport, and the multiple flyovers in the city make this obvious.
The Outer Ring Road, the laying of 4-lane highways, and the traffic de-cluttering efforts are only getting better in Hyderabad. Government investment in the development is blatantly visible, The roads and the green cover of the city have gone up even in the most congested of areas.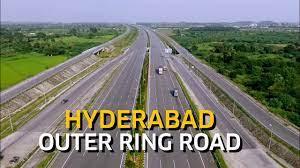 From connectivity within the city, the Jawaharlal Nehru Outer Ring Road is akin to the finest Ring Road systems across the globe! The ORR has been a boon to Hyderabad in easing commute across the entire Hyderabad, including from the Rajiv Gandhi International Airport leading to cities like Vijayawada, Bengaluru, Mumbai, Nagpur, Warangal, Nizamabad, and Adilabad etc. With advanced commuting capabilities, intracity and inter-district travel time decreases, and this further generates employment opportunities.
Hyderabad enjoys the distinction of having the maximum green cover developed over the last decade. The green cover of Hyderabad has increased 81.81 sq. km from 33.15 sq. km.
The western and eastern parts of Hyderabad are now connected via the Blue Line Metro Rail project. This has given a further boost in attracting businesses to set up base in Hyderabad with employee commute becoming easier. Hyderabad is home to the Social Economic Zone (SEZs), Industrial Corridors, and IT hubs. As of January 2022, Telangana had 35 operational SEZs, 57 notified SEZs, and 64 formally approved SEZs. This has given rise to the demand for residential and commercial properties across Hyderabad, especially West Hyderabad where you have Hi-Tech City and the Gachibowli area.
Hyderabad being a massive IT investment hub which is why it is also known as Cyberabad (Cyber City). Besides, Hyderabad is fortunate to have a great talent pool IT, BT, and R&D resources, essential to the growth of any IT or knowledge hub.
As per India Residential Energy Survey 2020 by CEEW, Telangana is one of the eight states in the country that has achieved 100% electrification in households.
2. Strong civic structure (GHMC) and impeccable law & order situation
Hyderabad is indeed a clean and safe city with GHMC being at the forefront of creating and maintaining beautiful environments within Hyderabad. GHMC oversees Hyderabad and is one of the largest and most efficient municipal corporations in India catering to a population of over 80 lakh people spread over 650 square kilometers.
[Source- https://government.economictimes.indiatimes.com/ ]
[Source- https://www.thehansindia.com/ ]
Hyderabad also has the distinction of being one of the world's top 50 city under CCTV surveillance that provides a better sense of security to the residents. Swachh Survekshan National Survey (2021) ranks Hyderabad extremely high on cleanliness. Hyderabad has been awarded as one of the Best Self Sustainable Mega City in the country by the Union Ministry of Urban Housing and Urban Affairs.
These factors contribute to the increasing demand for office space and residential property in Hyderabad.
3. Reasonably priced residential & commercial properties across Hyderabad
The prices of residential property are one of the most reasonable in Hyderabad and range from Rs 4500 per sft to Rs 6000 per sft on average. These are cheaper than other cities like Mumbai, Bengaluru or Delhi.
Commercial real-estate prices are cost-effective which makes Hyderabad particularly attractive as a business destination and offshore centre. Industry development and IT policies of the Telangana state government are the simplest in the country.
As per Anarock Property Consultants, the average monthly office space rentals in Hyderabad in 2021 stands at Rs 57 per sft. This is the lowest among all metros in the country! Mumbai Metropolitan Region (MMR) turned out to be the costliest at Rs 125 per sft.
[Source- https://www.newindianexpress.com/ ]
This is a unique combination where, high demand meets reasonable prices, giving scope of excellent growth prospects for property investment in Hyderabad.
4. 'Ease of doing business', a rising GDP and evolving infrastructure lending a 'multiplier effect'
Home to many large businesses and industries, demand for office spaces in Hyderabad is on the rise.
Hyderabadis is the largest contributor to the state's GDP (Gross domestic product) and state taxes. In 2021, the GDP (PPP) of Hyderabad stood at US$74 Billion, placing Hyderabad at sixth position in India, and 93rd city in the world. Hyderabad houses the highest number of SEZs (Special Economic Zones) in India which further boost real estate growth. Telangana's gross state domestic product (GSDP) stood at Rs. 13.04 trillion (USD 168 billion) in 2022-23, and the state's GSDP has increased at a CAGR of over 12% between 2015-16 and 2022-23.
[Source- https://www.inorgnet.com/ ]
The World Bank ranked Hyderabad as the second best Indian city for 'ease of doing business' in India. In 2020, GaWC ranked Hyderabad as the second-tier Beta-World City by importance. Hyderabad as world's third most affordable office location in the world, and Business Today ranked Hyderabad as the fourth best city to live in India. According to CBRE, Hyderabad is among the top three cities in India in terms of office space absorption in Q2 of 2022.
According to Knight Frank, Hyderabad real estate market witnessed a total of 18,461 residential sale registrations in Q1 2022. This is an increase of over 23% on the corresponding period last year. New home launches in 2022 increased to 21,356, up by 28% over 2021. West Hyderabad (IT hub) continued to lead in demand for the city's residential space with a market share of 62% of the total sales according to Knight Frank India report `India Real Estate: H1'.
Office spaces transactions from January to June 2022 increased 101% to 3.2 million sft. It was from 1.60 million sft in 2021 during the same period. The Information Technology sector continued to drive demand for real estate office spaces in Hyderabad.
The IT sector has seen a 62% rise in office space transactions, up from 8 lakh sft in 221 to over 12 lakh sft till June 2022. BFSI sector too contributed to total office space transactions and increased to 22% till June 2022 compared with 12% contribution during the same period in 2021.
Hyderabad is the only city that has witnessed a constant price rise in residential and commercial spaces over the last 3 years (despite the pandemic). Hyderabad still remains a desirable destination for end-consumers as well as investors for buying residential and commercial property.
Mid-segment residential and commercial projects are expected to drive the real estate sales momentum in Hyderabad in 2022 and beyond.
All these factors make Hyderabad a great job hub, and a perfect destination for companies to set-up a base for doing business.
5. Availability of skilled talent in Hyderabad for IT & ITeS, pharma and bio-tech companies
Telangana and more specifically Hyderabad has an awesome pool of young talent across sectors. The literacy rate among the urban population is 81% with 77% of the population in the working age group. Over 45% of the total employed workforce belongs to the Pharma, MedTech, and Biotechnology sectors in Hyderabad.
With talent comes job opportunities, and with jobs, the demand for homes has been further triggered in Hyderabad. This is why IT and ITeS exports from Telangana increased at a CAGR of 11.32% from 2014 to Rs. 145,522 crore (US$ 20.05 billion) in 2021-21 according to IBEF.
With a high-quality talent pool available in the city, the popularity and preference of Hyderabad as a great place to live and work is on the rise. Global giants such as Google, Apple, Microsoft, Deloitte, Capgemini, Infosys, Cognizant, ADP, Genpact, Cyient, Hitachi, Wipro, Parexel, Dr, Reddy's, Sanofi, IQVIA, GSK and host of other blue-chip companies operating in Hyderabad. There is no dearth of high-quality talent which makes up the backbone of these industries!
Hence, the affordability of spaces coupled with a skilled workforce will continue to drive the growth of economic development in Hyderabad! Along with that comes the quality of life at home when you feel comfortable and secure in your city!
"Home is where we should feel secure and comfortable."

– Catherine Pulsifer
---
To know more about "Hyderabad Real Estate: Things to watch out for while finding cheap homes for investing in Hyderabad Real Estate!". Click here!