Different types of split system ACs explained- exclusively for homebuyers in India!
As a home buyer, we are required to install an air conditioning unit before we move into our new home. Doing so prior to moving in gives you better flexibility and a superior outcome on both aesthetics and functionality.
The best part is that your family moves into a home that becomes immediately more welcoming and pleasant, especially, during summertime!
[Source- https://www.bestunderr.com/ ]
Basically, air-conditioning is all about simultaneous control of temperature, humidity, air motion, and cleanliness!
Here, we shall talk about split system ACs.
The first thing is brand. It is always good to go for an established brand so that you have surety of service in the times to come.
Besides, established brands like Hitachi, Daikin, Samsung, LG, Bluestar, Voltas, Whirlpool, Carrier, Lloyd and many more are continually investing in research to provide the best and latest technology.
A good brand always remains ahead of the curve. These companies offer better quality products that look and perform optimally. The price of split ACs depend on the brand and their technical features
[Source- Google search: 14th April 2022]
Types of split system ACs in India:
Wall Mounted
[Source- https://www.familyapplianceph.com/ ]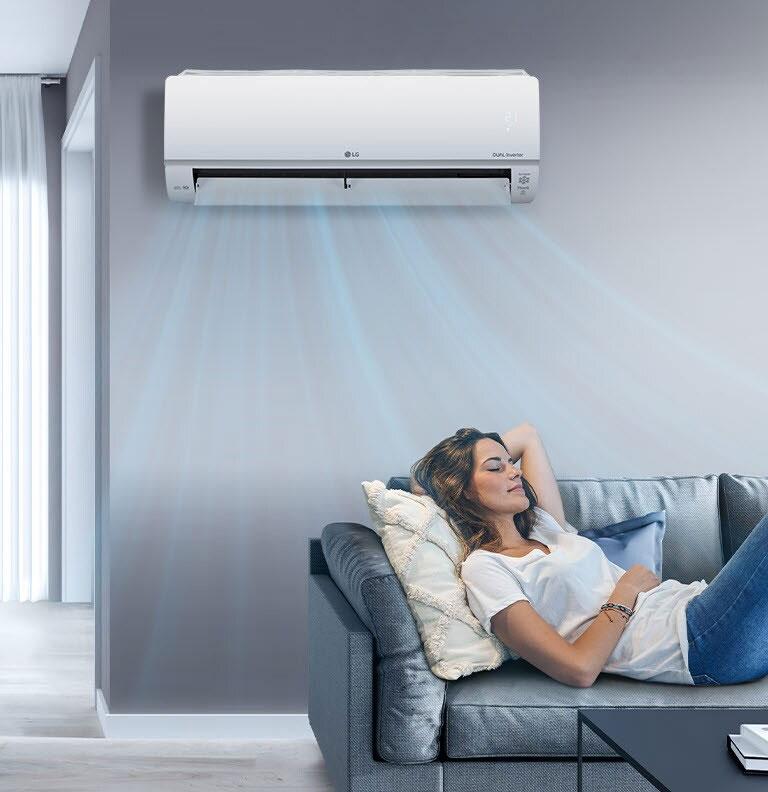 [Source- https://www.lg.com/ ]
These are most popular range of split ACs
Indoor unit placed inside the room, outdoor unit needs to be placed in the space provided by the builder
At times, you find outdoor units hanging on the walls with the help of brackets
A few builders make sure to provision for spaces that don't interfere with the exteriors (aesthetics) of the building
Wall mounted split sytem ACs suitable for smaller rooms (less than 200 sft)
Floor Mounted
[Source- https://www.lg.com/ ]
[Source- https://sammyhub.com/ ]
[Source- https://sammyhub.com/]
Vertical or tower split AC
Suitable for rooms where you cannot mount ACs on the wall
More expensive compared to wall-mounted ACs
Ceiling Mounted
[Source- https://www.hitachiaircon.com/]
[Source– https://www.lg.com/ ]
Also called cassette type ACs or concealed ceiling ACs
More expensive that wall-mounted ACs
Aesthetically beautiful, and integrate well with false ceiling
Excellent in living room, dining room or large open spaces
Multi Split-ACs
[Source- http://airconrepair.net/]
[Source- https://www.fujitsu-general.com/ ]
[Source- https://www.indiamart.com/ ]
Connected to one outdoor unit
Indoor units used individually
The capacity of AC is divided
Condenser and fan of outdoor unit regulated based on signals from indoor units inside
Multi-split has several indoor units
Allows easy air conditioning zoning
A homeowner is able to adjust the temperature in different rooms
Suits the needs of different members of the family
You can turn off cooling entirely in an unused space
Saving power is possible
Cooling Capacity
[Source- https://www.rrstech.in/ ]
One ton of AC equals 12,000 BTU per hour
Cooling depends on average temperature of room, number of people in room, exposure to sunlight
Energy Efficiency Rating (EER)
[Source- https://www.bijlibachao.com/ ]
The ratio of an ACs cooling capacity to its power consumption is the unit's EER
Higher the EER, the better
An AC with a higher EER may be more costly, but saves money in the long run
[Source- https://www.bijlibachao.com/ ]
With these basics, you can avoid dilemmas, and choose the right type of split air conditioner for your dream home!
"When you cannot make up your mind which of two evenly balanced courses of action you should take, choose the bolder."

– William Joseph Slim
~~~~~~~~~~~~~~~~~~~~~~~~~~~~~~~~~~~~~~~~~~~~~
To know more about "Home AC Basics: 4 important basics to know about air-conditioning of your dream home!" Click here!