Are You Getting the Most Out of Your 2bhk & 3bhk Flats In Hyderabad?
---
Even since the pandemic has hit our lives, our world-view and expectations, about the home we want to buy for ourselves, has changed drastically.
As a home buyer, we need to ask ourselves- 'What is it that I want in my home/apartment to cater to my changed needs & priorities, especially, after COVID-19? Is my apartment really serving the critical needs of my family? Will my family remain happy, both in good as well bad times, living in the home I am buying?'
In this article, we shall discuss 9 key areas a home buyer should consider in a post-pandemic world:
Let's explore-
1. Home-offices and well-equipped study-room for kids
'Work from home' truly works! This change has been hurled upon us faster than expected due to COVID-19
The dual-income earning couples working from home need a peaceful workstation without the distractions of the household
This is possible only with well-planned architectural designs of either creating separate work-from-home spaces
Architects and builders need to incorporate provision of effective and effective work-spaces in the bedroom, study room, living room, or even the open-kitchen area
Even children need better spaces to attend to their school's on-line classes. Their bedroom and study-spaces need to make them comfortable while studying through their laptops/devices
2. Dedicated spaces for work-outs/exercise and leisure
With restricted physical movement, and staying away from the gymnasiums, families need separate space for workouts be it yoga, pumping iron, running on a treadmill, or other forms of physical exertion
In some places, the possibility of taking long walks does not exist. The number of breaks gets reduced
With a forced sedentary lifestyle being a possibility even in future, your family needs a place to sweat-it-out
Those committed to fitness are not able to move out and are seeking adequate spaces within the home to exercise, and home options are being made to accommodate these new demands of home buyers
3. Upgraded interiors for recreation and entertainment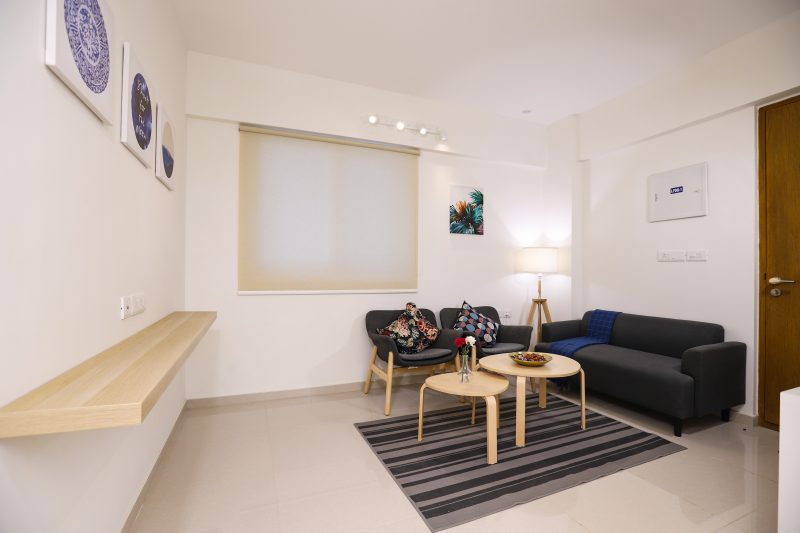 Interiors of the home are also being upgraded, and the typical living room has become much more than a space to put sofas for entertain guests
With restricted interaction with friends, family members are themselves turning to indoor games, watching television together, gossiping and engaging amongst themselves
This requires the living room to be upgraded to a well-designed and optimized family-space where entertainment options are well-integrated. It could be anything ranging from carom board, cards, table tennis, or other technology-enabled games to entertainment devices of your choice
4. More focus on 'Lighting'- both natural and electric
New homes need to have adequate natural light, and design elements must take care of this aspect of Vastu shastra for over-all mental and physical health of the family
We need to have adequate electric lighting everywhere, be it kitchen, bed, bath, utility room etc. or even the false ceiling
Good lighting is a must to uplift the mood and avoid gloom
5. Adequate parking- 'Two-car parking slots'
The changed circumstances need us to have dedicated parking slots for ourselves so that one does not have to struggle finding parking out in the open or outside of the gated complex
It is safer to have your vehicles parked in your garage/parking-slot and struggle with unnecessary movement and headaches
6. Seeking 'more outdoor spaces' for a low-density living
It is good to have areas to walk around in and around your home while observing social distancing
With a home or apartment in a low-density population area, one can move around and not remain restricted inside the home
In crowded areas, this movement is restricted
7. Focus on Kitchen and Utility
With more time being spent inside the house, and lesser dependence on 'home deliveries', the family members are spending more time in the kitchen. Hence, the need to more space in and around kitchen area
Having a good and well-planned 'utility room' has become important to be 'self-reliant' to cater to your laundry needs, for storing all-season clothing, and for stocking kitchen-related items such as food, beverages, utensils, equipment, gadgets, appliances and so on
8. Health and safety focus- HVAC, air-conditioning and air-purification systems
Air we breathe needs to be clean of all pollutants and microbes
HVAC systems, air-conditioning air-purification devices and well-designed ventilation systems in the apartment buildings matter!
This transcends into common areas like elevators (lifts), corridors, and all other spaces used collectively
Good ventilation that does not allow microbes, pests etc. to settle down is a must-have in the design elements of your dream home
9. Cosmetic changes like painting, colouring, adding mood enhancing additions
New homes need to provide more engaging options with mood-enhancing textures, paints, walls, accessories, fittings etc.
The additions can be in the form of an open-kitchen, beautiful doors/windows, tiles, sanitary/electrical/plumbing accessories & fittings and much more
These cosmetic changes and upgrades in architectural designs and home-specifications have a happiness–enhancing effect on the family members
As a home buyers you simply need to get the most out of your home, and think beyond the obvious! Your home needs to soothe your senses at all times.
---