3 BHK builder floor apartment Investment in Sainikpuri, Hyderabad – an attractive proposition for investors!
Sainikpuri in Hyderabad is undoubtedly one of the most serene and nature-blessed localities. No wonder, even IT professionals who have their workplaces in the Western corridor or elsewhere prefer to call Sainikpuri their home!
Buying a builder-floor 3bhk apartment is attractive in terms of investment too, and it's a joy to see your home price appreciating with every passing month!
1. What does a builder-floor in the Sainikpuri locality mean?
You get apartment space of over 2200 sft of spacious 3 BHK
This apartment is usually part of a 'standalone apartment building' built on a 400 to 500 square yard of plot
In Hyderabad, it's normally a 5-storey building with 5 exclusive-floors
When you buy a builder-floor, you get to 'own the entire floor'! Excellent privacy!!
You get amenities like exclusive lift access to your exclusive-floor
You get a dedicated parking slot on the ground floor
Whether you buy your builder-floor in Sainikpuri for self-use (your own family), or for renting purposes, you don't lose out either way!
Appreciation calculation of your builder-floor in Sainikpuri- suggestive
If you want to buy a builder floor apartment in Sainikpuri purely for investment purposes, this is how it works:
Scenario: You buy the 3BHK apartment on a home loan, and put it up for rent. Then you sell it after 2 or 3 years to gain appreciation out of your investment. The builder floor appreciates Rs 1.50 crore after 2 years (a safe assumption).
The average price of a 3BHK builder floor = Rs 1.25 crore
Likely price appreciation after 2 years = Rs 1.5 crore
Total gain* after 2 years: (b) – (a) = Rs 25 Lacs
Loan amount = Rs 1 Crore (Bank loan)
Own contribution in buying home = Rs 25 Lacs (down payment)
EMI on loan = Rs 75,000 per month approx. (pic shown below)
Rent per month = Rs 30,000 per month
Total rental income in 2 years = Rs 7.2 Lacs in 2 years
Total EMI paid in 2 years = Rs 18 Lacs in 2 years
Net outflow in 2 years (i) – (h) = Rs 10.80 Lacs in 2 years
Money you get back (c) + (e) = Rs 50 Lacs in 2 years
Net ROI** after deducting Net outflow = Rs 14.20 Lacs in 2 years
Total Return*** = Rs 39.20 Lacs
*Total gain (c) = (b) – (a), **Net ROI (l) = (e) – (a), ***Total Return m = (e) + (l)
So, once the property appreciates to Rs 1.50 crore in about 2 years, you could sell off the property at a profit! You get Rs 25 Lacs after returning the Rs 1 crore bank loan.
If you remove the outflow of Rs 10.80 Lacs in 2 years, you get your NET GAIN (NET ROI) of Rs 14.20 Lacs.
This is just a lower estimate. Your gain could be more dependent on market forces.
You get a capital appreciation of Rs 14.20 Lacs on your investment of Rs 25 Lacs (your initial down payment)….which means a return of 25.22%
Your Rs 25 Lacs (down payment) becomes Rs 39.20 lacs in 2 years if you sell your builder-floor property in Sainikpuri
The table below gives you a calculation based on your initial down payment of Rs 25 Lacs! (Rs 25 Lacs = your OWN CONTRIBUTION)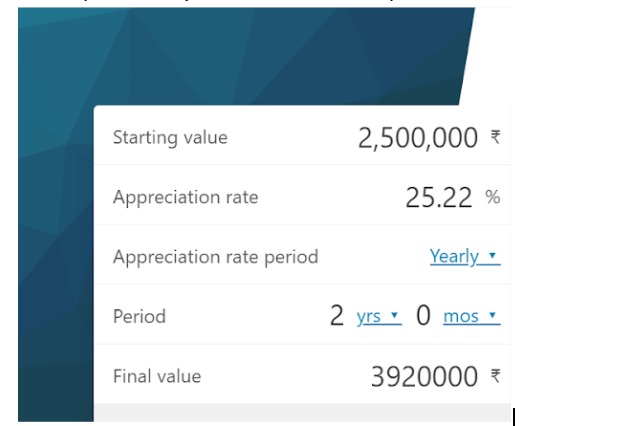 [Source- https://www.omnicalculator.com/ ]
Given below is the Home loan calculator for ease of reference-
[Source- Home online calculator by HDFC Limited, 15th April 2022]
This is just an indicative example of capital appreciation of your builder-floor in Sainikpuri. The appreciation could be more.
Why will the builder floor apartment investment in Sainikpuri give such high returns?
The reasons are simple-
It's Sainikpuri we are talking about, and it's currently very affordable. So, excellent appreciation prospects over the next 2 to 3 years are a given!
Land in Sainikpuri is getting more and more scare & premium with every passing month
The social infrastructure and the locality of Sainikpuri is preferred by some of the most discerning home buyers (including NRIs) who value the quality of life with natural surroundings, Kapra lake, and more…
With a builder-floor, you get a high share in the chunk of land as well. For example- 70+ square yards are yours in a 400 square yard plot in Sainikpuri (in 5 exclusive floors in the standalone building)
Land prices in Sainikpuri are currently at Rs 50,000 are square yard, this will further easily breach the Rs 70,000 per square yard mark within 2 years….this means your profit on land alone is Rs 20,000 per sq. yd. within 2 years [Calculation- Rs 70,000 per sq. yd. minus Rs 50,000 per sq. yd. = Rs 20,000 per sq. yd. PROFIT in 2 yrs.]
This means your 70+ square yards of the land itself will grow to over Rs 14 Lacs. Calculation- 70 sq. yds. x Rs 20,000 per sq. yd. = PROFIT of Rs 14 lacs on your 70 sq. yd. land alone!
Even if you do not sell your builder-floor apartment, you are happier to be owning a property in Sainikpuri that's in demand!
All this is a clear indication that investing in a builder-floor in Sainikpuri is an attractive investment option!
""The rich invest in time, the poor invest in money."

– Warren Buffet
~~~~~~~~~~~~~~~~~~~~~~~~~~~~~~~~~~~~~~~~~~~~~
To know more about "Investing In Real Estate Projects: Exploring Investment Opportunities For A Healthy Return!". Click here!